Baylor DB on Oklahoma; 'We plan to pitch a shutout'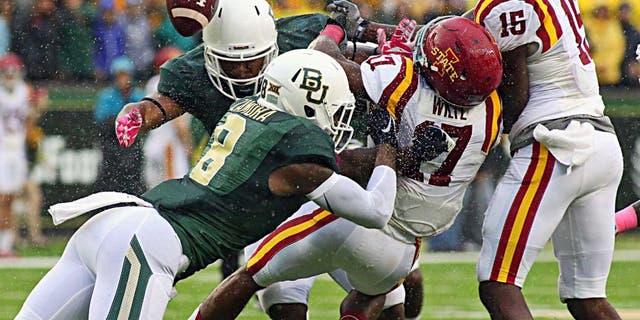 The Baylor defense faces its stiffest challenge of the season Saturday against Oklahoma. Ray Carlin USA TODAY Sports
This was supposed to be the best defensive unit yet under coach Art Briles. It still might be, we just don't know yet.
Against middling opposition, the Bears have been OK. They show well statistically in some categories such as takeaways and third-down defense, it has struggled to get pressure on opposing quarterbacks and to keep teams out of the end zone. No. 6 Baylor's competition level greatly increases over the final four games, starting with OU, then Oklahoma State and TCU.
If the Bears' defense forces its offense, now led by true freshman quarterback Jarrett Stidham, to outscore all three, the chances of winning all three greatly decrease, and likely keeps Baylor out of the College Football Playoff.
Baylor defensive back Travon Blanchard had strong words to describe how the Bears would play against Oklahoma.
"We've known for a while that November was going to be the toughest part of our season," Blanchard told reporters Tuesday. "We want to improve on our mistakes that we've been making and make them earn everything they get. We can't allow them any explosive passes or runs.
"This could be a statement game for our defense. We plan to pitch a shutout. We plan to keep them out of the end zone."
A shutout would certainly send a message to the rest of the league and the CFP selection committee. Baylor has dominated the last two games against OU, allowing a combined 26 points. But the Sooners bring in their new Air Raid offense that utilizes running backs Samaje Perine and Joe Mixon.
If they were watching Baylor's 31-24 win over Kansas State, they had to be salivating at the space K-State quarterback Joe Hubener found against the Bears defense en route to 258 rushing yards for the Wildcats.
(h/t Star-Telegram)