Batting leadoff helps Werth, Nationals snap out of deep funk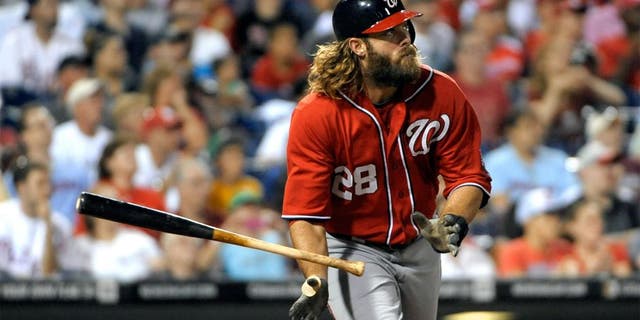 Washington Nationals manager Matt Williams tried an unsual approach to jump-start his sagging team, inserting a player batting .184 into the leadoff slot.
For one night, at least, the strategy worked masterfully. Struggling Jayson Werth collected a pair of hits and scored three times as the Nationals snapped a six-game winning streak behind their second-highest run total of the season in Tuesday's 15-6 rout of the Colorado Rockies.
Werth had been 9-for-62 since missing more than two months with two small fractures in his left wrist and last batted leadoff in April 2013, but he attributed a season-high six at-bats Tuesday for helping him snap out of his funk.
"I'd say that's probably the No. 1 thing," Werth said. "The other night hitting seventh, I got three plate appearances, and it felt like I pinch-hit three times. I think right now, the more looks I can get, the better."
Center fielder Denard Span, who normally bats leadoff, has been sidelined since July 6 and is currently on a rehab assignment so Werth may continue in his role. He thrived at the top of the order in 2012, hitting over .300 down the stretch after returning from a wrist injury.
"It's comfortable for him, he's been there before," Williams said. "He's a good run-producer as well. With him coming back from the injury and not feeling his stroke as much as he wants to, it's a good opportunity to get him in the leadoff spot. Get him some fastballs to hit, let him see some pitches, too."
(h/t MLB.com)