Barca forward Suarez says he would only return to EPL for Reds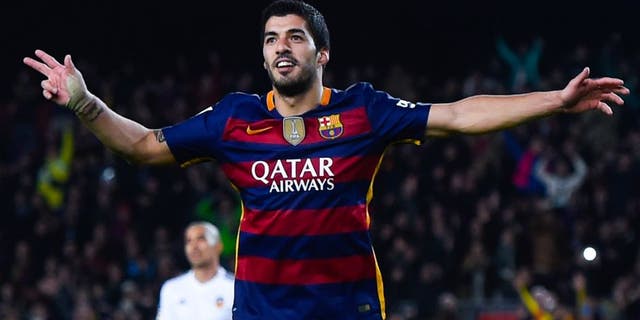 Barcelona forward Luis Suarez says former club Liverpool are the only Premier League team he would consider playing for.
The 29-year-old is currently loving life at Barca and told the Daily Mail that he is hoping to stay with the Champions League holders for the foreseeable future.
But the Uruguay international added that he was not totally ruling out a return to Anfield, where he spent a successful three and a half years before moving to Spain in the summer of 2014.
Suarez, Lionel Messi and Neymar comprise an incredible attacking trio at Barcelona and he told the Mail: "I'd prefer to stay here for many more years. I know it doesn't always turn out that way.
"But if I had to return to the Premier League, I would only go to Liverpool. I wouldn't go to another team.
"It wouldn't be a move for money. I'd also love to play again for Ajax, as they allowed me to develop as a player in Europe."
Barcelona are currently three points clear in the race for the Primera Division while an enthralling climax to the Premier League season is in store, as surprise five-point leaders Leicester seek to keep Tottenham, Arsenal and Manchester City at bay.
And Suarez conceded that he misses the unpredictable nature of the top flight in England.
"In the Premier League you never really know what is going to happen," he said. "There is very little between the teams.
"Here, three or four teams aside, there is a difference with the smaller teams.
"I don't mean this to sound disrespectful but there are some games where you look at the press and they are asking: 'Let's see how many goals Barcelona are going to score
"In the Premier League, you never know what is going to happen, and that is something I miss."