Bannered & hammered: 'Hawks celebrate Cup title, lose to Rangers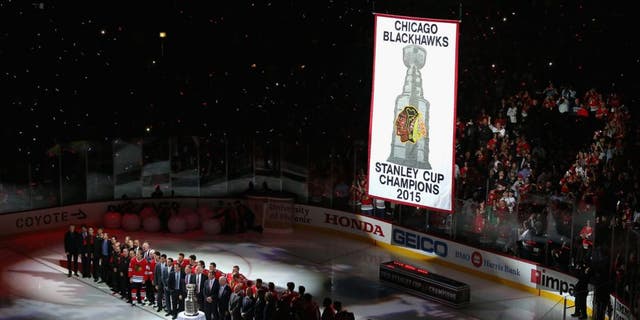 The New York Rangers waited and waited while the Chicago Blackhawks celebrated another championship.
When the puck finally dropped for the first game of the season, Henrik Lundqvist and Co. were more than ready -- they were a little annoyed, too.
Oscar Lindberg, Kevin Klein and Derek Stepan scored in the first period, and New York ruined Chicago's Stanley Cup party with a 3-2 victory Wednesday night.
"It's probably very emotional for them to be out there and see the flag go up and share that with all the fans. It's a great moment for them, obviously," said Lundqvist, who had 32 saves.
"But we were sitting in here and they delayed a little bit, I may be a little bit upset so you want to go out there and pay back. But to try to kill the atmosphere a little bit like that was huge for us."
J.T. Miller added two assists for New York, which begins the year with title aspirations of its own. The Rangers won the Presidents' Trophy last season for the most points in the NHL, and then lost to Tampa Bay in seven games in the Eastern Conference final.
Cheered on by a sellout crowd of 22,104, with many dressed in their usual red jerseys, the Blackhawks raised the banner for the franchise's sixth NHL title during a colorful pregame ceremony. Fluorescent balls bounced around the seats and LED wristbands for the fans provided a synchronized lightshow during player introductions and highlight presentations.
All-Star winger Patrick Kane, the subject of a sexual assault investigation in western New York, heard loud cheers when he skated onto the ice for the Cup celebration. Kane hasn't been charged, and has said he expects to be exonerated.
"It seemed that the crowd was supportive," Kane said. "In this situation, you don't really know which way it's going to go, one way or another. At the same time, I try to control what I can now, go out on the ice, have some fun, play hockey, try to make some plays, create some offense for my team."
Kane almost had the tying goal with a minute left, but it was waved off. Lundqvist said he heard a whistle before Kane knocked the puck in from under his pad.
"It was a good call," Lundqvist said with a chuckle.
Artemi Panarin scored in his first NHL game for Chicago, which is trying to become the first team to successfully defend the title since the Detroit Red Wings in 1997-98. Teuvo Teravainen also scored, and Corey Crawford made 24 stops.
The banner had only been in the rafters for a short time when New York issued a stern reminder of the difficulty of repeating as champion. Just 1:43 into the game, Miller passed to Lindberg for a beautiful one-timer for the rookie's first career goal.
After a wide-open Panarin responded for Chicago off a pass from Kane, the Rangers went ahead to stay on another one-timer -- this one for Klein off a pass from fellow defenseman Keith Yandle. Stepan then made it 3-1 with 59 seconds left when he scored on a rebound off an odd-man rush.
"I thought we were real good in the first period," New York coach Alain Vigneault said. "I liked our execution. After that, I thought we lost momentum a little bit."
The Blackhawks controlled most of the second and third periods, but were unable to overcome New York's fast start. Marian Hossa set up Teravainen's one-timer at 6:55 of the second, and Chicago had several opportunities late in the third, but Lundqvist was there each time.
"We got better as the game went on and did good things," Blackhawks coach Joel Quenneville said. "But we gave up a couple goals late in the first that were definitely preventable."
Notes: The NL wild-card game was shown on the videoboard during each intermission, and there was a loud cheer when Dexter Fowler homered in the fifth to give the Cubs a 4-0 lead over the Pittsburgh Pirates. There was another loud cheer when the Cubs finished off the win. ... NHL Commissioner Gary Bettman was booed when he was introduced before the game. A smiling Bettman put his hands together and bowed. ... When Miller got two assists in the first, it was the first multipoint period of his career.