Banged-up Coyotes could be without five key pieces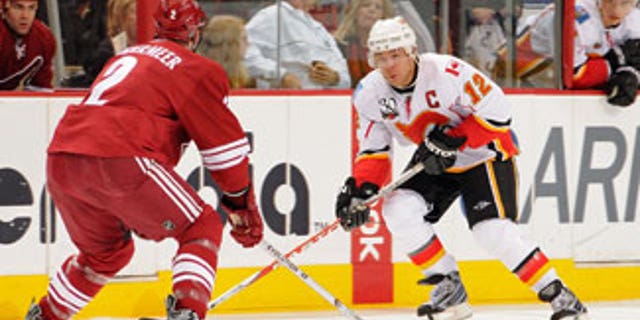 GLENDALE, Ariz. -- When the Phoenix Coyotes had the best season in franchise history in 2009-10, team health played a big role in their success.
This season, however, more injuries have made the road a lot harder, and the stretch run is no different. The Coyotes, who have lost nearly 100 man-games to injury already, could be without as many as five key players -- three of them defensemen -- when they face the Calgary Flames in a huge battle at Jobing.com Arena Thursday.
Defenseman Ed Jovanovski is out indefinitely following orbital bone surgery, and fellow blueliner Derek Morris missed Tuesday's 4-3 overtime loss to Vancouver with a lower-body injury. Rostislav Klesla, acquired from Columbus in the Scottie Upshall deal to replace Jovanovski, had a Daniel Sedin shot ride up his stick and hit him in the face Tuesday. He left the game in the second period and played less than 10 seconds the rest of the way.
Morris and Klesla each sat out Wednesday's practice and Thursday's optional skate. The Coyotes called up Chris Summers from AHL San Antonio, and he would play along with youngsters David Schlemko and Oliver Ekman-Larsson if Morris and Klesla can't go.
Up front, the Coyotes played without 50-point scorer Ray Whitney and top two-way center Martin Hanzal (16 goals) on Tuesday. Both are suffering from lower-body injuries, sat out Wednesday's practice and will be game-time decisions Thursday.
Phoenix, which earned a point against the NHL's top team with a fourth line that included Paul Bissonnette and AHL call-ups Andrew Ebbett and Brett MacLean, may have to go that route again.
"If you look at the lineup we've put on the board before the game and say 'This is just going to go smooth and here we go,' that's not the way it works," Phoenix coach Dave Tippet said. "We have to find ways to win, and it's about tweaking things and finding a line that will work. Injuries are part of what happens. It's just unfortunate."
The Coyotes squandered an early 2-0 lead against Vancouver, but grabbing three of four points against the cream of the Western Conference -- they rallied from three goals down to beat Detroit on Saturday -- was important for a team that had lost five straight and was in danger of falling out of the Western Conference's top eight. Even so, the Coyotes enter Thursday's game in eighth place and need a win to keep pace with the tight pack fighting for spots.
Needing offense from unexpected sources, the Coyotes got a goal and 2 assists from Eric Belanger against the Canucks. It was Belanger's first three-point game in more than a year, dating to Dec. 28, 2009, when he was with the Minnesota Wild. Belanger, who has 3 goals and 6 points in his last 10 games, now has 20 assists this season -- four away from a career high and just two away from 200 in his career.
The Flames endured injury problems early in the season, but have gotten healthy at the right time. Wednesday's 4-3 shootout win at Dallas moved them to 7-2-1 in their last 10 games, and 81 points puts them in a fight for not only a playoff spot but home-ice advantage in the first round.
"They are a hard-working team and they come at you," Tippett said of the Flames. "They have found their groove and are playing with a lot of confidence and finding people in the right roles. We're without some of our top players and we have to have the young guys step up and help us pick up points."