Baez leads group of four call-ups as roster expands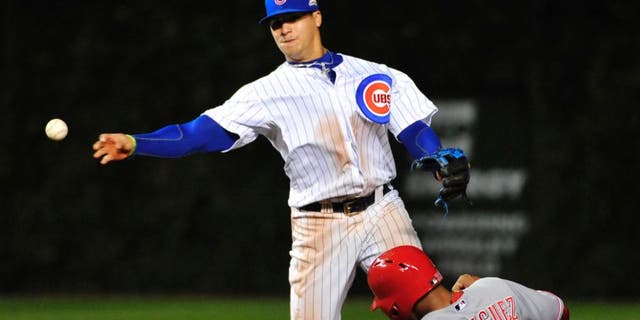 NEWYou can now listen to Fox News articles!
Hot shot second-base prospect Javier Baez will be one of four players the Chicago Cubs will call up as big-league rosters expand Tuesday.
The timing is purely coincidental as all major-league rosters can expand to 40 players, but for the Cubs it comes the day after Starlin Castro, banished to second base from shortstop, committed three errors in the Cubs' 13-6 loss Monday to Cincinnati. Castro is the fifth player this season manager Joe Maddon has used at second base.
Baez can swing the bat, too, hitting .324 with 13 home runs and 62 RBI in 70 games for Triple-A Iowa, according to MLB.com.
Maddon sounded as though he doesn't plan to Baez simply watch from the dugout.
"You gotta rest [players] at some point," Maddon told reporters. "It's not just about physical fatigue, it's mental fatigue. That's always my biggest concern, especially when a guy struggles a bit. That'll really wear you down going into the last month of the season. So we have to be cognizant of that as we continue along."
Joining Baez as call-ups will be outfielder Quintin Berry and pitchers Trevor Cahill and Tsuyoshi Wada. The Cubs are thin in the bullpen after reliever Jason Motte was recently put on the disabled list.
Once Iowa wraps up its season on Sept. 7, the Cubs will likely call up more prospects.
(h/t MLB.com)