Bad Times: Paper feels backlash for hating on Lolo Jones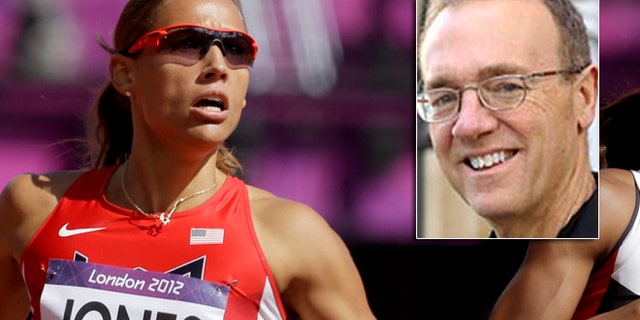 NEWYou can now listen to Fox News articles!
Olympic hurdler Lolo Jones got jumped by The New York Times for relying more on her sex appeal than her feet, but now it's the self-styled "paper of record" feeling a bitter backlash.
Jones, a 30-year-old Iowa native and devout Christian who has famously kept her virginity even while posing for racy photos, was the target of a poison-pen hit piece by Times sportswriter Jere Longman on Saturday. The article compared Jones to former tennis pro Anna Kournikova, who was known for her looks and not her prowess, and charged that Jones, who is of African-American, French, Native-American, Norwegian descent, owes her fame to "exotic beauty" and not her accomplishments.
"In this particular case, I think the writer was particularly harsh, even unnecessarily so."
"Jones has received far greater publicity than any other American track and field athlete competing in the London Games," Longman wrote. "This was based not on achievement, but on her exotic beauty and on a sad and cynical marketing campaign. Essentially, Jones has decided she will be whatever anyone wants her to be — vixen, virgin, victim — to draw attention to herself and the many products she endorses."
A Slate reporter called it "one of the nastiest profiles" of an athlete she'd ever seen; Sports Illustrated asked "why any sportswriter would criticize an athlete for being too open and honest," and Reuters called the piece "grossly unfair and hypocritical." Finally, even the Times' public editor, Arthur Brisbane, weighed in on Thursday, saying: "In this particular case, I think the writer was particularly harsh, even unnecessarily so."
Count Jones' coach among those angry at the Times for its treatment of the two-time world indoor 60-meter hurdles champion.
"They really did not do thorough research in looking into what kind of achievements Jones has," Dennis Shaver, who began coaching Jones at Louisiana State University, told FoxNews.com by phone from London. "A likely comparison would be if Kournikova won numerous indoor titles but never won an outdoor title. I just don't see any parallels. I don't think there's a comparison.
"You know, Lolo is a beautiful girl and so is Kournikova, but that's about the only thing you can say that's true about it," Shaver added.
Jones saw the article, and it got to her. On Wednesday, she appeared on NBC's "Today" show with tears in her eyes over the cruel broadside.
"I think it was crazy just because it was two days before I competed, and then the fact that it was from U.S. media," Jones said. "They should be supporting our U.S. Olympic athletes and instead they just ripped me to shreds. I just thought that that was crazy because I worked six days a week, every day, for four years for a 12-second race and the fact that they just tore me apart, which is heartbreaking."
Jones, who failed to medal in the 2008 Games, finished fourth in the 100-meter hurdles Tuesday, 0.10 seconds behind American bronze medalist Kellie Wells and 0.23 seconds behind Australian Sally Pearson, who won gold.
Instead of Kournikova, a more apt comparison might be Tim Tebow, the New York Jets quarterback whose outspokenness about his Christian beliefs has made him a polarizing figure in sports -- beloved by some fans and reviled by others. In June, Jones told Jay Leno she planned to invite Tebow to come to church with her, figuring such a date ensured "I'm not getting rejected."
Robert Tuchman, president of Skylight Entertainment, a New York-based sports and entertainment firm, said some of the criticism lobbed her way may have something to do with her outspoken views.
"When you put yourself out there and you wear your faith on your sleeve, absolutely you're going to receive backlash, whether or not it's justified because there's just different sets of thinking by people in this country," he said. "She has been vocal about her virginity, her faith and really put herself out there. She set herself up for a certain section of the population to respond. She should understand that."
But Jones, who grew up so poor her family at one point lived in the basement of their church, has told The Associated Press she makes no apologies for her place in the national spotlight with less-than-golden results.
"The Olympics are only once every four years, so you have to take advantage of all your opportunities, both to be an inspiration to people and help support your sponsors who help you," she said. "I don't regret doing any stories or being in magazines. For me, it was a chance to do things like get tips on eating healthy and working out to people.
"It was hard work and if it made an impact on anyone in a positive way, then I wouldn't change it."
Evan Morgenstein, CEO of PMG Sports and a Fox Sports contributor, said he expects Jones' marketing team to "pull her back" from media appearances in the immediate future.
"It's not playing well on television, it's creating more heat," Morgenstein said. "What they will probably do is pull her back from doing a lot of media and be very, very aware of what she's Tweeting and immediately evaluate her opportunities."
Still, Morgenstein sees Jones as a top-10 potential "money earner" coming out of the Olympics, alongside megastars like Jamaican Usain Bolt and Americans Michael Phelps and Alex Morgan.
"Very few athletes, male or female, in the lexicon of sports have ever been known by one name – Pele, Beckham, Kobe," he said. "You say the name 'Lolo' and you know who she is."
At least Longman got the spelling right.