Backstop boys: How Jeff Mathis, JT Realmuto go about the craft of catching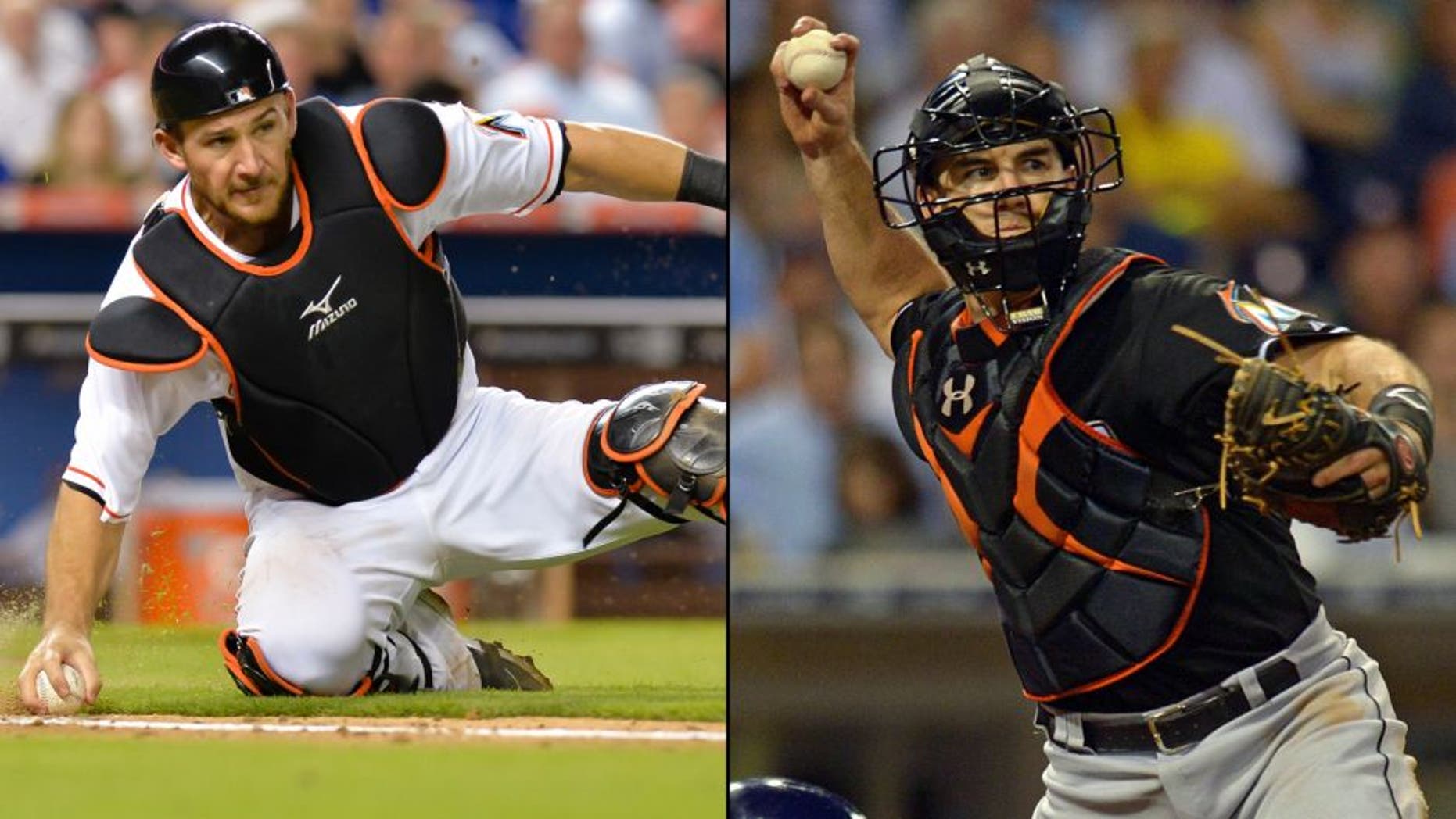 Miami Marlins catcher Jeff Mathis wouldn't know what day it is the majority of the time if it weren't for his cell phone. But his memory when it comes to baseball, his mindfulness behind the plate, is incomparable.
As a member of the Los Angeles Angels organization from 2001-11, Mathis both developed and improved his catching through a unique process.
"We would have spring training games where we would be on defense and I'd come in from an inning and we had a guy named Bill Lachemann who would come over and sit behind you in the dugout if we weren't hitting that inning," Mathis said. "He would make us recall every pitch to every hitter, ball or strike. That was something that (Mike) Scioscia wanted done. At the time, it was monotonous and unbelievable, but now you know why he made you do it. That helped."
More than any other position, a catcher can get by in the big leagues because of his defensive -- rather than offensive -- ability, particularly for his strength calling a game. By managing different pitchers and personalities, by knowing tendencies of different hitters, a catcher is more than just a bat in the lineup. His ability to control a game and settle a pitcher takes priority.
Rookie JT Realmuto, who received starting duties when the Marlins designated Jarrod Saltalamacchia for assignment in April, leans on Mathis for guidance.
With manager Mike Redmond and bench coach Rob Leary -- both former catchers -- gone, he relies on Mathis and catching coordinator Bobby Ramos, who was brought in at a full-time capacity.
"It's awesome for me, especially as a rookie, first full season in the big leagues," Realmuto said. "Just having a guy like him there to talk to. He helps me tremendously with the defensive aspect of the game. He's been doing it a long time. He knows how to run a game, how to call a game, handle a pitching staff. That's one thing he helps me out a lot. Being able to pick his brain and watch how he goes about his business."
Added Mathis: "We bounce stuff off each other. He's a quiet guy. He's not a very outspoken guy. When he has something on his mind or something we can discuss we discuss it. He's doing a good job. It's been fun to watch him grow and mature over the last couple of years."
Sure, it takes time and experience to call a game and dissect the league. It also takes the help and experience of others.
Veteran Dan Haren, who has pitched for 13 years with seven organizations, pushes Realmuto in the "right direction."
"Every pitcher goes about his business different," Realmuto said. "With Dan, it's a full scouting report on every hitter, every pitch, every pitch they like to hit, every pitch they don't like to hit. It can a pretty tedious process."
When it comes down to it, a catcher has the most pregame responsibility on a ballclub. He checks scouting reports and watches video. He needs to know all of his pitchers as well as the opposing team's batters and pitchers.
In a sense, it's like homework. It's studying all over again -- years removed from their high school and college days.
Realmuto, whose favorite subject was calculus, would've been an engineer had baseball not panned out. When the Marlins selected him in the third round of the 2010 draft, he skipped college for the minor leagues.
The 24-year-old gets to use his propensity for numbers and trends in baseball. Stats can help him figure out what batters do against certain pitches, counts and locations.
"It's a lot more homework than people understand," Realmuto said. "I was a good student. That helps me out now. Quick learner. Hopefully that continues to be able to learn hitters at a good rate and the pitching staff as well."
Added manager Dan Jennings while the club played in Philadelphia: "JT's just growing. He's growing into a leader behind the plate. Having Mathis here has been great for him and his development."
After 11 major-league years of experience, certain days and at-bats still stick in Mathis' mind. Hitters, like Cincinnati Reds first baseman Joey Votto, must be pitched to in several ways because of the rare holes in their games.
The 32-year-old plays once or twice a week. He goes about his routine differently than the everyday starter, particularly by watching and analyzing the game from the dugout.
"For me, a lot of people do a lot of studying nowadays, and it's good," Mathis said. "Any information and advantage you can gain on somebody is good, but I sit there and watch every pitch, every inning and I gather my information from just watching the swings that day. Normally I'm playing the last game of a series, so I'm in all the meetings, but when I'm sitting in the dugout I'm watching guys' approaches and what they're chasing or swinging at. It's good to get all the information you can."
You can follow Christina De Nicola on Twitter @CDeNicola13 or email her at cdenicola13@gmail.com.