AUTO PACKAGE: Clint Bowyer shines on and off the track since moving to Michael Waltrip Racing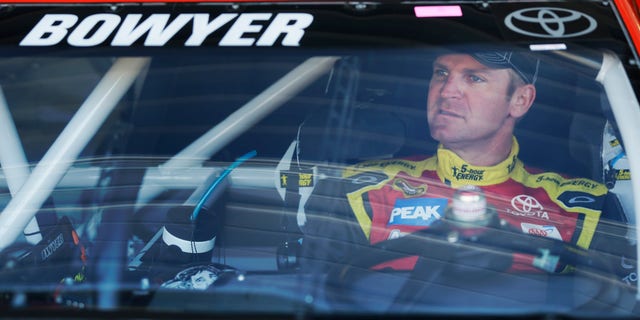 CHARLOTTE, N.C. – Always popular among his peers, Clint Bowyer over the last two seasons has slowly become one of NASCAR's newest stars.
Part of it is the atmosphere at Michael Waltrip Racing, the team he joined before the 2012 season, and the partnership with 5-Hour Energy, a product that seems made specifically for Bowyer.
"I've been able to kind of come into my own and be my own self a little bit more since going to MWR," Bowyer said. "The sponsor, everything, just all of my surroundings kind of enabled me to be who I am, so it probably comes out a little bit more."
But no amount of witty one-liners or sharp comebacks can keep the spotlight on a driver. There must be on-track results, and Bowyer's gotten that since moving to MWR after six Sprint Cup seasons with Richard Childress Racing.
Although Bowyer made the Chase for the Sprint Cup championship three times with RCR, his first season with Waltrip was his breakout year. Bowyer won three races and finished second in the standings, both career bests.
And that's what has made Bowyer and his larger-than-life personality more noticeable in NASCAR.
"More importantly, probably just running better. I think you just see more of me," he said. "I really truly believe that's what it is. With running better, you see more appearances."
Bowyer is hoping for his breakout performance of 2013 this weekend at Richmond, where he won last September and has a strong record. Bowyer has eight top-10 finishes in 14 starts at Richmond. He goes into the race ranked eighth in the standings with four top-10 finishes this year, but only one lap led.
He's hoping to turn that around Saturday night.
"Once you win at a race track, every time you go back there after that, there's always something you can carry in, and that's confidence," Bowyer said. "We had a solid run, a top 5 run at Kansas at home, and a little extra boost of confidence and momentum rolling into a track that's really good for me. So yes, absolutely. I'm looking forward to getting to Richmond. I know the boys are, and they're going to have the racer set on full for me."
___
HURT HAND: Tony Kanaan literally added injury to insult in the closing laps at Long Beach.
Kanaan was headed toward a top-five finish when contact with Oriol Servia sent his car into a barrier with two laps remaining in Sunday's race. He was visibly upset at his ruined day, which ended with him watching the last lap from outside of his car. He was credited with a 20th-place finish.
"We had a good race going and I was set for a fifth-place finish until Servia took me out with less than two laps to go," Kanaan said. "It's really frustrating. I was the leading Chevy car out there and it was looking like a good points race for us. I'm really disappointed on how it turned out."
Then Kanaan realized there was something wrong with his hand.
He made a trip to IndyCar's care center, but nothing could be diagnosed on site. Kanaan flew home after the race, joking "painkillers are my friend" as he waited for the extent of the injury to be determined.
Kanaan eventually posted his X-ray on Twitter with an announcement that he'll be fine in time for next week's race in his native Brazil.
"No broken bones. Contusion and torn ligaments," he wrote. "It's a full-on injury but it will heal on its own."
___
SHORT TRACK SHOWDOWN: Ricky Stenhouse Jr. and Kyle Larson have been added to the field for Thursday night's Denny Hamlin Short Track Showdown at Richmond International Raceway.
The two will drive for Lee Faulk Racing in their first appearances in Hamlin's annual charity race.
Stenhouse has six Nationwide Series starts at Richmond, where he's finished in the top-five four times.
"Denny has been able to raise a lot of money for charity through this race each year, and I'm happy to support him and the causes his foundation supports," said Stenhouse. "I enjoy getting to the short tracks each season, and Richmond is always a lot of fun to race, so I expect we'll have a good time.
Larson made his Richmond debut last season in the K&N Pro Series East. He started second and finished fourth in that race.
Hamlin joked in February he wanted to add Larson to the field after Larson spun leader C.E. Falk III coming out of the final turn to win the inaugural Battle at the Beach at Daytona. Falk is entered in the charity race.
"I love to race anything, but it's extra special to get to be a part of this one, since it supports such a good cause," said Larson.
___
NHRA-LIVE COVERAGE: NHRA will be live on ESPN2 this weekend from Royal Purple Raceway near Houston in what series officials hope will lead to better coverage.
Coverage begins Saturday afternoon with the final round of qualifying, which is a last chance for competitors to secure their positions in the starting lineups, improve upon their qualified times, and grab the No. 1 qualifying positions for Sunday's race day.
Sunday will feature a three-hour telecast of both the semifinal and final rounds from the event. The first two sessions will be featured on a very short tape-delayed basis, but ESPN2 will bring the action up to live beginning with semifinals of Pro Stock Motorcycle. The bikes will be followed by Pro Stock, Funny Car and Top Fuel.