Auburn QB Johnson picked as top breakout player of 2015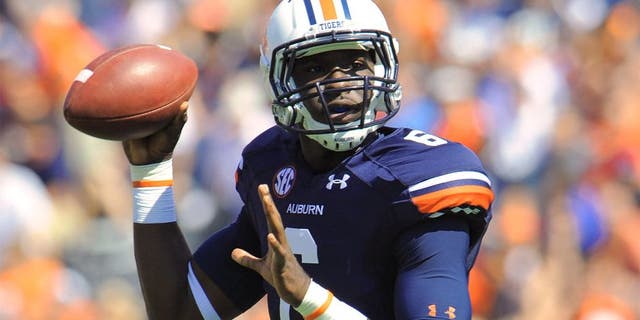 NEWYou can now listen to Fox News articles!
Auburn has national-title aspirations this season; the Tigers have made that abundantly clear this offseason. But for that goal to be achieved -- or for Auburn to even have a reasonably successful season, for that matter -- a number of pieces will have to fall into place.
Those pieces include improvement on defense under new coordinator Will Muschamp, quick maturation from a young offensive line and, most prominently, a breakout year from new quarterback Jeremy Johnson, who replaces Nick Marshall at the helm of coach Gus Malzahn's typically prolific offense.
Athlon Sports released Tuesday its list of the top 50 breakout players of 2015, and their writers apparently are buying into the Johnson hype, putting him in the No. 1 spot. While Johnson has only limited snaps to his name thus far in his career (accounting for 858 yards and nine touchdowns), Athlon says "all signs point to Johnson emerging as an All-SEC quarterback in 2015."
Assuming that Malzahn's running game can maintain its typical levels of success and the defense can take a step forward under Muschamp, if Athlon is correct and Johnson does turn out to be one of the breakout stars of 2015, Auburn might have its own stars align for another run at a national championship.