Athletic bond: Gasman, NFL player remain teammates forever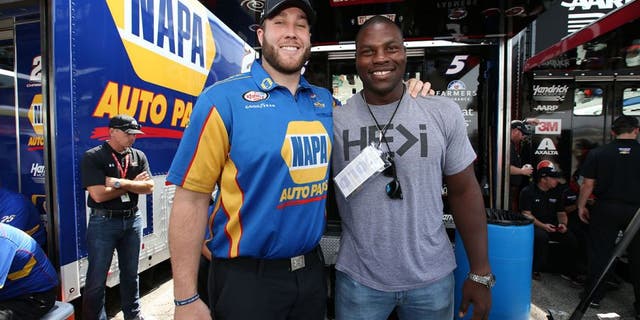 Over the past decade or so, the dynamic of NASCAR pit crews has changed dramatically.
The days of crew members who worked on the cars throughout the weekend pitting the car on Sunday has dropped by the wayside. Instead, pit crews have become a separate entity, trained hard to perform perfect, quick stops each and every time.
As that dynamic has changed, more and more former college athletes are leaving behind their sport and turning to the highly competitive world of NASCAR. Hendrick Motorsports' Landon Walker is just one of those who left the world of football behind.
Walker played offensive tackle at Clemson University from 2008 until 2011, going up against the likes of future NFL star Ndamukong Suh and other tough players. Walker was initially signed by the Cincinnati Bengals, but when a knee injury led to him being cut by the team, the North Wilkesboro, N.C., native was left searching for his next carer move.
A longtime fan of NASCAR, Walker was put in touch with Hendrick Motorsports and showed up to the team's shop to check it out. Three years into his stint with HMS, Walker now serves as the gasman on Kasey Kahne's No. 5 team in the Sprint Cup Series and for Chase Elliott's No. 9 JR Motorsports team in the XFINITY Series.
This weekend at Indianapolis Motor Speedway (IMS), Walker was able to reunite with one of his former Clemson teammates, Indianapolis Colts tight end Dwayne Allen.
Catching up for the first time since leaving college, Walker showed his former teammate around the Sprint Cup garage and gave him a tour of the team hauler. Allen said was looking forward to watching his former teammate in action during Saturday's XFINITY Series race.
With more college football players making their way into the world of NASCAR, more NFL players are paying attention to races and the guys who go over the wall.
"Oh yeah, that's definitely the connection," Allen said Saturday at IMS. "Hoping for the chance to just see your teammate on TV and say, 'Whoa, way to go Landon! He poured that gas great!' It's very similar to him watching me on TV and watching the Colts and hoping to see me catch a pass or score a touchdown. That camaraderie you build in college never leaves, even when you go in different directions."
For Walker, the stress associated with playing football and pitting a car have proven to be much different.
"That driver knows how to drive that car and he's not trying to hit you, (while) that defensive back is trying to crush you every time," Walker said. "That allows you to sleep easy at the end of the day, because tomorrow I have to wake up and gas a car. I don't have to wake up and that guy across from me -- you're in a battle all day, that's war. There's nothing comparable to football. Coming from a football atmosphere, you can really do anything if you set your mind to it. There's nothing in life that prepares you like football does."
Unlike football, where players get roughly 60 snaps per game, pit crew members only get a handful of stops to show their skills, so mistakes are often magnified.
"(Logan) was just telling me the difference between football and what he's doing now," Allen said. "He only gets six chances, he gets six plays, whereas on the football field, I get 60. If I mess up 10 times, it's all right because I get 50 other chances to get it right. If he messes up once, it could cost his team."
Despite the pressure associated with pitting a Sprint Cup car, Walker said the biggest change between football and racing has been the reduced stress on his body.
"The best change is that my body feels great," he said. "I used to have to live in a cold tub when I played football just to feel normal. Every day you're out there grinding your body and beating your body, and it's a tough thing. ... Coming to racing, you're lifting things, you're moving fast, but you're not hitting anybody."
Walker admits it was a difficult challenge to transition from football, which he had been playing since third grade, to racing, which he only watched on TV. But for Allen, Walker's transition to NASCAR is commendable because it is often difficult for former football players to move away from the game and find success after.
"Every football player, no matter how long you play or how well you play, they're going to come to a point where they're going to have to reinvent themselves, when the game ends and your life it continuing and you have to reinvent yourself," said Allen. "That what Landon was just describing. In my eyes, he's very fortunate to have had the opportunity to reinvent himself very early in his career. The longer you play (football), the harder it is. ... I commend him for having the piece of mind to hang up the cleats and transition to the next phase of his life."