Ashton Shumpert embraces high expectations as starting RB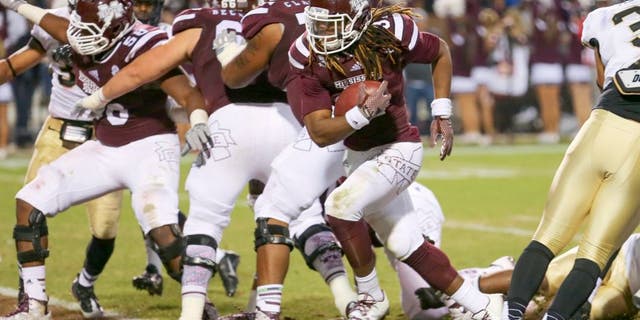 NEWYou can now listen to Fox News articles!
Ashton Shumpert has some big shoes to fill, as last season's starter Josh Robinson ran for 1,203 yards - Mississippi State's third best single-season ever recorded on the ground.
Before Robinson, LaDarius Perkins, Vick Ballard and Anthony Dixon starred for the Bulldogs at running back. With a line of so many successful runners under Dan Mullen, is Shumpert poised to become the next great Bulldog runner? Can he handle that pressure as a first time starter?
"Somebody asked me the other day if I feel pressure," Shumpert said, according to the Clarion Ledger. "I really don't feel any.
"They've all been good, so I have no choice but to be great," Shumpert said. "I just put a lot on my shoulders. We're trying to accomplish stuff this season that's going to overshadow what we did last season."
That "stuff" would include the SEC title and a berth in the playoff after flirting with an invitation all throughout the regular season, only to lose out on it after falling in the Egg Bowl.
Having won the running back competition over Brandon Holloway, Aeris Williams and Dontavian Lee, Shumpert realizes that just because he's been named the starter doesn't mean he won't have to share carries this season if the other backs perform well with their opportunities. However knowing that the coaching staff has the most amount of faith in his abilities has to leave the junior with a level of confidence.
"It feels good," Shumpert said. "We really haven't won any games yet. I'm not satisfied."
(h/t Clarion Ledger)