A's Zito preparing for next full-time job as songwriter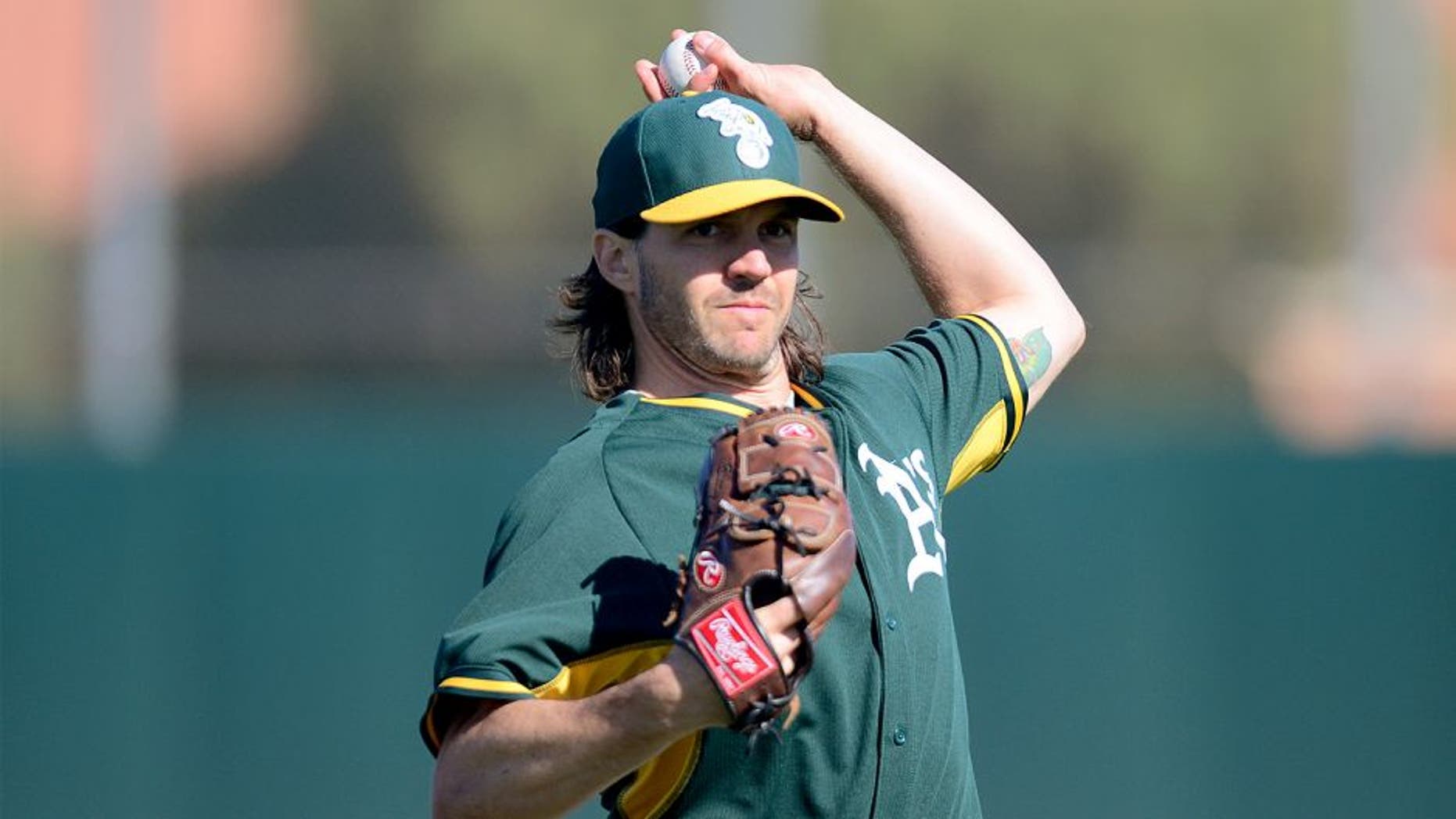 Veteran left-hander Barry Zito has spent the entirety of the 2015 season with the Oakland Athletics' Triple-A affiliate Nashville Sounds.
Zito, 37, has mostly pitched well with the Sounds, posting an 8-7 record and a 3.48 ERA. Despite his success, which includes a six-inning, one-hit effort his last time out, he's still waiting for the A's to call him up. Though he's currently on the minor-league D.L. with a shoulder issue, he's expected to make another start this upcoming weekend, and could be in the mix for a September call-up to the A's if they so choose.

And yet, even as he continues trying to earn a promotion to the big leagues once again, Zito has his eyes on the future. As he explained to the Tennessean in a detailed new piece, Zito plans to remain in the Nashville area once the season concludes in September and devote his time to songwriting.
A's fans may remember Zito's guitar-playing from back when he was first on the club in the early 2000s...and it's a hobby he still very much enjoys, more than a decade later.
As he explained to David Ammenheuser of the Tennessean, "I don't think I want to be an artist. My goal is not to play in front of 20,000 people in a stadium, My goal is to be at home with my family and to collaborate with great writers and make a living as a songwriter."
That the A's Triple-A affiliate is located in Nashville was a big reason Zito decided to give baseball one last shot - whether or not he gets a phone call from the A's. As he explained to Ammenheuser, Nashville is a special city to him: "I actually have a painting of the Nashville skyline in my (music) studio in our San Diego home. To see the skyline of Nashville in person, then get acquainted with the whole music culture. That's all pretty sweet."
Now that he's having a great time pitching in Nashville - and pitching well, as mentioned above - he's found a way to enjoy his surroundings while also still making his pitch for a promotion and one last appearance on a big-league mound.
He told Ammenheuser that he has a relatively newfound appreciation for country music, which is entirely appropriate given the Nashville scene: "I started to love country music about four years ago, and I think that's the vein that I'd like to write in. After meeting people here, I see myself coming back to Nashville. My dream would be to work in my home in San Diego and collaborate writing music with folks here. I know there's a direct flight from San Diego. I can see spending a lot of time here, working on getting music published and hanging out."
In a perfect world, the A's would give Zito one last start at O.co Coliseum sometime in the next two months so he can go out on top as a player before launching the next phase of his career as a full-time musician.
Either way, it sounds as if Zito is content with whatever happens.