A's taking no chances with Bassitt's shoulder soreness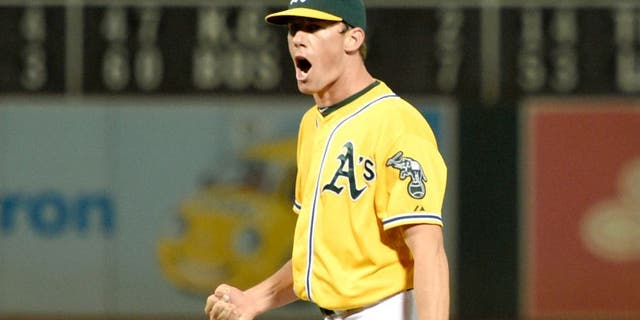 NEWYou can now listen to Fox News articles!
Chris Bassitt has been a somewhat pleasant surprise for the Oakland Athletics since being inserted into their rotation earlier this season. His 1-6 record isn't reflective of his stats (2.82 ERA in a little over 73 innings of work), and he's flashed enough promise to appear to be a contender for a rotation spot in 2016.
However, his season may be over: On Tuesday, the club scratched Bassitt from Tuesday's scheduled start against the Los Angeles Angels with a sore right shoulder.
According to Joe Stiglich of CSN Bay Area, Bassitt experienced the soreness after his last start in Seattle. With Bassitt scratched, the A's will call up pitcher Cody Martin from Triple-A Nashville to make the start.
Manager Bob Melvin explained just how cautious the club will be with Bassitt when speaking to Stiglich about the situation: "At this time of year we're gonna be real careful with (Bassitt). No MRI yet, but the doc's going to look at him. It was just a little stiff after the last start, so we'll be proactive with that. I'm not sure what the timetable will be for him, but we'll make sure he's either 100 percent or close to 100 percent before he pitches again."
Bassitt joins Jesse Hahn (elbow tightness) and Kendall Graveman (oblique strain) as Oakland pitchers whose seasons were derailed with arm-related issues. With the A's eyeing the future, there's obviously no reason to rush any of these pitchers back for the final month of the 2015 campaign...so being 'real careful' (as Melvin put it) is a good decision.