Arnott could hold key to Caps' playoff success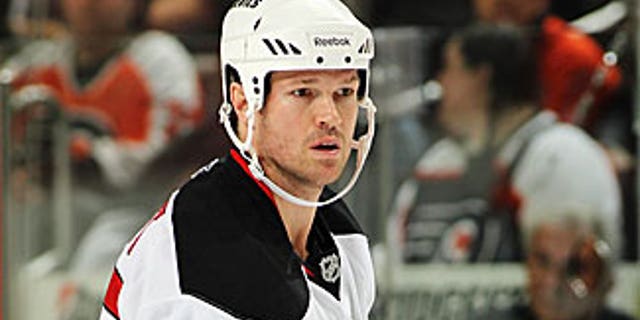 As soon as the reports started to surface Monday about Jason Arnott waiving his no-trade clause to go to Washington, pundits everywhere started crowing about how finally the Capitals landed their No. 2 center. A rental for sure, but Arnott's intangibles, including size, experience and skill make him the immediate plug for what has been a gaping hole in the Capitals' lineup.
Could he also be the missing piece in Washington's quest for a Stanley Cup? While it's too early to tell -- don't we have to let the guy at least play a game or two in his new uniform before we pass that kind of judgment? -- history suggests high-end center depth on your top two lines is an absolute must to win the Stanley Cup.
"Based on two names, (Eric) Staal and (Rod) Brind'Amour, if we didn't have either one of those guys we would not have won the Cup (in '06)," Hurricanes GM Jim Rutherford told NHL.com. "You could put numbers on either of them, say he's a one and he's a two that could be a one, but the strength of those two guys not only their playing ability but their character, we would not have had a chance to win without them."
Rutherford hit on something important by mentioning the interchangeable qualities of Staal or Brind'Amour on that '06 championship team. Having center depth is essential to winning, but having two pivots that can play on the No. 1 line allows a team to go from contender to champion.
"It's actually 1-2-3-4 right through the goalie, but definitely it starts with your one and two guys," Rutherford said.
Chicago won the Cup last season with Jonathan Toews and Patrick Sharp as its top two guys. Sharp took pressure off Toews and vice versa, and both allowed third-line center David Bolland to do what he does best in a checking role.
Ditto for Pittsburgh in 2009 with Sidney Crosby and Evgeni Malkin, and then down to Jordan Staal. The Penguins center depth should make them a contender for years to come.
And that's just two examples of many during the past three decades in the NHL.
"(The Islanders) had Bryan Trottier and they hadn't had success in the playoffs, and now they get Butch Goring (in 1980) and you saw what happened," NHL Network analyst Craig Button told NHL.com. "Now let's go to one of the greatest players to ever play the game, Mario Lemieux. Well, the signature trade in their franchise was acquiring Ron Francis (in 1991)."
Button wasn't done.
He recalled the impetus of the trade that landed Joe Nieuwendyk in Dallas for Jarome Iginla in December of 1995. The Stars already had Mike Modano, but the Stars management, including Button as the Director of Scouting, took a look around the Western Conference and noticed something glaring.
"Colorado had Sakic and Forsberg, and Detroit had Yzerman and Fedorov. We had Modano and he could go against one of them, but what do you do against the other -- close your eyes and hope it doesn't get ugly?" Button said. "You can not win without two good centermen. Look at Gretzky and Messier. I could just take you back to all the winners."
Let's instead go back to the Arnott deal because, well, it's in the here and now.
Arnott's presence allows Capitals coach Bruce Boudreau to properly slot his players. For example, rookie center Marcus Johansson might one day be Washington's No. 2 center behind Nicklas Backstrom, but for now he can move into the three-hole and play a much looser, pressure-free 13-14 minutes per game.
Button cited teams such as Boston and Philadelphia and said there's no way the Capitals would beat them in the playoffs with Johansson as their No. 2. He said guys like Patrice Bergeron, David Krejci, Mike Richards and Danny Briere would "eat him alive." Let's not forget either about Tampa Bay's duo of Steven Stamkos and Vinny Lecavalier.
"When you get players slotted too high you're extending them and putting them in positions they're not able to handle," Button added. "It's not that (Johansson) is not going to be a good player, he's not ready to do it now, not at that level of competition."
The role should work for Arnott, too.
He doesn't have to be the leading man because that's Backstrom's job, so he can "just come in and play," Button said, while making players around him better and lending his size, skill and experience to the Capitals quest.
"To me it's a fit that is perfect for the Washington Capitals," Button said. "Very few times on trade deadline day can you say they nailed it, but I think they nailed it. I think the team is considerably improved from this time (Monday)."
Follow Dan Rosen on Twitter at: @drosennhl