Arkansas releases first depth chart of the season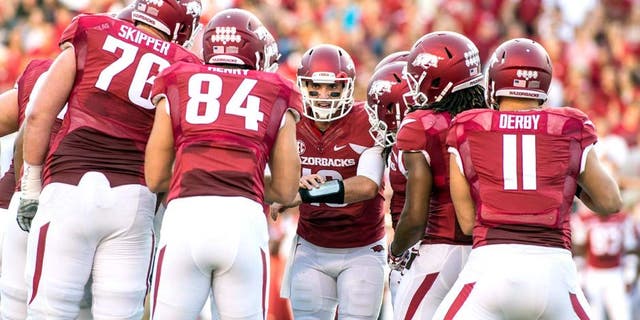 Game week is finally here as the Razorbacks look to jump-start a potential SEC West championship run with their opening game against UTEP this Saturday in the friendly confines of Donald W. Reynolds Razorback Stadium.
With the first game comes the first depth chart of the season. The Razorbacks are loaded with upperclassmen all over their first two-deep, they'll need that experience this season with a slate featuring two back-to-back SEC road trips, a circumstance only Arkansas has to deal with this season in the SEC.
Offense:
WR1 4 Keon Hatcher (Sr., 6-2, 210), 7 Damon Mitchell (So., 6-2, 207)
WR2 1 Jared Cornelius (So., 5-11, 202), 81 Cody Hollister (Jr., 6-4, 208) - OR - 87 Dominique Reed (Jr., 6-3, 180)
WR3 80 Drew Morgan (Jr., 6-0, 195), 82 Luke Rossi (R-Fr., 5-11, 203)
TE1 84 Hunter Henry (Jr., 6-5, 253), 46 Alex Voelzke (Sr., 6-5, 253)
LT 55 Denver Kirkland (Jr., 6-5, 340), 62 Johnny Gibson (R-Fr., 6-4, 330)
LG 73 Sebastian Tretola (Sr., 6-5, 334), 50 Josh Allen (Fr., 6-2, 300)
C 65 Mitch Smothers (Sr., 6-3, 322), 75 Zach Rogers (Fr., 6-1, 310)
RG 72 Frank Ragnow (So., 6-5, 312), 59 Marcus Danenhauer (Sr., 6-4, 312)
RT 70 Dan Skipper (Jr., 6-10, 331), 60 Brian Wallace (R-Fr., 6-6, 317)
QB 10 Brandon Allen (Sr., 6-2, 210), 8 Austin Allen (So., 6-1, 210)
RB 3 Alex Collins (Jr., 5-11, 215), 24 Kody Walker (Jr., 6-2, 256) - OR - 22 Rawleigh Williams III (Fr., 5-10, 215)
TE2 83 Jeremy Sprinkle (Jr., 6-6, 255), 36 Jack Kraus (R-Fr., 6-5, 235)
FB 24 Kody Walker (Jr., 6-2, 256), 44 Austin Cantrell (Fr., 6-4, 250)
Defense:
DE 6 JaMichael Winston (Jr., 6-4, 262), 48 Deatrich Wise Jr. (Jr., 6-5, 272)
DT 93 DeMarcus Hodge (Sr., 6-1, 340), 91 Hjalte Froholdt (Fr., 6-4, 299) - OR - 86 Armon Watts (R-Fr., 6-5, 304)
DT 94 Taiwan Johnson (Jr., 6-2, 290), 78 Bijhon Jackson (So., 6-2, 325) - OR - 89 Mitchell Loewen (Sr., 6-5, 275)
DE 97 Tevin Beanum (So., 6-4, 280) - OR - 55 Jeremiah Ledbetter (Jr., 6-3, 280), 96 Karl Roesler (So., 6-1, 255)
SLB 27 Khalia Hackett (So., 6-2, 230), 35 Dwayne Eugene (So., 6-1, 235)
MLB 21 Josh Williams (Jr., 6-1, 237), 45 Josh Harris (R-Fr., 5-10, 220)
WLB 51 Brooks Ellis (Jr., 6-2, 242), 23 Dre Greenlaw (Fr., 6-0, 222)
CB 29 Jared Collins (Jr., 5-11, 172), 5 Henre' Toliver (So., 6-1, 186)
FS 28 Josh Liddell (So., 6-1, 210), 30 Kevin Richardson (So., 6-0, 175)
SS 26 Rohan Gaines (Sr., 5-11, 195), 9 Santos Ramirez (R-Fr., 6-2, 202)
CB 2 DJ Dean (Jr., 5-11, 202), 16 Cornelius Floyd (So., 5-11, 172)
Special Teams:
K 9 Cole Hedlund (R-Fr., 5-10, 165), 42 Lane Saling (So., 5-8, 170)
P 37 Toby Baker (Jr., 6-3, 202), 56 Matt Emrich (Jr., 6-3, 191)
KO 48 Adam McFain (Jr., 6-0, 187), 42 Lane Saling (So., 5-8, 170)
KR 1 Jared Cornelius (So., 5-11, 202), 22 Rawleigh Williams III (Fr., 5-10, 215)
PR 1 Jared Cornelius (So., 5-11, 202), 2 DJ Dean (Jr., 5-11, 202)