Arkansas' Bucknam overcomes pressure on way to school's first national title since 2006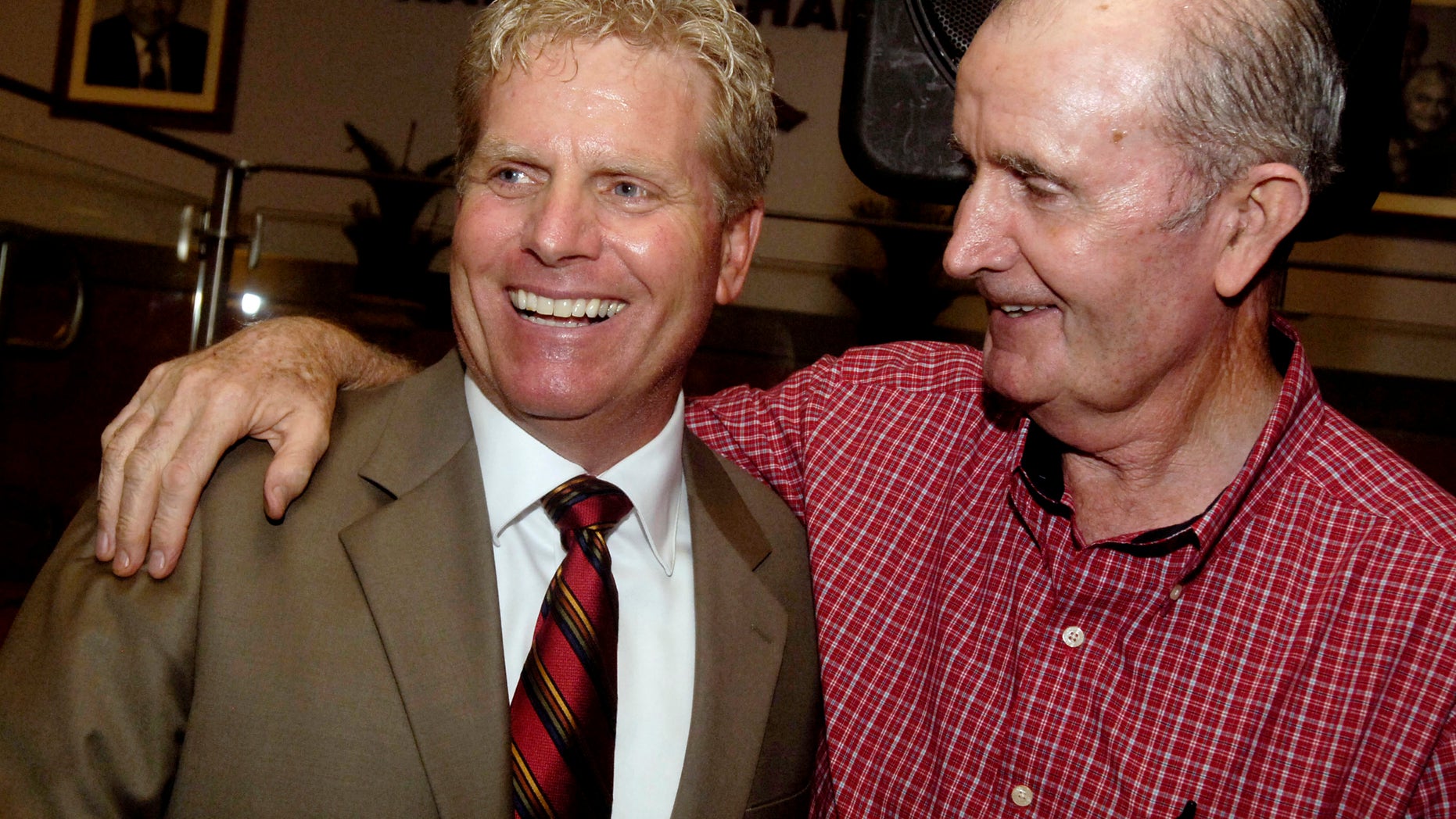 FAYETTEVILLE, Ark. – Chris Bucknam laughed earlier this spring when asked how often he thought about adding to Arkansas' 40 track and field national championships.
The Razorbacks men's coach, in his fifth season at the school after replacing the retired John McDonnell, pointed to the scoreboard inside the Randal Tyson Track Center — specifically at its display of the number of Arkansas' previous conference and national championships.
"I'm reminded of it every day," Bucknam said, smiling.
The Razorbacks added to those numbers later that weekend in March when they clinched the NCAA indoor title. It was the school's 20th indoor national championship, its 41st overall — all of which have come since 1984, a period of time during which no other school has won more than five.
And they had all come under the masterful watch of McDonnell, who retired following the 2008 season.
That is, until the most recent one, the school's first since the 2006 indoor championships. It was also the first for Bucknam, the former Northern Iowa coach who faced more than just taking over a program when he was hired by the Razorbacks five years ago.
He was charged with following a legend.
Bucknam still recalls his introductory news conference at Arkansas like it was yesterday. As memorable moments go, it's one of the clearest.
It was also one of the most intimidating for the Beverley, Mass., native, who cut his coaching teeth through "on-the-job training" as a graduate assistant and later an assistant coach for Northern Iowa's track and field team.
Taking over another school wasn't the scary part for Bucknam, who had been approached and interviewed by several Big Ten schools as he lifted Northern Iowa onto the national stage. He was even ready emotionally for the challenge of taking over a national power like Arkansas.
What intimated Bucknam initially was the person sitting on the front row of that news conference — McDonnell. The show of support wasn't meant to intimidate, but it was at that moment Bucknam fully grasped the magnitude of the job — and its expectations.
"It was becoming real to me at that point," Bucknam said. "It's one of the moments I thought, 'This is either the smartest move I'm ever going to make or the dumbest move I'm ever going to make.'"
McDonnell did his best to pass the symbolic torch that day, gathering the 10 or so men's track athletes who were on campus and introducing them to their new coach. He even led the group in a call of "Woo, Pig, Sooie," a show of support Bucknam welcomed and called "surreal."
The two coaches had come to know each other throughout the years from track meets. In fact, Bucknam still recalls the day McDonnell came up to him midway through his Northern Iowa career and told him he had "a good thing going and keep it up."
To this day, McDonnell — who coached at Arkansas for 36 years — still lives just outside of Fayetteville. He was on hand when the Razorbacks won the indoor championship in March, and Bucknam went out of his way to pay homage to the past by saying, "I hope our alums, coach (McDonnell) and our alums, are happy with what we've done."
If it was Bucknam's way of saying "Thank you," it didn't go unnoticed by McDonnell, who has done his best to remain in the background while admiring his successor's work.
"It's tough, and it doesn't matter what sport it is, to follow in the footsteps of somebody who's won a lot," McDonnell said. "Second-place is not good.
"But (Bucknam's) is a hard worker, has a great staff and he does it the way I did it."
The two talk every so often, about coaching and life. It wasn't always as frequently, despite their familiarity.
Bucknam kept his distance from McDonnell his first year at Arkansas, and he did so by design. He wanted to "see things for myself," joking that he was afraid to ask McDonnell a lot of questions "because I didn't want him to think I was (an idiot)."
It was a delicate balance of recognizing the past success that was present all around him while also sticking to the methods Bucknam knew best.
That meant working with those who knew him best — specifically, assistant coaches Doug Case and Travis Geopfert. Both were recruited by Bucknam as athletes out of high school, were coached by him in college and worked their way up the coaching ranks before returning as assistants under their mentor at Northern Iowa.
Case joined Bucknam at Arkansas immediately after his hiring, while Geopfert remained behind at Northern Iowa for a year before also joining the Razorbacks — a program he called the "pinnacle" of the collegiate ranks.
The two assistants had an up-close view of the often internalized pressure Bucknam put on himself during those first few years at Arkansas.
It wasn't as though the Razorbacks weren't winning. They won two of the three Southeastern Conference championships in each of Bucknam's first three seasons at the school, and they won the conference's triple-crown (cross country, indoor and outdoor) in 2012.
It was the success of last season, however, that highlighted the one missing piece from Bucknam's resume at Arkansas — a national championship at a school accustomed to winning them in droves.
The Razorbacks came within five points of winning the 2012 indoor title, the closest they had come under Bucknam. He didn't view it as one that got away, but some did.
"The pressure, this is the highest pressure job in track and field," Geopfert said. "That's debatable, but just look outside at the scoreboard and its 40 national championships.
"Any competitive person, and Buck is very competitive, is going to put that internal pressure on themselves. That's the hardest thing to overcome."
Whether the pressure was external or internal, Geopfert said Bucknam retained his sense of humor during his first four seasons.
Kevin Lazas, a four-time All-American heptathlon and decathlon athlete for the Razorbacks, echoed that sentiment — particularly during the season leading up to March's indoor national championship.
"He never talked about it because he didn't want to put pressure on the athletes," Lazas said. "He never made it seem like we had to do it to take the pressure off him."
During a news conference prior to the indoor championships in March, Bucknam — with rival coaches all around him on the stage — downplayed the importance of winning his first national championship.
He wasn't about to jinx things at that point.
After the win, he relented and admitted just how much of a relief the win was. But, as he's quick to point out now, the job isn't finished — not as Arkansas prepares to send 27 athletes to next week's outdoor national championship preliminary meet.
A picture of McDonnell hangs behind Bucknam's desk in his office, which is also adorned with pictures of the school's past national champions — both during the McDonnell and Bucknam eras.
Times seem like they've returned to normal at Arkansas, which is reveling in calling itself a national champion for the first time in six years.
One thing was different about the scoreboard that stands over John McDonnell Field, where Bucknam's office is located, when he arrived for work on the Monday following the indoor championship in March.
The number of national championships had already been updated to 41, just two days following the win. It was yet another sign of the interest, expectations and a welcoming to the club of sorts for Bucknam, who wouldn't change a thing about where he is and pressure he puts on himself each and every day.
"It's my cross to bear," Bucknam said of Arkansas' past success. "But, then again, I reap the rewards from it every day; just look around."