Arkansas' Anderson hopes slumping Wade can pick up scoring slack behind Young, Powell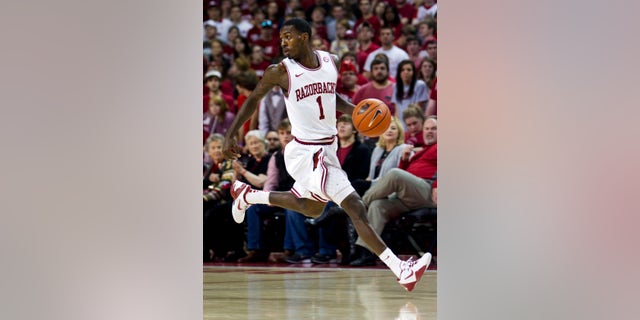 FAYETTEVILLE, Ark. – Mardracus Wade would love nothing more than to return to his role as a scoring threat for an Arkansas team in desperate need of exactly that.
Last season's top 3-point shooter in the Southeastern Conference first must find his shooting touch and a way to simply get back on the court for the Razorbacks (10-5, 1-1 SEC) when they host Auburn (8-7, 2-0) Wednesday night.
Wade, who connected on nearly half of his 3-point shots last season, has struggled so far in his second year under coach Mike Anderson. The junior is averaging 7.4 points per game and is shooting just 32.5 percent (13 of 40) on 3-pointers, a season after a breakout effort in which he averaged 10.8 points per game.
Anderson singled him out last week for not grabbing a rebound in 27 minutes of action in a loss at Texas A&M. Then, against Vanderbilt, he didn't start for the first time this season and didn't even play in the second half.
"I think he's just got to start performing, that's all," Anderson said. "Bring some better practices that can take him into the game. I think basketball is a game of confidence. You've got to play with confidence."
Following the win over the Commodores, Wade — who led Arkansas with an average of 28.8 minutes per game last season — took to Twitter to express his frustration with the lack of playing time.
"This is crazy ... Can't believe that," the Memphis native tweeted.
Wade deleted the post shortly afterward based on the advice of a friend, and he was clear this week that he knows he holds the key to his future. He's also confident he can regain last season's form, sooner rather than later.
"I've got to stay in the gym and continue to work and try to get better and just come out there and produce," Wade said. "I know I will because I'm that type of player. I work hard. I don't get down too much on myself.
"I'm like a gym rat. I'm always going to be in here to get better and help my team out any way I can."
Wade's sudden drop in production this season isn't nearly as pronounced as his rise last season, when he burst onto the SEC scene after averaging just 4 points per game as a freshman. The Razorbacks were in dire need of a breakout season from someone after sharpshooter Rotnei Clarke transferred to Butler.
Wade obliged, hitting 70 of 147 (47.6 percent) 3-pointers. He benefited from more touches after an early knee injury cost leading scorer Marshawn Powell all but the first two games of the season.
Powell, who has returned this season and is second on Arkansas in scoring with an average of 14.3 points per game, has been as surprised as anyone by Wade's shooting woes. The forward has noticed Wade's reluctance to shoot at times, saying he "does a lot more pump-faking than he needs to." Powell isn't sure if his return has affected Wade's role.
"I mean, I'm telling him during the game, 'Just shoot the ball; let the ball go,'" Powell said. "If you miss it, you miss it. If you make it, we need it. ... Hopefully, he'll bring it."
Arkansas needs Wade to emerge as a third scoring option to go along with Powell and leading scorer BJ Young. Through Arkansas' first two SEC games, no one other than Young or Powell is averaging more than 5 points per game.
"It can't continue," Powell said. "You're not going to get any W's if that continues."
Wade has been far from the only one to struggle from the outside this season for the Razorbacks, who are 11th in the SEC in 3-point shooting percentage (31.5). The shooting guard, however, might just be the key if Arkansas hopes to return to the NCAA tournament for the first time since 2008.
"We've got to have a third scorer and a fourth scorer," Anderson said. "Our team has been built a lot on balance, so we've got to have some guys to really step up. ... That scoring has got to come from other people."