Arizona star pro athletes to participate in John McCain's funeral
Three professional athletes who play or played in Arizona teams are slated to participate in Sen. John McCain's memorial service on Thursday.
Former Arizona Coyotes player Shane Doan, who retired from the NHL in 2017, and Arizona Diamondbacks outfielder Luis Gonzalez will serve as pallbearers at McCain's funeral, the senator's website stated. Gonzalez played for the Diamondbacks from 1999-2006 before retiring from the MLB in 209.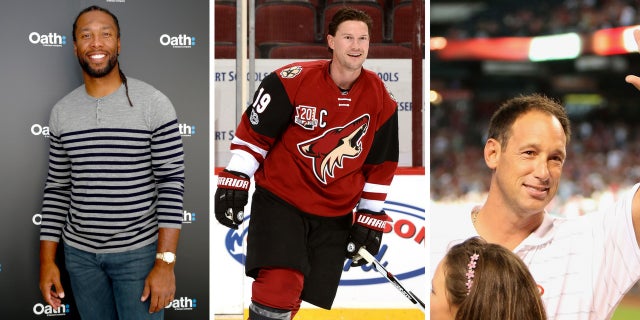 Arizona Cardinals wide receiver Larry Fitzgerald is listed as one of the six speakers who will read a tribute at McCain's funeral.
Fitzgerald and McCain were friends and the star NFL player even traveled to Vietnam to visit the place where the late senator's plane was shot down in 1967. There, he also visited the jail cell where McCain was held as a prisoner of war for five years.
JACKSONVILLE JAGUARS' BLAKE BORTLES HELPS DELIVER MEALS TO OFFICERS WORKING MASS SHOOTING
"I took a photo of myself next to his flight suit, the suit he was wearing when he got shot down," Fitzgerald wrote in an op-ed for Sports Illustrated in December 2017. "So powerful. So meaningful. Those images will never leave my mind."
Fitzgerald tweeted his condolences to McCain on Saturday when the senator passed away.
"Rest in peace to an American hero, statesman, servant of the people, and dear friend. Godspeed Senator McCain. My prayers for Cindy and the beautiful McCain family," he posted with a picture of the two of them standing in Washington, D.C.
Fitzgerald said the senator's wife, Cindy McCain, asked him a few months ago if he would speak at the service.
"It's truly one of the greatest honors of my life to be able to talk about somebody who served his country so passionately and had been so dedicated to policies of this nation," Fitzgerald told ESPN. "So, I was really taken aback by it."
TEXANS STAR JJ WATT'S HURRICANE HARVEY EFFORT RAISES RECORD $41.6M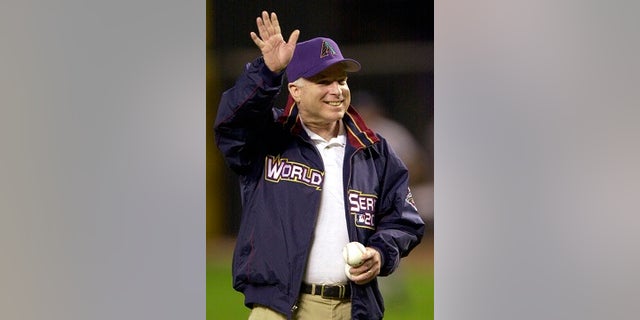 McCain was an avid supporter of Arizona sports teams and often seen at sporting events. He even worked to keep the Arizona Coyotes in the area after the former team owner filed for bankruptcy. The Coyotes honored McCain with a bobblehead at a military appreciation night in 2011 and the senator dropped the ceremonial first puck before the game against the Montreal Canadiens.
McCain died on Saturday after battling brain cancer. His funeral will be held at the North Phoenix Baptist Church in Phoenix.
The Associated Press contributed to this report.