Arizona opens 2017 football season vs. NAU, plays 3 of final 4 on road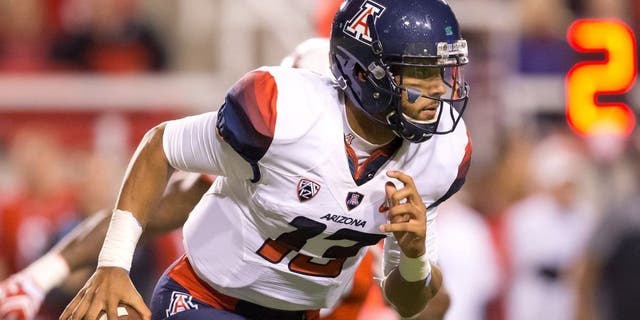 NEWYou can now listen to Fox News articles!
TUCSON, Ariz. -- Arizona will open its 2017 football season at home on Saturday, Sept. 2, vs. Northern Arizona.
The Wildcats will be on the road for five of their nine Pac-12 games away from home, including three of their final four. Their November schedule features away games at USC (Nov. 4), Oregon (Nov. 18) and Arizona State (Nov. 25), along with a Nov. 11 home game vs. Oregon State.
Arizona's Pac-12 home games are against Utah, UCLA, Washington State and Oregon State. It is not scheduled to play conference rivals Stanford and Washington in the 2017 or 2018 seasons.
Arizona's bye week come in late September -- following three non-conference games and their Pac-12 opener on Friday, Sept. 22, vs. Utah.
The other non-conference games on Arizona's schedule are a home game vs. Houston and a road trip to UTEP.
Game times and television selections are still to be determined.
2017 Arizona football schedule
Sept. 2 -- NAU
Sept. 9 -- Houston
Sept. 16 -- at UTEP
Sept. 22 (Fri.) -- Utah
Sept. 30 -- Bye Week
Oct. 7 -- at Colorado
Oct. 14 -- UCLA (Family Weekend)
Oct. 21 -- at California
Oct. 28 -- Washington State (Homecoming)
Nov. 4 -- at USC
Nov. 11 -- Oregon State
Nov. 18 -- at Oregon
Nov. 25 -- at Arizona State