Arizona beats Washington to stay unbeaten in Pac-12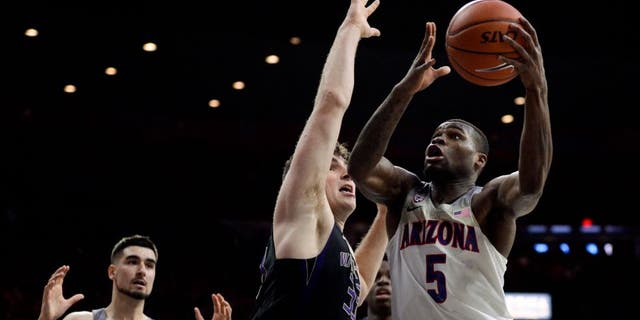 TUCSON, Ariz. -- Kadeem Allen scored 14 points to lead five Arizona players in double figures and the No. 7 Wildcats wore down Washington 77-66 on Sunday to stay alone at the top of the Pac-12 standings.
The Wildcats (20-2, 9-0 Pac-12) won their 14th straight overall and 18th in a row at home.
Kobi Simmons added 13 points, and Allonzo Trier, Dusan Ristic and Lauri Markkanen had 12 apiece.
Freshman sensation Markelle Fultz scored 16 points for Washington (9-12, 2-7) but on 8-of-23 shooting. He was 0 for 4 on 3-pointers and missed all four of his free throws.
Washington led virtually entire first half before Arizona's offense finally got moving and pulled away in the second.
Halfway through the Pac-12 season, the Wildcats have sole possession of first place thanks to Colorado's upset of Oregon on Saturday.
Arizona was sluggish early against Washington's aggressive zone defense and the Huskies led 33-31 at the break.
Arizona finally took its first lead since it was 4-2 on Allen's driving layup that put the Wildcats up 40-39 with 16:57 to play.
Arizona methodically pushed it from there. Markkanen, the reigning Pac-12 player of the week who was having a rough afternoon up to that point, sank a 3-pointer that made it 57-49.
Trier, in his third game back from his suspension for using a banned substance, scored the next four points on two free throws and a driving layup and the Wildcats led 61-49 with 7:33 to go.
With his team down eight, Fultz slipped in the lane and Allen picked the ball out of his hands, leading to Trier's one-handed dunk that gave Arizona a 67-57 lead with 3:29 to play.
The game got off to an ugly start for the home team.
Arizona missed its first eight 3-pointers and had nine first-half turnovers, three apiece by Allen and Markkanen.
Arizona got a 3 on its ninth try. Trier's long-range basket was followed by Allen's 3-pointer that tied it at 31-31 with 31 seconds left. But Dickerson's rebound basket at the buzzer gave Washington a 33-31 lead at the half. It is the last of four offensive rebounds for Dickerson in the first half.
The Huskies' first free throw didn't come until there was 14:15 left in the game. By then, Arizona had taken 17. Washington finished 7 of 17 at the line to Arizona's 22 of 30.
TOP 25 IMPLICATIONS
Arizona wasn't at its best but was good enough to stay perfect in the conference with a big game looming at Oregon next Saturday.
HOME AND BACK
After losing at Arizona State on Wednesday night, Huskies coach Lorenzo Romar decided to take his team back to Seattle rather than wait in the desert four days for Sunday's game. They took a charter that arrived in Seattle at 2:30 a.m., Pacific time.
The Huskies flew commercial on their return trip, and the plane was an hour late. A medical emergency on another passenger further delayed the team from getting off the plane.
They got to their hotel at 3 p.m. Saturday, local time.
FULTZ'S JOURNEY
Fultz could have been wearing an Arizona uniform. The freshman guard from Upper Marlboro, Md., had narrowed his choices to Washington, Arizona and Kentucky before settling on the Huskies, who were among the first major college teams to show interest in him as an unheralded underclassman.
UP NEXT
Arizona plays at last-place Oregon State Thursday night, then take on Oregon in a battle to stay atop the Pac-12 on Saturday.