Aric Almirola, crew chief take penalty hits after 'Dega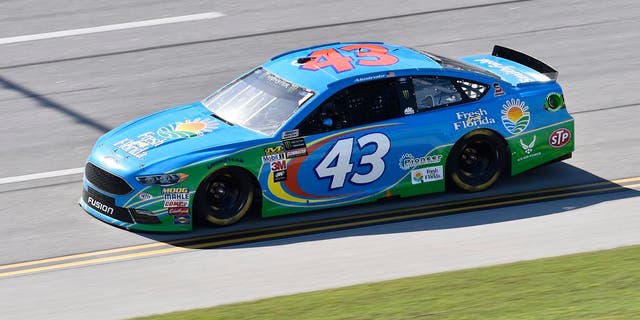 As expected, NASCAR penalized Richard Petty Motorsports on Wednesday because the teams No. 43 Ford failed to pass NASCARs Laser Inspection Station on Sunday, following Aric Almirolas fourth-place finish in the GEICO 500 at Talladega Superspeedway.
Almirolas crew chief, Drew Blickensderfer, was suspended for three races and fined $65,000. As part of the penalty, Almirola was docked 35 driver points and the team lost 35 owner points.
The penalties for the infraction are identical to ones handed out earlier this year to Team Penske after the Phoenix race, when Brad Keselowskis car did not pass LIS.
Prior to the penalty, Almirola was ranked 17th in the Monster Energy NASCAR Cup Series points standings.
The violation fell under NASCAR Rule Book Sections 20.17.3.1.2 Post-Race General
Inspection Measurements. Per NASCARs penalty report, Almirolas car failed the post-race rear wheel steer on the LIS. Almirolas finish is encumbered per Section 12.10 Encumbered Race Finishes.
RPM can appeal the penalty. Team Penske appealed its penalty, but lost both its initial appeal and its final appeal.
There was one other penalty handed out at Talladega. Ken Davis, crew chief for Elliott Sadler and Tommy Baldwins No. 7 Chevrolet, was fined $10,000 for lug nut(s) improperly installed.