Argentinean Soccer Player Sparks Outrage After Attempting To Toss Dog Off Pitch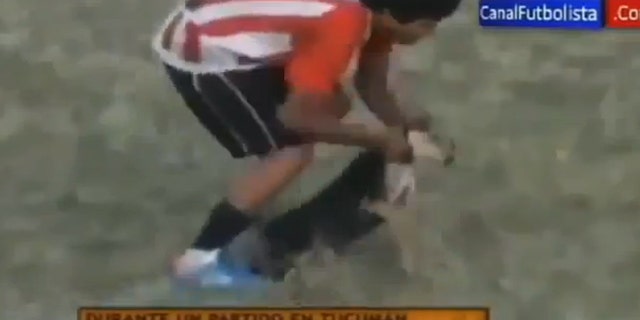 An Argentinean soccer player is in the dog house with fans for his brutal treatment of an on-field intruder.
José Jiménez, a player for Argentina's lower league Bella Vista soccer team, outraged fans when he picked up a dog that wandered on the field by its neck and hurled the helpless hound onto a metal fence.
The homeless hound snuck onto the playing field and laid down on the grass when the Bella Vista player took security detail into his own hands. A video of the game shows the player snag the dog from the ground and attempt to hurl it over a fence and into the crowd.
Jimenez doesn't appear to have the strength in arms as he does when kicking a soccer ball – the dog slammed into the fence and bounced back with a thud as shocked spectators looked on. Luckily, the dog immediately bounced up and sprinted away from its attacker.
The opposing fans from the San José soccer club didn't like the Bella Vista player's treatment of the dog and began to hurl objects onto the pitch.
Jiménez's dog attack also sparked a brief brawl between the opposing sides and a referee appeared and handed the player a yellow card.
Follow us on twitter.com/foxnewslatino
Like us at facebook.com/foxnewslatino