Argentina's Boca Juniors kicked out of Copa Libertadores after pepper-spray fan attack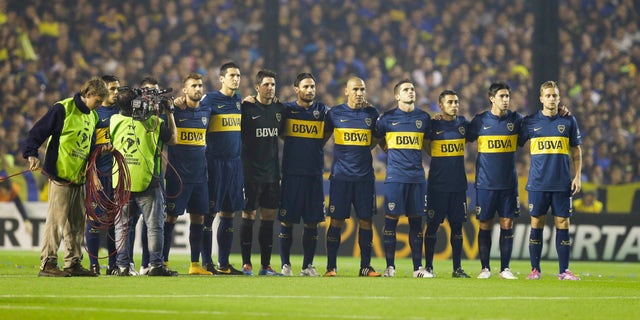 ASUNCION, Paraguay (AP) – Boca Juniors was kicked out of the remainder of the Copa Libertadores competition Saturday night as punishment for its fans spraying a caustic substance on an opposing team in a tournament game.
The announcement came after the governing body of CONMEBOL, the South American football federation, met privately to discuss punishment for the Argentine team over the Thursday night incident in game against bitter rival River Plate.
There had been speculation the body would also suspend Boca from international competition for a year and bar games at its La Bombonera stadium. But the body ruled only that Boca will have to play its next four home international matches without fans in the stands. The team also will not be able to sell its fans tickets for its next four away games and it was fined $200,000.
Before the meeting, CONMEBOL's secretary general had said that Boca Juniors should be severely penalized after the team's playoff game with River Plate had to be suspended.
"We have to meet the requirements of FIFA," said Jose Luis Meiszner. "There will be severity in the penalties."
The governing body's ruling meant that River Plate will advance to the quarterfinals of the Copa Libertadores.
The second-leg match in the round of 16 on Thursday was stopped when River Plate players were sprayed with a caustic substance as they took the field for the second half. Many rubbed their eyes or doused them with water to clear their vision.
River had won the first leg 1-0 last week, and Thursday's match was 0-0 when it was suspended in front of about 50,000 fans before the second half could begin.
The match turned to chaos when River players came out of a temporary tunnel rubbing their eyes and pulling their shirts over their faces. Police and officials waited on the field for more than an hour before suspending the game.
Thursday's match was the third between them in 12 days, and they each had won once.