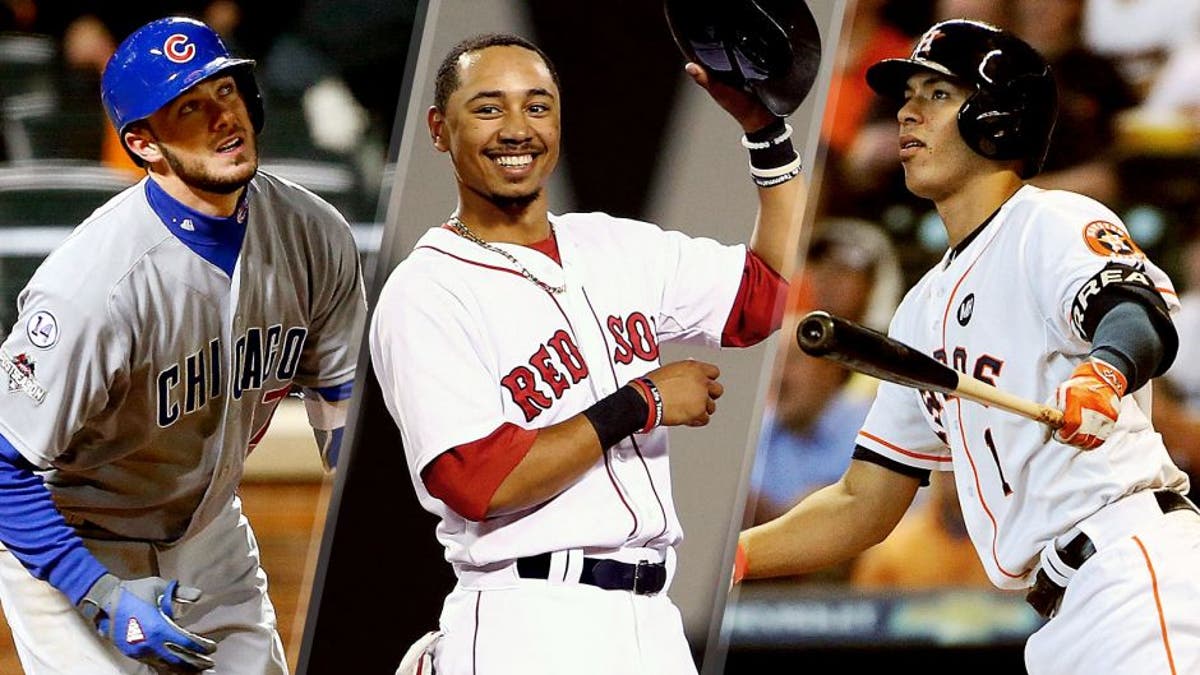 Green grass. Warm temperatures. Unrealistic expectations.
You will find all three next week at Grapefruit League and Cactus League camps.
For five teams in particular -- each of which falls into a specific category as we enter the season -- it's fair to ask whether we are getting just a little too excited when it comes to their postseason aspirations (both in term of fans' hopes and Las Vegas projections).
We know about the many positives for each of these teams, but here's a quick look at the three biggest potential pitfalls (aside from unforeseen injuries) for five would-be contenders.
The World Series favorites: CUBS
1. All that youth. The roster is loaded with players who have three or fewer years of major-league experience, so some sophomore slumps are likely. The 2015 playoff experience is a huge asset, but what if the kids start buying into the hype?
2. Veteran starting pitchers. Jon Lester's ERA jumped nearly a run in his first season with Chicago, and he turned 32 this offseason. Free-agent pickup John Lackey is coming off an outstanding year but is 37.
3. Outfield defense. Kyle Schwarber remains a project in left field, and Jason Heyward has started only 30 games in center in his career. That makes Jorge Soler the surest thing after 117 starts in right.
The worst-to-first candidate: RED SOX
1. The young outfielders. Mookie Betts, Jackie Bradley Jr. and Rusney Castillo were a sensational trio in the second half, offensively and defensively. But the opposition will have a better book on them this season.
2. The rotation behind David Price. This same collection of arms -- minus Wade Miley -- posted the 24th-best ERA in the majors last season. Price is an ace but will pitch only every fifth game.
3. The corner infielders. We have no idea whether Hanley Ramirez can play first base or how much that will affect his offense. And third baseman Pablo Sandoval is coming off miserable year at the plate and in the field. Boston has three legitimate DHs.
The defending NL champions: METS
1. Yoenis Cespedes. More specifically, a late-season Cespedes who underwhelms offensively. He didn't homer in his final 56 regular-season at-bats and had one extra-base hit in the NLCS and World Series combined.
2. Defense. The biggest concerns are Cespedes playing out of position in center field and Neil Walker at second base. Sure, Daniel Murphy wasn't a Gold Glover at second, but Juan Lagares -- now on the bench -- has been in center.
3. The hangover. One reason it's so hard to repeat is the energy (physical and mental) spent the season before. Although the rotation is stocked with young arms, they all pitched additional innings deep into October.
The emerging powerhouse: ASTROS
1. Growing pains. Like the Cubs, the Astros are loaded with young sluggers who helped the team reach the postseason at least a year before expected. And we already know 22-year-old righty Lance McCullers will have an innings limit.
2. The strikeouts. Only the Cubs struck out more times than the Astros last season. It's a weakness that is easy to exploit, and not putting the ball in play eliminates so many possibilities and kills rallies.
3. Ken Giles. He has been dominant in his first two seasons but has been a full-time closer for just two months -- and that was with the last-place Phillies. Houston paid a steep price to get Giles, and he can't fall short of expectations.
The offseason risk-takers: DIAMONDBACKS
1. Shelby Miller. Forget his MLB-worst 17 losses last season with the Braves; Miller posted a 3.02 ERA and got zero run support. But he must be a solid No. 2 behind Zack Greinke, and he must thrive in a hitter-friendly park.
2. The infielders. The guys not named Paul Goldschmidt must prove they can hit -- something Chris Owings, Nick Ahmed and Jake Lamb didn't do last season. And neither did newcomer Jean Segura.
3. The ninth inning. Brad Ziegler was lights-out last in his first season as closer in 2015 but isn't your conventional ninth-inning man. Neither is recently signed Tyler Clippard. Will the D-backs regret not adding an elite stopper?