Archery Attack, a new sport that's like paintball with bow and arrows, is latest craze to hit US
It could become the latest craze since laser tag.
Archery Attack, a game that combines dodgeball, paintball and archery, is entering the U.S. market for the first time, and fans of the sport hope it becomes a national phenomenon.
"Archery Attack is like paintball with bows and arrows and no mess," said Glenn Davis, whose Georgia gym, Ninja Quest in Marietta, was among the first in the country to offer the sport.
Inspired by live-action role-playing, each game is held on a "battlefield" and lasts five minutes or until every man from one team has been "tagged out" by a foam-tipped arrow during "combat."
"There's a couple different games. There's games where you can have people on one side and some people on the other side … either you can hit the targets to get people out or you can hit the people to get them out," Davis said.
Joey DeSocio said he began playing Archery Attack when the program started at the gym in August. He plays at least once a week, after spending a few hours working out and training for American Ninja Warrior.
"You're having so much fun while you're doing it that you don't even think of the kind of workout that you're getting. You're just thinking of getting from one cover to the next," DeSocio told Fox News. "Your heart is beating so fast just trying not to get hit by one of the arrows…..You're just thinking I need to survive, I need to win, I want to win this for my team and for me."
Plus, he said, it's a great bonding experience.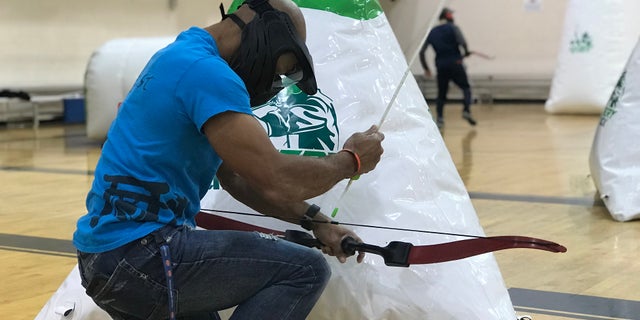 "So if you come out with your friends, even if you have work friends, co-workers that you want to come out and play with, I would bring everyone out here and definitely give it a try. It's a ton of fun," DeSocio said.
Davis says participants can be of all skill levels and should be at least 8 years old to play.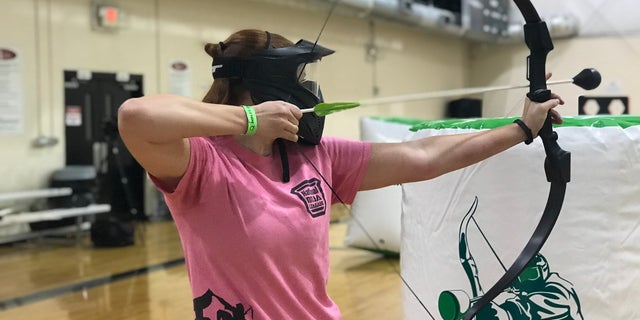 Archery Attack was initially developed by Chris Firgaira in South Australia in 2014 after witnessing "some of the most exciting and intense battles between steel-clad warriors and Robin Hood-esque archers hailing arrows from the sky," reads the statement on the sports website. "It was then that we knew we needed to bring the same excitement to the broader community."
The sport has spread to New Zealand, the Philippines and now Georgia. The gym is well-known for training competitors for American Ninja Warrior, but Davis says he hopes Archery Attack will gain enough popularity in the U.S. for people to form leagues to compete in nationwide tournaments.