Aqib Talib has no doubt Trevor Siemian is 'better than' Brock Osweiler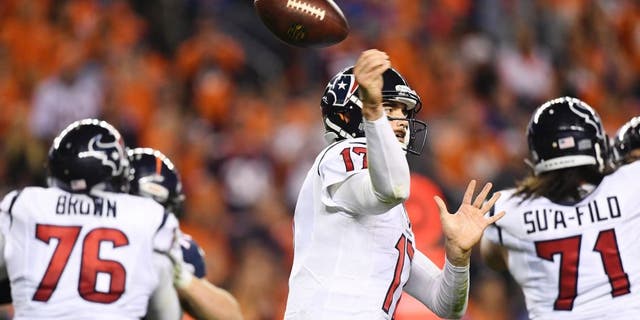 There was more than just a win on the line Monday night when the Houston Texans paid the Denver Broncos a visit. It was the first time quarterback Brock Osweiler played against his former team, the squad he left to join the Houston Texans after winning a ring in Denver.
The Broncos defense was clearly motivated by Osweiler's homecoming, and you could see it on pass rusher Von Miller's face as he smiled when coming dangerously close to leveling the quarterback after a picture-perfect spin move. Linebacker Brandon Marshall said the Broncos wanted to "kill him," and while they didn't get many hits on Osweiler, it was clear he was uncomfortable.
He turned in an all-time horrendous performance, averaging 3.2 yards per attempt for 131 yards. Denver QB Trevor Siemian clearly outplayed him in every facet of the game, and it must make the Broncos feel good about their offseason decision to let Osweiler go.
Broncos cornerback Aqib Talib certainly does.
"If you look at it overall, (Elway) saved a bunch of money. And Trev is a great quarterback, man. He's better than Brock in my eyes, Talib said, via USA Today. "So it's a win-win situation."
Osweiler is making $18 million a year in Houston while Siemian's base salary this season is $525,000. The Broncos were able to use that money to sign Miller long-term, retain DeMarcus Ware and keep their core of defensive players.
Though the Broncos couldn't keep everyone, they were able to re-sign key contributors on both sides of the ball, including running back C.J. Anderson.
"We feel like we kept the guys we needed to keep. It would have been great to keep Brock, would have been great to keep (linebacker) Danny (Trevathan), would have been great to keep (defensive lineman) Malik (Jackson)," Talib said.
It hasn't been all bad for the Texans despite the fact that Osweiler has been a disaster on the road. They're 4-3 and leading the AFC South, but there is still plenty of room to improve. Not surprisingly, the Broncos remain one of the few teams to beat in the AFC.