Antonio Brown's comments indicate he's not taking his Facebook debacle seriously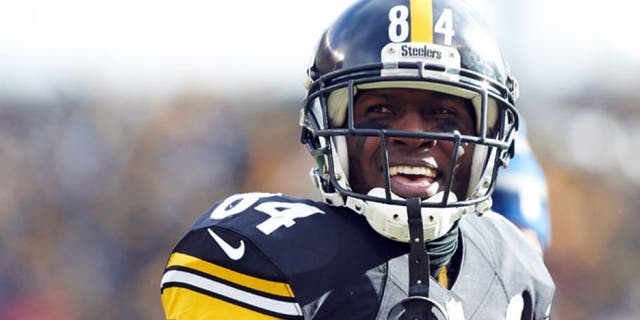 NEWYou can now listen to Fox News articles!
Pittsburgh Steelers star wideout Antonio Brown mixed in a couple of playful answers during his Wednesday news conference, which focused on his decision to broadcast the Steelers locker room to Facebook moments after their 18-16 win over the Kansas City Chiefs on Sunday.
But in doing so, Brown might have opened himself up to even more questions. The perennial Pro Bowl wideout gave a playful answer when asked if this would be the last time he pulled a stunt like this in the locker room after a game.
"I guess you've got to wait and see," Brown told reporters.
But Brown was far from done being coy with the media. When asked if he had any sort of deal with Facebook, Brown smiled and simply said "top secret".
This isn't the first time Brown, who took to social media Tuesday night to apologize, has broadcast from inside the Steelers locker room. He did the same following Pittsburgh's win over the Miami in the wild-card round, but Sunday's video caught head coach Mike Tomlin using an expletive in reference to the New England Patriots -- the Steelers' opponent in Sunday's AFC title game.
When asked why he loves to turn to social media, Brown said Wednesday that he was trying to look out for the fans.
"I wanted to give the fans an intimate experience," said Brown, who added his decision to broadcast after the game was "selfish" and "foolish" .
That experience not only violated the NFL's social media policy but also drew the ire of his teammates and head coach.
"Those words that he spoke, I didn't take lightly," Brown said of Tomlin, who called his All-Pro wide out "selfish" for his actions.
"That's a big statement coming from my head coach. I've got to relish in those words. Looking forward to just doing my job."