Anita Alvarez aims for first U.S. Olympic medal in synchronized swimming in 12 years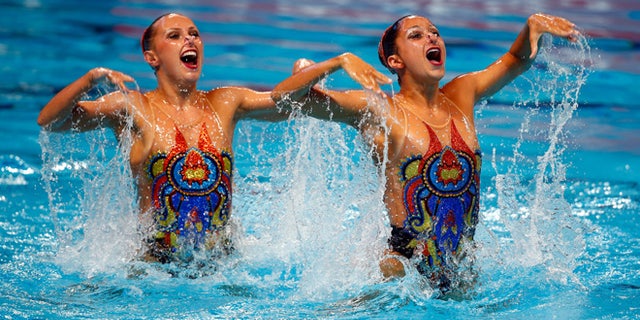 NEWYou can now listen to Fox News articles!
The United States has not been on the podium of the in duet synchronized swimming since the 2004 Olympic games in Athens.
Anita Alvarez wants to change that on Sunday.
The 19-year-old Alvarez, alongside duet partner Mariya Koroleva, is taking to the pool for their free routine and facing tough competition from Russia, Austria and Mexico.
At a Glance
Name: Anita Alvarez
Age: 19
Discipline: Synchronized Swimming (duet)
Begins competition: Free routine, Sun. 8/14
Born and raised in Amherst, N.Y., Alvarez began swimming at the age of 5. Synchronized swimming runs in the family – her mother, Karen, has been coaching the sport for more than 30 years – so it was not long before she started awing with her plastic moves.
She excelled and actually won every individual race she entered during her final year of high school competitive swimming.
"I think one of the hardest things is that not everyone realizes how difficult it actually is. We're trying to make it look easy. That's part of our job," Alvarez told NBCOlympics.com.
Alvarez told EFE recently that she grew up watching videos of swimming competitions including some of Koroleva, who represented the U.S. in the 2012 Olympic Games in London.
Sunday marks Alvarez's Olympic debut.
Leading up to Rio, Alvarez and Koroleva have set up a great partnership that has led them winning gold and silver medals at the China Open, and bronze medals at the German and French opens. In preparation, they practiced for several hours a day and incorporate Pilates and ballet into their flexibility training.
Koroleva told ExcelleSports.com that their pre-competition ritual includes playing music and thinking through their routine.
"Then we remind each other of things we have to remember to do and what we are going to focus on," she added. "Both of us like to yawn before we compete as well because it slows down your heart rate and kind of just calms you."
According to her Team USA profile, Alvarez's athletic role model is none other than Olympic gold medal soccer player Abby Wambach. She cites her as the "perfect example of a true champion."
Like us on Facebook
Follow us on Twitter & Instagram