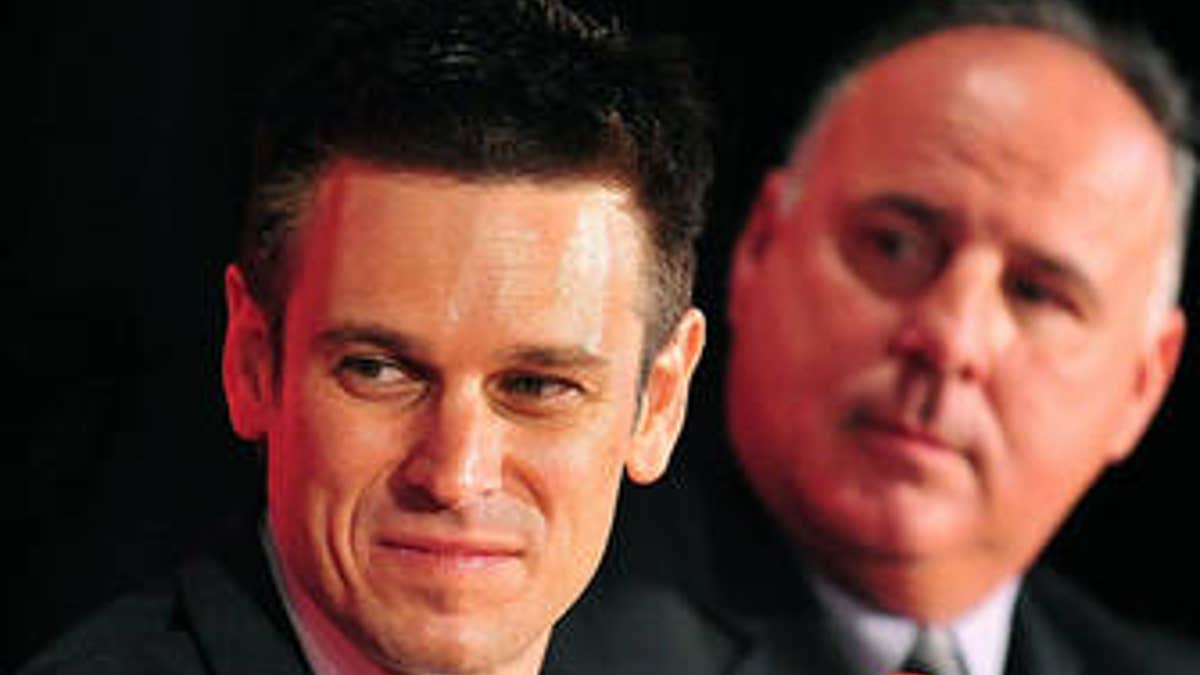 No matter who gets fired, the Los Angeles Angels of Dysfunction will not suddenly be awash in solutions.
If anything, the dismissal of general manager Jerry Dipoto, manager Mike Scioscia or both only will create a new set of problems.
Something is going to give with the Angels. FOX Sports' Jon Paul Morosi, citing industry sources, reported last Friday that either Dipoto or Scioscia is expected to be replaced before the start of next season .
But while the natural focus is on, "Who?" the better question is, "How?"
As in, how would owner Arte Moreno find a quality replacement for Dipoto, who has been squeezed from above by Moreno and below by Scioscia, becoming the baseball personification of Ben Franklin's description of New Jersey: "A keg tapped at both ends"?
On the other hand, how could Moreno justify allowing Dipoto to hire a more like-minded manager when A) Scioscia did not suddenly become dumb, and B) the GM's pitching choices last offseason were deeply flawed?
The respective contracts alone indicate that Sciosica stands a better chance of surviving -- he is signed through 2018, with $6 million salaries in each of his final three seasons, while Dipoto is signed only through '14.
What's more, Scioscia is saying publicly and privately that he wants to remain with the Angels rather than pursue potential openings with Washington, Detroit or even the Los Angeles Dodgers.
In addition, Scioscia wants to secure contract extensions for his coaches, according to a major league source, and avoid a recurrence of the act that helped poison his relationship with Dipoto -- the firing of hitting coach Mickey Hatcher last season.
Does Scioscia deserve such benefit of the doubt? Maybe not, considering that the Angels haven't reached the postseason since 2009. But Scioscia could rightly argue that Dipoto isn't giving him sufficient talent and that Dipoto's farm system, headed by assistant GM Scott Servais, isn't giving players proper instruction.
Fair enough. But Dipoto is in a difficult position, and has been from almost the moment he was hired in October 2011.
Moreno was the driving force behind the signing of first baseman Albert Pujols to a 10-year, $240 million free-agent contract that offseason, then outfielder Josh Hamilton to a five-year, $125 million free-agent contract last offseason.
Dipoto never received the autonomy he was promised, sources say. So, while his additions of starters Jason Vargas, Joe Blanton and Tommy Hanson largely backfired, as did his signings of relievers Sean Burnett and Ryan Madson, it wasn't the GM's decision to sink most of the team's budget into another hitter.
Think about it: If the Angels didn't want to match the six-year, $147 million contract that free-agent right-hander Zack Greinke received from the Dodgers, they could have at least bid for free-agent righty Anibal Sanchez, who reached a five-year, $80 million deal with the Detroit Tigers and now leads the American League in ERA.
Sanchez, Jered Weaver, C.J. Wilson and no Hamilton.
Bet the Angels would make that trade now.
Dipoto hardly is above reproach -- his two-year, $15 million signing of Blanton drew particular scorn within the industry. But for a first-time GM, working for a meddlesome owner and controlling manager cannot be all that much fun.
Oh, and let's not forget this: When a team fires its GM, the effects within the organization are far-reaching, causing an upheaval in scouting and player development.
The Angels just went through that after hiring Dipoto to replace Tony Reagins two years ago. Do they want to go through it again?
Moreno told USA Today in June that he likes Dipoto's "(analytical) systems" and needs time "to get our system working." Dipoto, who inherited a depleted farm system, has presided over only two drafts. Of course, he didn't help himself by overpaying in the Greinke trade, parting with eventual All-Star shortstop Jean Segura, Pacific Coast League pitcher of the Year Johnny Hellweg and right-hander Ariel Pena for a rental whom the Angels did not re-sign.
Again: If Moreno wants to find reasons to nail Dipoto, he won't need to look too hard. But Scioscia, who according to sources has been resistant to the statistical analysis prepared by Dipoto and his staff, will need to be more flexible under the next GM. More accountable, too.
When Scioscia exerted greater influence under Reagins, his supporters said that he was merely filling a void created by Reagins' lack of leadership. The hiring of Dipoto, a much stronger personality, was supposed to restore the normal balance between manager and GM. But when one man pushes, the other pushes back, creating a polarized environment, sources say.
If the Angels hire a new GM, no longer can anyone pretend that Scioscia is just another manager, just doing his job. Scioscia would need to acknowledge his larger role, accept greater responsibility. He could start by sitting in on the interviews for the new GM, just as Buck Showalter did before the Baltimore Orioles hired Dan Duquette.
The new GM, meanwhile, obviously would need to understand that he is dealing with a baseball version of Bill Parcells, the former NFL coach who famously once said, "If they want you to cook the dinner, at least they ought to let you shop for some of the groceries."
The idea of one man acting as manager and GM in baseball is preposterous; both jobs are too consuming. Maybe the Angels need to hire a GM more like Bill Stoneman, who preceded Reagins and presided over the team's World Series championship in 2002. Stoneman was more low-key than Dipoto, a "better listener," according to one team official.
Oh, it's a fine mess, the world that Moreno created, the Los Angeles Angels of Dysfunction. And it's not going to be easy to clean up, no matter what the owner decides.