Angels introduce Yankees' Eppler as new general manager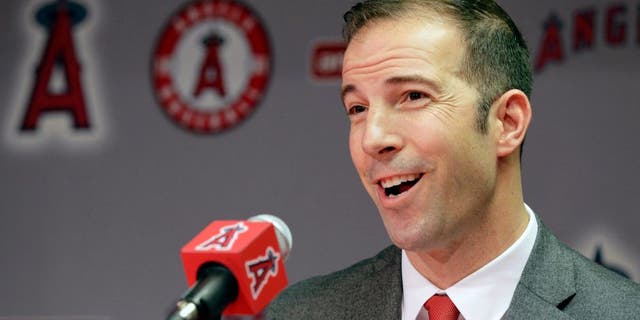 NEWYou can now listen to Fox News articles!
ANAHEIM, Calif. -- The Los Angeles Angels hired longtime Yankees executive Billy Eppler as their new general manager on Sunday night.
The 40-year-old Eppler replaces interim GM Bill Stoneman, w6ho took over after Jerry Dipoto quit his job at midseason following his latest disagreement with Mike Scioscia, the longest-serving manager in baseball.
Eppler has long been considered a prime candidate to run his own team, and the Angels are giving him the chance. He was a finalist for the same job in 2011 when Angels owner Arte Moreno hired Dipoto.
''The Angels are committed to championship standards,'' Eppler said in a statement released by the club. ''They are committed to being a perennial contender, and many of the pieces are already in place for that to occur. I look forward to a collaborative effort as we look to enhance and advance every phase of the baseball operations department. This is an organization with a tremendous amount of talent on and off the field, and I am excited to begin the next chapter of Angels baseball.''
Eppler is a San Diego native who pitched at the University of Connecticut. After starting his baseball front-office career with Colorado, he spent the past 11 seasons with the Yankees.
Originally hired as a scout and the assistant director of baseball operations, he rose to assistant general manager for the past four seasons, working alongside Brian Cashman.
He has been considered for most vacant GM jobs in the past few years. The Angels apparently identified him as their choice some time ago, but they waited until they or the playoff-bound Yankees were out of the playoff race to announce it. Eppler is expected to finish out the season with the Yankees, who will host Houston in the AL Wild Card Game on Tuesday.
Eppler was interviewed last month for the GM job with the Seattle Mariners, which went to Dipoto last week. Eppler nearly got the same job in San Diego last year, losing out to A.J. Preller.
''We used a lot of time, energy and research into the decision to fill this very critical position,'' Moreno said. ''He is energetic, creative and has a tremendous passion for the game. We look forward to him joining the organization and making his impact felt in short order.''
Eppler has plenty of work to do with the Angels, whose big-budget roster poses several questions to be answered before the spring. Albert Pujols and Mike Trout haven't won a playoff game in four years together, and the Angels have made just one postseason appearance since 2009.
The Angels' season ended with a loss at Texas on Sunday. They finished third in the AL West at 85-77, failing to defend their division title and missing out on a wild-card playoff spot on the final weekend.
Los Angeles already has a combined $105 million in payroll committed to Pujols, Trout, departed outfielder Josh Hamilton and ailing pitchers Jered Weaver and C.J. Wilson. The Angels' key free agents are third baseman David Freese and catcher Chris Iannetta, while new outfielder David Murphy has a team option on his contract.
Eppler also must figure out how to work with the mercurial Moreno and Scioscia, the Angels' manager since 2000.
Dipoto and Scioscia clashed during their first season together when Dipoto fired Scioscia's hitting coach. Although both refused to talk about it publicly, their relationship apparently fractured again this summer, leading to Dipoto's abrupt resignation at midseason.
''I think some things are going to be very tangible to whoever (is) the decision-maker in the GM chair,'' Scioscia said in Texas after the Angels' loss Sunday. ''We're looking forward to sharing our insights on the team with somebody, whoever is going to be that decision (maker) when the time comes. Like most baseball teams, I don't think there's a manager or coaching staff that doesn't know the players better than anybody in the organization. We want to move forward and get better.''