Angels' Heaney on Rookie of the Year race: 'It's intriguing'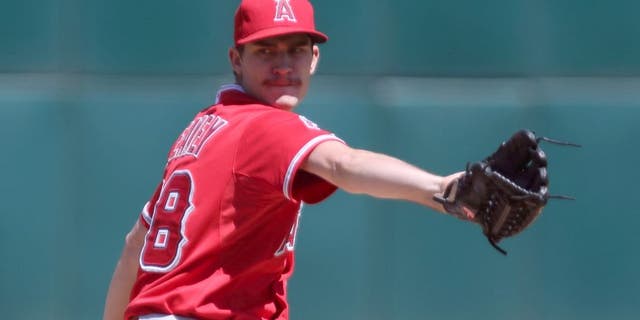 Young left-hander Andrew Heaney put on a great example of 'limiting the damage' on Wednesday afternoon. After the Halos jumped out to an improbable 4-0 lead on Sonny Gray and the Oakland Athletics, Heaney promptly allowed three runs in the bottom of the frame. He settled down and eventually wound up throwing seven innings, the only blemish coming in that first inning of work.
As a result, Heaney improved his record to 6-2 on the year with a 3.18 ERA.
Speaking with Alden Gonzalez of MLB.com after the game, Heaney admitted that he's been paying a bit of attention to the statistics of a handful of AL Rookie of the Year candidates, such as Billy Burns of the A's, Carlos Correa of the first-place Houston Astros and Toronto Blue Jays reliever Antonio Osuna.
Said Heaney to Gonzalez about his research, "I went ahead and looked at some of the starts of the other guys the other day. I don't know. I don't know how that works. I don't put up amazing numbers, I don't punch out a lot of people, so I don't know. But it is intriguing."
Manager Mike Scioscia said Heaney's effort on Wednesday was, "another growth game for another young pitcher", as he continues maturing at the major-league level.
While it seems unlikely anyone other than Correa will be named the AL Rookie of the Year, Heaney's definitely made a strong impression with the Halos this season and should be a linchpin of their rotation for years to come.