An audacious idea for the next great NASCAR track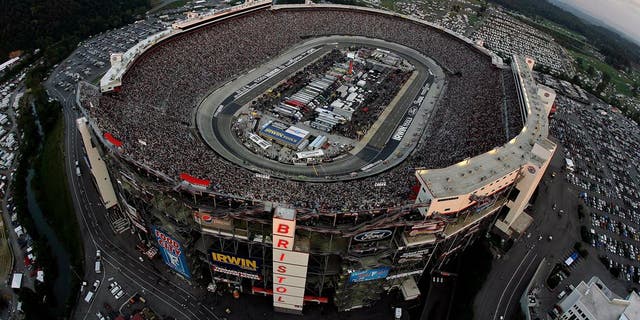 The next two weekends will be spent going back to NASCARs roots, with good, old-fashioned short-track racing, first at Bristol Motor Speedway and then at Richmond International Raceway.
I dont know about you, but I love me some old-fashioned, fender-banging, paint-trading, helmet-tossing short-track racing. Love it, love it, love it. Its far and away my favorite part of NASCAR racing.
And lets be honest here: When was the last time you heard anyone say that what NASCAR really needs are a couple of more mile-and-a-half tracks? The correct answer would be, never.
People respond to the physicality and the emotion of short-track racing.
Its intense.
Its fun.
It starts fights and it fuels rivalries.
Its tough, bare-knuckled, boys-have-at-it entertainment.
And it reminds me of why I fell in love with racing as a kid.
Time for some truth telling: NASCAR and its myriad stakeholders are trying a lot of different ideas to generate fan interest and reignite the passion for racing at a time when, like most sports, motorsports is struggling to maintain its existing audience, let alone grow it.
Its not a unique problem to NASCAR. Its a challenge for many sports.
Over the next two weeks, youll hear and read a lot about short-track racing, which will include a fair number of laments about why there arent more short tracks on the Monster Energy NASCAR Cup Series circuit.
Personally, I love Bristol, Richmond, and Martinsville Speedway. The racing is great at all three places and so is the ambiance.
But they share a problem: All three tracks are in small markets.
Martinsvilles population is less than 14,000.
Richmond is only the 45th-largest Metropolitan Statistical Area in the country, behind Louisville, Raleigh, and Memphis.
autostock/Brian Czobat | Brian Czobat / autostock 271 Fryling Ave SW Concord, NC 28025 W 704.786.2919 C 704.904.2745
Thee Tri-Cities area where Bristol is ranks 88th among whats known as Combined Statistical Areas. That makes it smaller than the regions around Corpus Christi, Texas, and Kalamazoo, Michigan, among others.
No disrespect to Richmond, a fine Southern town, or Bristol or Martinsville, either.
But with so much of NASCARs business dependent on sponsorship, race teams want to be able to schmooze their sponsors in cities where there are great hotels, fabulous restaurants, and exciting nightlife.
Thats why we race in Las Vegas and South Florida now and dont race anymore at Rockingham or North Wilkesboro. It just is.
And that brings me to my point.
What we dont have anywhere in NASCAR, though, is this combination: A great short track in a truly epic destination city.
NASCAR hasnt added any new tracks since Chicagoland Speedway and Kansas Speedway came online in 2001. Thats more than 16 years.
I dont have any illusions that theres going to be an opportunity to find land, get zoning and build tracks in new markets. The last two attempts to do that in the Pacific Northwest and on Staten Island never got off the ground.
But what about this?
What if there was an underperforming 1.5-mile track in a major metropolitan area and its owner were to raze it and in its place build a state-of-the-art half-mile or three-quarter-mile track with the kinds of amenities that Daytona International Speedway got in its reimagining or that Phoenix Raceway is about to get?
Wouldnt that be cool?
Wouldnt that be fun?
Wouldnt that be someplace youd want to go watch a race and hang out in a real city the same weekend?
I think it would a huge home run.
NASCAR via Getty Images | NASCAR
And Im probably half nuts for having such an audacious and outlandish dream, but no one ever accomplished anything great by dreaming modest, reasonable dreams. Go big or go home.
Hell, when Big Bill France set out to build Daytona in the mid-1950s, detractors and skeptics called it Frances Folly. Almost 60 years later, its one of the best sports stadiums anywhere in the world.
So why couldnt a dream that big be wrapped around a track small enough to facilitate great racing and capture the imagination of race fans?
I say it could.
And I also say its time.