Aly Raisman faces abuser Larry Nassar in court: '(We) are a force and you are nothing'
Gymnast Aly Raisman confronted her sexual abuser Larry Nassar in court Friday in a powerful, emotional speech that detailed the abuse and what needs to be done to make sure it never happens to athletes again.
"Larry, you do realize that this group of women you so heartlessly abused over such a long period of time are now a force and you are nothing," Raisman said in her first address to the doctor.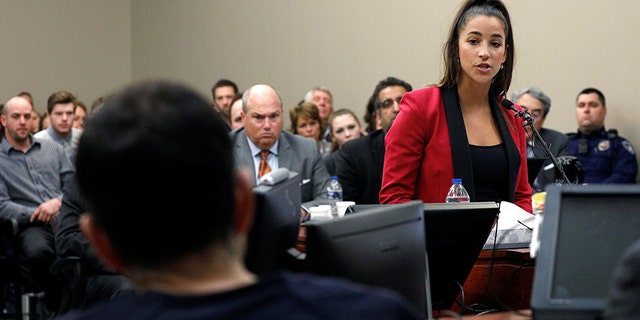 The three-time Olympic gold medal winner joined a staggering list of gymnasts who made statements detailing the abuse they endured from Nassar. The former Olympics doctor faces a minimum sentence of 25 to 40 years in prison for molesting girls at Michigan State University and his home.
Raisman, 23, one of the most celebrated recent Olympic stars, revealed in November she was abused by Nassar during the London 2012 games. She said on Friday that she could not describe the "disgust" she felt after the abuse.
"It is pathetic if you think any woman will have any sympathy for you," she said.
The gymnast said she was "scared and nervous" to testify but changed her mind after she saw other survivors' statements that she too needed to be there."
ALY RAISMAN, OLYMPIC GYMNASTICS STAR, SAYS SHE WAS SEXUALLY ABUSED BY DISGRACED DOCTOR 
"You were a doctor and trusted by so many and you took advantage of so many," she said. "The effects of your actions are far reaching and it'll haunt survivors for the rest of their lives."
She added: "I am here to face you Larry so you can see I regained my strength that I am no longer a victim but a survivor."
The gymnast asked Nassar how he thought they felt being told that "treatment" from him was mandatory and they would get in trouble if they did not attend.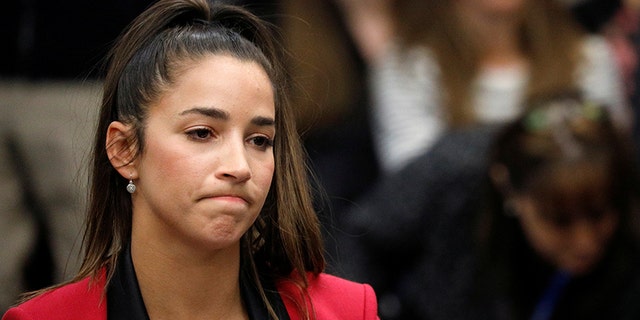 "Lying on my stomach with you on my bed insisting that your inappropriate touch would help heal my pain. The reality is you caused me a great deal of physical, mental and emotional pain," she said.
"You made me uncomfortable and I thought you were weird," Raisman said but added that Nassar was a doctor so she assumed he was trustworthy.
"I can't comprehend how angry I get when I think of you," she said. "You were closing your eyes because you worked hard when you were really touching me an innocent child to pleasure yourself."
"You know what Larry? I have power and voice. All these brave women have a voice and we will use our voices to make sure you get what you deserve," she continued.
Raisman said she knew Nassar is going to a place where he can "never hurt anyone again" but wanted to make sure the doctor knew he never took her love of gymnastics from her.
The Olympic athlete then called out the USA Gymnastics and its president and CEO Kerry Perry, saying it's "an organization that is rotting on the inside."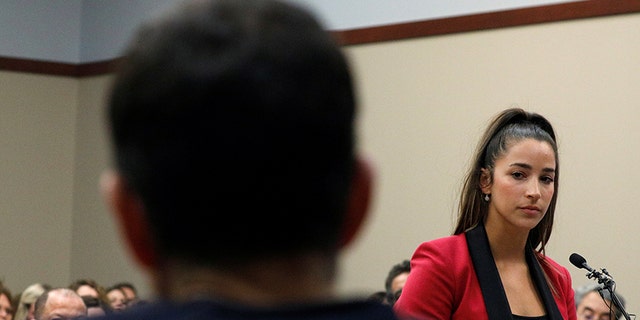 "Continuing to issue statements to pacify us will no longer work," Raisman said.
On Thursday, the organization announced it had terminated its agreement with the Karolyi Ranch. The ranch is where Raisman, and fellow "Fab Five" teammates McKayla Maroney and Gabby Douglas said they were abused by the disgraced doctor.
MICHIGAN STATE UNIVERSITY OFFICIALS KNEW OF NASSAR SEX ABUSE ALLEGATIONS, BUT FAILED TO STOP HIM, REPORT SAYS 
Raisman said the organization failed to mention there were athletes training at the ranch at the time of the announcement, drawing a gasp from the courtroom. She also questioned why the United States Olympic Committee was not at the trial.
"Why isn't the U.S. Olympic Committee here now? I've represented the U.S. in two Olympics, and both USAG and USOC have been quick to capitalize on my success. But did they reach out to me when I came forward? No," Raisman said.
"We need to demand real change and fight for it and if we leave it up to these organizations then history is up to repeat itself," she continued.
Raisman called for an independent investigation into what happened and how it occurred.
The gymnast concluded her message stating: "Abusers your time is up. The survivors are here standing tall and we are not going anywhere. My dream is that one day everyone will know what the words 'me too' signify."
Raisman was referring to the #MeToo movement that was ignited after exposes revealed disgraced Hollywood producer Harvey Weinstein's decades of alleged sexual misconduct.
After her speech, the courtroom erupted in applause.
Following her speech, fellow Olympic teammate Simone Biles tweeted to Raisman: "You are my hero."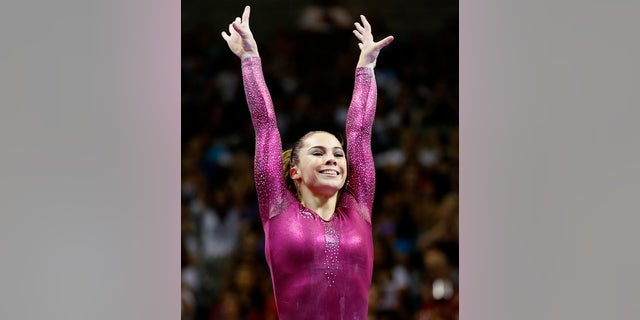 Raisman's testimony followed Maroney's statement, which was read in court on Thursday.
"Dr. Nassar told me that I was receiving 'medically necessary treatment' that he had been performing on patients for over 30 years," Maroney said in her statement. "As it turned out, much to my demise, Dr. Nassar was not a doctor and, in fact, was and forever shall be a child molester, a monster human being. End of story."
Nassar joined the USA Gymnastics national team staff in 1986 as an athletic trainer and eventually became the team's medical coordinator, a position he held until 2015. He also ran a clinic and gymnastics club at Michigan State University.
The Associated Press contributed to this report.