Allen Iverson Returns, 76ers Push Celtics To Game 7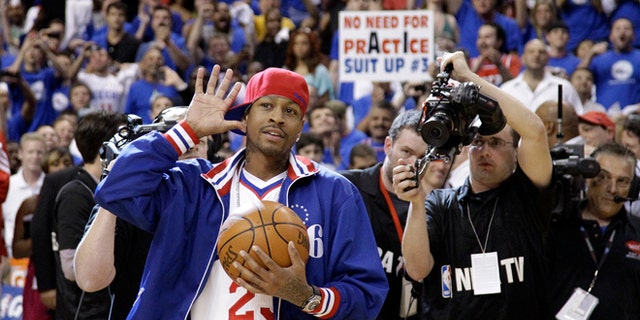 Who knew what to expect when the Boston Celtics took on the Philadelphia 76ers in this series.
In the most unpredictable of series in this seasons playoffs , Rajon Rondo was the one consistent playmaker for Boston… until Game 6.
Rondo had his quietest game of the second round and the Celtics paid with an ineffective shooting night that left them playing catch-up against rugged and determined Philadelphia. The Celtics could never take that clutch late lead and now find themselves trying to avoid a monumental upset.
Jrue Holiday scored 20 points, and Elton Brand had 13 points and 10 rebounds to lead the Philadelphia 76ers to an 82-75 victory over the Celtics on Wednesday night that tied the Eastern Conference semifinals.Neither team has played well enough to seize control of the series by winning consecutive games. But the Sixers were good enough to win Game 6, improving to 5-0 this postseason in games following a loss. Game 7 is Saturday in Boston.
"It's nice to have it at home, but we've got to get it still," coach Doc Rivers said.
Paul Pierce, Kevin Garnett, Ray Allen and Rondo could be playing their last game together Saturday night if they can't find a way to hang onto the ball and put away a Sixers team that won't quit.
Boston has learned three times already how difficult that can be.
The fun for the Sixers started when former 76ers All-Star Allen Iverson earned a roaring standing ovation when he presented the game ball.
It ended with the song, "I'm Shipping Up to Boston," blasting through the arena.
"I want more," 76ers coach Doug Collins said. "We're going to get greedy. We want more."
The Celtics posted ugly numbers across the board: Blame the loss on the 33 percent shooting, the 17 turnovers or the 3 for 14 3-point shooting. Either way, there's enough to go around. Pierce had 24 points and 10 rebounds, and Garnett had 20 points and 11 boards.
Rondo had tortured the Sixers over the first five games, but was limited to nine points (4 for 14 shooting) and six assists.
He'll need to return to form at home for the Celtics to have a chance at avoiding the upset.
"I thought he was trying to orchestrate the offense and trying to go," Rivers said. "He probably got caught in the middle. It happens, but he'll be better."
The Sixers again failed to put up the sparkling numbers in the box score usually required for a deep postseason run. They missed 8 of 9 3-pointers, shot a woeful 17 of 28 from the free throw line and had 12 turnovers.
But when the Sixers really needed that game-changing basket, there was Evan Turner twisting and fighting through defenders down the lane. When the Sixers needed a stop, there was Brand, ripping a rebound away from Boston, even with painful neck and shoulder injuries that keep him awake at night.
"When you get out there, you don't feel much," Brand said. "You've got the adrenaline flowing. You're banging and fighting. That's why Coach has confidence in me to play 34 minutes."
The Sixers wrote "Huddle Up and Fight" on their locker room chalkboard. They did just that and are now one win from reaching the conference finals for the first time since 2001.
Iverson was the MVP of that run.
Maybe a little of that ol' A.I. magic rubbed off in Game 6.
Unlike Game 5, when the Sixers collapsed in the third quarter and blew a lead, they suddenly found a groove in front of 20,403 fans.
The Sixers started hitting free throws, kept turnovers to a minimum (two), and fed the ball to a starting lineup that had been largely outproduced by a fantastic bench. Turner was fouled on a go-ahead layup but missed from the line. That made the Sixers 5 of 13 while the Celtics were 14 for 14.
Iguodala split two defenders and threw down a ferocious dunk over Pierce to draw the foul. He made his first free throw after missing his first four and the Sixers led by five.
Pierce led the parade to the line for the Boston. He made his first 11 attempts for a Celtics team that was 17 for 17 through three quarters. The Celtics made only 19 field goals through three.
"We've got to move the ball and continue to play the defense that we've been playing," Pierce said.
The Sixers also couldn't find their way from the 3-point line and missed their first six attempts until Iguodala nailed one for a 58-52 lead.
Garnett caught some heat after calling Philly fans "fair weather" after Game 5 in Boston.
Well, the forecast called for thunderous cheers after Iguodala buried his 3. That helped the Sixers take a 60-56 lead into the fourth and put them 12 minutes away from Game 7.
This time, the Sixers weren't blowing a lead.
Turner, who never met a clutch attempt he didn't like, went right-to-left on a drive down the lane for a nine-point lead. The 6-foot-4 Holiday brushed off the 4-inch difference and went high over Garnett for a one-handed bucket and an 11-point lead.
"Someone else was talking bad about our fans, so it was good to get this victory for them," Brand said.
While the Sixers swapped shot makers on almost every possession, the Celtics never found that third and fourth option behind Pierce and Garnett.
"We never really established Kevin," Rivers said. "Even though Kevin had points, it wasn't the type of points we needed."
Iguodala and Turner scored 12 points. Lou Williams had 11 and the Sixers outscored Boston 42-16 in the paint.
"I just want our guys to play with no fear," Collins said. Collins had the Sixers watch a highlight video from Game 7 of the 1982 Eastern Conference finals on Tuesday. The Sixers blew a 3-1 lead in that series and were forced to win Game 7 at Boston to reach the finals — which they did.
Thirty years later, the Sixers get to try again.
Notes: Iverson cupped his hand to his ear and received the loudest ovation of the night. He watched the game from a suite and his eyes watered up when he was shown later in the game on the big screen as the crowd, thousands wearing a No. 3 jersey, went wild and chanted, "MVP!" Iverson posted on Twitter, "You can always come home again!!!"
Based on reporting by the Associated Press.
Follow us on twitter.com/foxnewslatino
Like us at facebook.com/foxnewslatino