All-Purpose Playbook: NFL Week 9 picks, survivor pool analysis and more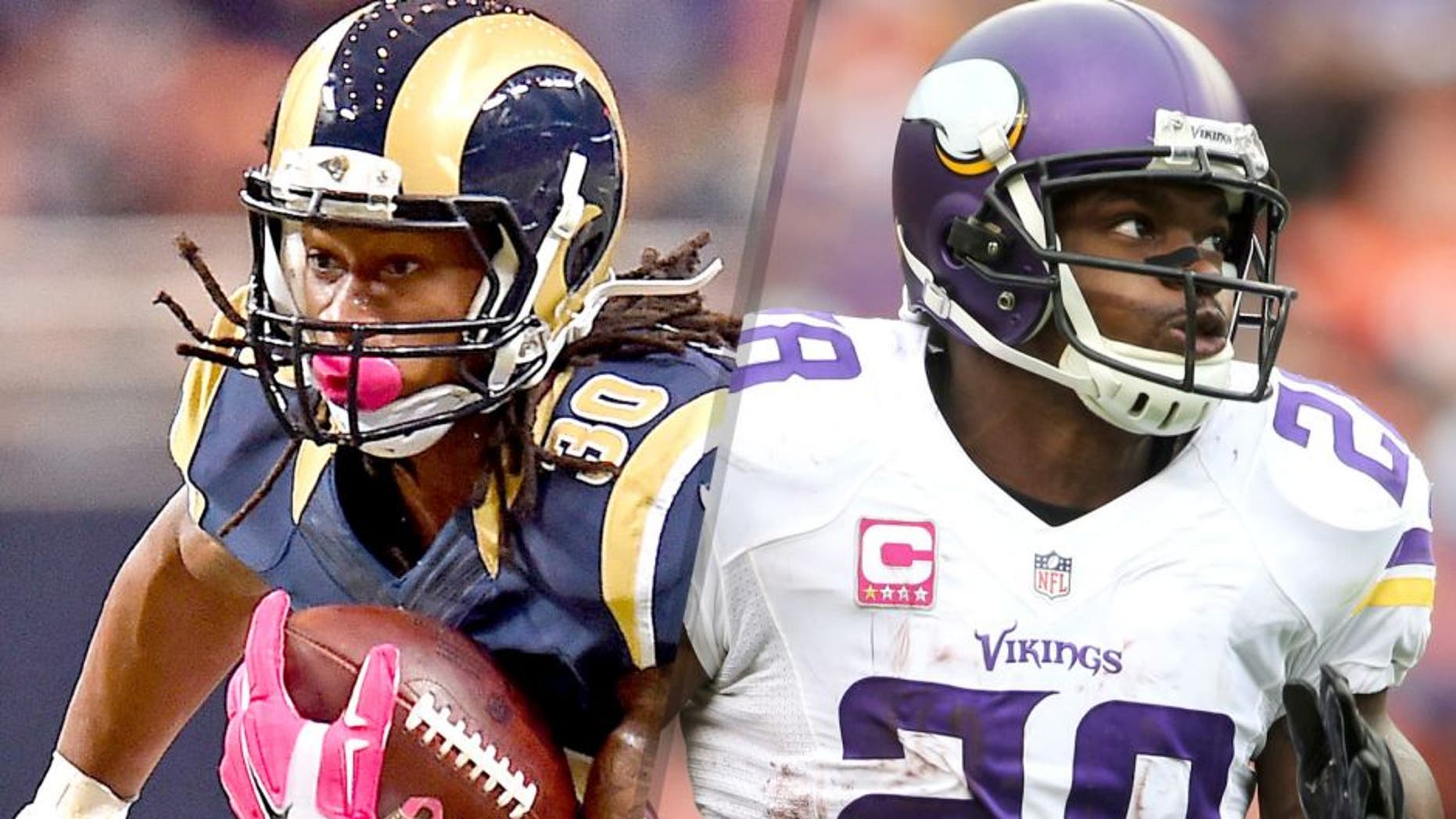 Welcome to the All-Purpose Playbook, a Buzzer column that is either (a) a guide to many things NFL related, or (b) a road map to hell. Check back here on Friday afternoons for survivor pool analysis, football picks, a smattering of GIFs and some nonsense. Follow me @brettsmiley and email me with any questions or comments at basmiley [at] gmail [dot] com.
The silver lining from last week's failed reverse-psychology attempt to extend the four-week streak without a loss is that the eulogy is already written. APP said last week that "This Is The End" -- and it sure was as we stumbled to a 1-3 mark.
The streak-breaking loss came bright and early on Sunday morning as the London Lions (+4.5) failed in spectacular fashion, managing to get weirdly decimated 45-10 by the Kansas City Chiefs thanks to opposing QB Alex Smith's 145 passing yards (death by screen passes) and 78 rushing yards (on five carries). The Lions allowed 206 rushing yards total and a rushing touchdown to every single Chiefs ballcarrier -- including Priest Holmes, who retired in 2007. (Well, not quite, but Smith got one, so did running backs Charcandrick West and Spencer Ware, and also WR end-around/gadget specialist De'Anthony Thomas).
Almost everything that could go wrong for the Lions this season has gone wrong, so until further notice they'll be known as the Detroit Murphy's Law-ons (1-7). But shame on APP for overlooking their poor offensive-line play and under-duress-decision-making by Matthew Stafford, and for assuming that new offensive coordinator Jim Bob Cooter (replacing the fired Joe Lombardi) could cure the ills in a week.
Speaking of Lions' firings, after ownership axed the team's president and general manager on Thursday, head coach Jim Caldwell was advised that yeah, he's still the head coach. Meanwhile, everyone else remaining in the building will be evaluated except the mascot "Roary" and Carl in concessions who launches peanut bags across two aisles. Carl only gets to stick around because he's the emergency quarterback.

What else went wrong in Week 8? The Chicago Bears (+1) allowed a 65-yard punt-return touchdown and then blew a 20-13 lead late in the fourth quarter in a 23-20 loss. Elsewhere, the Cleveland Browns (+4.5) squandered a 20-7 lead, allowing the Arizona Cardinals to score 27 unanswered points in a 34-20 rout.
At least APP nailed the Broncos (+2.5), as Denver defenders wore every available Packers pass catcher like a Snuggie, limiting Aaron Rodgers to 77 yards . . . total.
"That must have been a heck of a drive," Carolina Panthers head coach Rivera quipped of the 77 yards. "In all honesty, we're so used to the good numbers that you think, 'OK, that was one drive for him. What's he going to do the rest of the game?'

Good one, coach. If the Panthers hold Rodgers to triple that figure on Sunday -- 231 yards, they'll have done a pretty decent job.
Alright, enough foreplay/excuses, let's get to the picks.
WEEK 9 PICKS: WHO LET THE DOGS OUT?
Much as APP loves canines, this week's theme will not be famous dogs. Instead the theme will be winning: quotes about winning. Time to start another streak.
Miami Dolphins +3 at Buffalo Bills
"I think what coaching is all about, is taking players and analyzing their ability, putting them in a position where they can excel within the framework of the team winning. And I hope that I've done that in my 33 years as a head coach." -- Hall of Fame former Dolphins head coach Don Shula
Hmmmm. See, that's too easy, and where's the connection to this team and this game? Let's try again.
"Boom, crush. Night, losers. Winning, duh." -- Charlie Sheen
Yes, that feels more apropos for a game that will see Rex Ryan on one Bills sideline and former Dolphins guard Richie Incognito in their huddle.
With the Bills and Dolphins both 3-4, the winner of this game will compete with the Jets for second place in the AFC East and possibly a wild-card spot while the loser will try to cobble together eight wins.
Last we saw the Bills, they were playing the Jaguars in London where QB E.J. Manuel dug the team a big hole (21-3 early in second quarter); the Bills managed to climb out before ultimately blowing a 31-27 lead in the final minutes. Last the Bills saw the Dolphins was on Sept. 26 in Miami where Buffalo absolutely bludgeoned the lifeless Fins 41-14.
To the relief of Dolphins fans (or maybe indifference, ask them), the franchise moved on from ex-head coach Joe Philbin after a 1-3 start and handed the keys to tight ends coach Dan Campbell. Campbell has preached toughness and led the team to back-to-back wins before a reality check at New England. To the relief of Buffalonians, quarterback Tyrod Taylor will take the position back after missing Weeks 7 and 8 with an MCL sprain.
But the bigger problem for Buffalo has been disappointing play on defense. Expected to be one of the league's top units before the season, Buffalo has allowed 24.7 points per game (T-18 with Miami and Oakland), managed only 11 sacks and has allowed multiple passing touchdowns to every opposing QB except Marcus Mariota, as noted by Rich Hribar. According to Pro Football Focus, only the New York Giants have a pass rush rated lower and not by a whole lot. In terms of ferocity, the Giants' pass rush is roughly equivalent to puppies cuddling before a nap. Not good company for the Bills.
Without a doubt the Bills have superior defensive personnel (to the Giants, D-line especially), but the injury bug has bitten hard.
From the Buffalo News' Vic Carucci on Wednesday:

"Kyle Williams, who is expected to miss two more games with a knee injury, is the glue of the defensive line, providing crucial instruction and guidance for fellow tackle Marcell Dareus and ends Mario Williams and Jerry Hughes. Aaron Williams, who is out for most of the second half of the season with an injured neck, keeps the secondary together. Without them, the defense looks even more ordinary than it did when they were healthy."
Plus, Mario Williams, who has previously expressed frustration with the defensive scheme, has been limited in practice this week with a knee injury. There are key injuries on offense, too, as WR Sammy Watkins works his way back from a balky ankle. The Bills have also been their own worst enemies, leading the league with 72 flags and a total 670 penalty yards.
The Dolphins' offense had a much more productive couple weeks under the Campbell regime (against terrible defenses), running back Lamar Miller especially, until getting bushwhacked by the New England Patriots last Thursday.
If there's any rust on Taylor and/or if the Bills can't step it up on defense, Ryan Tannehill should have ample time to feed the ball to Jarvis Landry, Rishard Matthews, Jordan Cameron, etc. In a vital game for both teams after an extended layoff, APP will take the points.
Oakland Raiders +4.5 at Pittsburgh Steelers
"One of the most basic factors in sports is that winning becomes a habit, and losing is the same way. When failure starts to feel normal in your life or your work or even your darkest vices, you won't have to go looking for trouble, because trouble will find you. Count on it." -- Hunter S. Thompson
After more than a decade under the influence, winning is becoming a new habit for the 4-3 Raiders.
Derek Carr (105.7 rating) is a franchise quarterback who's making good decisions (15 touchdowns and only 3 interceptions), getting good protection (sacked only eight times, also a credit to Carr himself). He's got a star-in-the-making WR in Amari Cooper, plus a resurgent Michael Crabtree, plus downhill rusher Latavius Murray (4.86 yards per carry) who's produced and can help salt games away.
It was a shame to see Le'Veon Bell go down to injury again (injuries are always a shame). Fortunately for the Steelers, veteran DeAngelo Williams is one of the best backups in the league and will ease the big blow of losing Bell.
The Steelers are susceptible on defense and so this game has MAJOR shootout potential and could go either way. The points, let's take 'em.
St. Louis Rams +2 at Minnesota Vikings
"The key to winning baseball games is pitching, fundamentals and three-run homers." -- Earl Weaver
"The key to winning football games is blocking, fundamentals and handing the ball to Todd Gurley." -- Imagined thought of Rams head coach Jeff Fisher
Minnesota has a bunch of problems -- shaky offensive line, lackluster receivers outside of rookie Stefon Diggs, to name a couple -- but the record (5-2) isn't one of them. Overall, the Vikings are ranked 27 per Football Outsiders' metrics, the special teams and dance-happy Blair Walsh serving one of the bright spots.
Let me whistle another stat at you (also via Hribar): Bridgewater has completed just 33.3 percent (8 of 24) of his passes in the red zone -- lowest of all QBs with at least 20 attempts.

That's not good. If the Bears didn't sabotage us last week and dinged Minny to 4-3, isn't this game closer to a pick 'em? The look-ahead line before was Vikings -3 and it's already moving toward the Rams.

APP will grab a couple points on the Rams while they're still out there. This game will be a rushing and defensive fiesta, and the Rams have the better defense (much) and a running back who's burst into the league as ferociously as a younger Adrian Peterson once did (1341 rushing yards, 5.6 yards per carry and 12 TDs his rookie year in 2007).
Chicago Bears +4 at San Diego Chargers
"I think whether you're having setbacks or not, the role of a leader is to always display a winning attitude." -- Colin Powell
Despite getting burned by Chicago last week, APP is BUYING the new-and-improved Jay Cutler, who's playing pretty darn well if you haven't noticed, despite a reshuffled offensive line and the loss of key receivers for portions of the season. And he seems to be outwardly showing some leadership people have always wanted out of him.
"It's tough," Cutler said after last week's loss. "I feel bad for the guys. I know they fought hard. At this point we can't point fingers. We can't listen to some of the stuff on the outside. We have to find a way to unite the guys and keep getting better."

Well, that sounds pretty good and leader-y!
Meanwhile, San Diego is just a straight-up M.A.S.H. unit at this point. It's ridiculous. The Chargers are going to need to blow a hole in the trainer's room and build an expansion. The current report lists left tackle King Dunlap, left guard Orlando Franklin, tight ends Antonio Gates and Ladarius Green, defensive end Corey Liuget, linebacker Manti Te'o, pretty much the entire starting secondary (importantly, Eric Weddle and Jason Verrett) and so on. It's just been a rough year for this defense.
Let's do some fuzzy math and call the losses of Bears RB Matt Forte (possibly out two weeks with MCL sprain) and Chargers WR Keenan Allen (out for season) a wash, carry the trip out West, cross-multiply and divide both teams' really poor special teams play -- and that feels like we've got a covered spread!
Season record: 14-8-2.
SURVIVOR AND ADVANCE: ABBREVIATED AND NEARLY OBSOLETE EDITION
There's maybe like 531 people total still alive in survivor pools and if 0.001 percent of those people check out this column, that's about one-half a person reading this here.
You probably should have taken the Bengals last night. If not, the popular and obvious play will be the New Orleans Saints, which is reasonable in light of the matchups (Titans), but kind of risky considering the Saints gave up (still counting) 49 POINTS last week. Granted, the Giants have a good offense, but still. It's Week 9 now and you've taken the Patriots, so maybe you need to look to the New York Jets hosting the Jaguars and pray that if Ryan Fitzpatrick's injured thumb fails him he can hand the ball off with his beard, because you do NOT want to see Geno Smith taking snaps with your pool on the line. Safest bet is to build a time machine and go back to Thursday evening.
ILL-ADVISED TEASER
Go here if you need an explanation on how teaser bets work.
Let's make a 7-point teaser and go Dolphins +10, Rams +9.
LUDICROUS MODE TEASER
Four legs and we need 'em all:
Throw in the Giants/Buccaneers over (from 50 to 43) and Cowboys/Eagles under 44.5 to 51.5).
Happy Week 9, everybody!!!!
Follow me @brettsmiley, send e-mail to basmiley at gmail.com and follow The Buzzer on Facebook