All-Purpose Playbook: NFL Week 7 picks, survivor pool analysis and more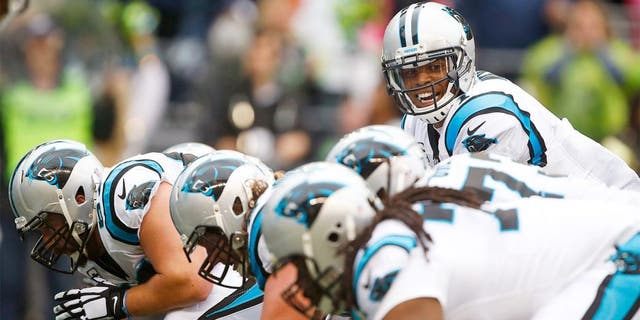 Welcome to the All-Purpose Playbook, a Buzzer column that is either (a) a guide to many things NFL related, or (b) a road map to hell. Check back here on Friday afternoons for survivor pool analysis, football picks, a smattering of GIFs and some nonsense. Follow me @brettsmiley and email me with any questions or comments at basmiley [at] gmail [dot] com.
Week 7 began Thursday night with the Seattle Seahawks looking more like themselves and less like the Legion of Lead Blowers. This is a pretty good result because nobody looks more shattered after a loss than Richard Sherman.
The Seahawks still have their flaws, of course: Russell Wilson got reacquainted with the Levi's Stadium grass five times as outside linebackers Ahmad Brooks and Aaron Lynch feasted for two sacks apiece. And surely a current of discontent must still run through tight end Jimmy Graham after catching only two passes (on only five targets). But Beast Mode was fully activated before the game as Marshawn Lynch looked fiery as ever in a 122-yard rushing performance (27 carries), with rookie backup Thomas Rawls a powerhouse, too (6 rushes for 32 yards).
Anyhow, enough about the Seahawks -- let's take a victory lap for APP's 3-0-1 performance in Week 6, making it a sterling 8-0-2 over the past three weeks.
A speedy recap: After a bumpy first half, the Jets (-6) whacked the Washington Flyin' Snyders, Carolina (+7) won outright in Seattle (hope you sprinkled the money line) and the San Francisco 49ers (+2) toppled the equally sad Baltimore Ravens at home. Our "push" was the Detroit Lions (-3), who needed an overtime session and a little bit of luck to take down the Chicago Bears for their first win of the season. APP was almost hoping for a Lions loss to fulfill the promise of never uttering the name again if they failed to show up/win. But running the blemishless streak to three weeks is nice too.
In light of that, maybe we even have some new readers this week so please be advised: RESULTS WILL MOST DEFINITELY VARY.
ON TO THE WEEK 7 PICKS:
Carolina Panthers -3 vs. Philadelphia Eagles
I watched in horror last week as my beloved New York Giants failed to generate any semblance of a pass rush against the Eagles. And when Big Blue did hit QB Sam Bradford, it was via a Damontre Moore body slam after Bradford clearly released the ball on a third down that would have led to a punt.
That's an incredibly stupid roughing-the-passer penalty and maybe the most maddening play involving a Giants defensive end since Mathias Kiwanuka's 2006 hug-and-release of Vince Young that aided a blown 21-point, fourth-quarter lead.
"Honestly, I think it was just part of me just having poor football IQ," Moore explained, "and not (being) aware of the rules of dumping."
Rules of dumping!? They are (1) Bring enough reading material or make sure the phone has an ample charge; (2) If the residence has multiple bathrooms, use the one downstairs; (3) Don't leave a clogged toilet, and (4) LET YOUR DAMN TEAMMATES GET OFF THE FIELD ON THIRD DOWN!!!!!!!!! Come on, man! This isn't the WWE.
That was a long and cathartic digression and the intended takeaway that the Giants gave Bradford and the Eagles offense bonus opportunities and a lot of time to throw the ball. But despite a meager pass rush and the Giants playing without one of their best linebackers (Devon Kennard) and top cover corner (Prince Amukamara), Bradford still stunk it up with three interceptions and several errant passes.
Finally that takes us to the Eagles-Panthers showdown on Sunday. After a huge road win in Seattle to remain undefeated, APP doesn't see this as a "letdown" spot for the Panthers but another game, behind a home crowd, for Carolina to prove naysayers wrong and maybe penalize media members for incorrect predictions, if Newton had his way.
The Eagles defense bailed Bradford out with three turnovers against the Giants and it will definitely test the Panthers and their offensive line, but Newton is healthy and playing at an MVP-level right now. To be favored only 3 at home tells APP that folks are giving the Eagles too much credit and the Panthers still not enough. The Eagles have struggled to run the ball most of the season; Panthers CB Josh Norman will be licking his chops when it comes time for Bradford to throw a 10-yard out his way on third-and-long.

The Eagles' game plan? Hit Cam Newton and hit him again.
"Get him uncomfortable," said defensive end Fletcher Cox. "Hit him, hit him, hit him, hit him, hit him, even when they run the ball, hit him. I think that will shake him up a bit, make him frustrated and that's when all quarterbacks start doing crazy things."
Not a bad plan but they'd better review those rules on dumping.
New York Jets +8 at New England Patriots
This line has bounced between 8 and 10, at 8 right now so that's what we'll use.
Contrasting with last week when the books had an avalanche of Patriots support and needed the Colts to cover an 8 or 9-ish spread (which they did through the backdoor), the house will be rooting for the Patriots this time around as the Jets head to Gillette Stadium as large dogs getting the lion's share of the action off a solid performance against Washington.
The Patriots didn't exactly score 60 points at will against a Colts defense that's at least a couple ply less resistant than the Jets, aye?
This is going to be an intense game at a time when the Patriots' offensive line is vulnerable with left tackle Nate Solder done for the year, his replacement Marcus Cannon nursing a toe injury and the guys next to him, left guards Josh Kline and Shaq Mason, banged up too. Jets head coach Todd Bowles as always is going to dial up blitzes to keep the pressure on Brady and APP expects loads of screens, picks and a quick-rhythm passing game to keep Brady upright. Put another way, long drives and a close game.

The Jets will probably try to control the clock with another heavy dose of Chris Ivory, who's helped elevate Gang Green's offense into the league's upper echelon. The Jets will hit the field as men possessed with a lot at stake as they can knock the Patriots down a peg and knot them for the top spot in the AFC East at 5-1.
Tampa Bay Buccaneers +3.5 at Washington Flyin' Snyders
We're going back to the Washington Well again -- picking against them for a second straight week after backing them for two in a row before that.
Borrowing a phrase from Flyin' Snyders head coach Jay Gruden, the "intent" here is to pick as many games correctly as possible, just as it's Gruden's intent to stick with Kirk Cousins at quarterback despite his cornucopia of bad interceptions (is there another kind?).
Washington has gone from being a possibly decent team with a strong running game to a sputtering mess with a bad QB that can't stop the run. They'll face another tough ground game on Sunday as Dougernaut "No Longer Muscle Hamster" Martin comes to town off a bye with Jameis Winston. Winston's WR tandem of Mike Evans and Vincent Jackson should be able to get it going against a banged-up Washington secondary that will probably be missing starting CBs Chris Culliver and DeAngelo Hall again. Meanwhile the Bucs' secondary should see some improvement with the return of Johnthan Banks.
We learned this week that Cousins tunes out the sports talk criticism/noise by watching HGTV; there could be a lot more "Property Brothers" in his future.
Season record: 10-5-2
PRIMATE BREAK
APP has nothing to say about Giants-Cowboys (except that the Giants will probably win straight up), but wants to call your attention to Cowboys wideout Dez Bryant, who apparently got a pet monkey and named it "Dallas."
Good name, but things may get confusing for the little fellow in a few years when Dez seeks one more big contract to remain a tandem with 40-year-old Tony Romo, who by this point will be strung together with 3D-printed clavicles and ribs. But Jerry Jones won't bend to Dez this time, so he'll sign a sweet deal with the San Francisco 49ers where wide receivers coach Terrell Owens will decide "screw it" mid-week, come out of retirement, and prove all the doubters wrong in a 13-catch, 221-yard performance against the Oakland Raiders in what will prove to be Charles Woodson's final game in the NFL.
SURVIVOR AND ADVANCE: LIGHTNING ROUND
For those of you in season-long and revival leagues:
Arizona Cardinals vs. Baltimore Ravens: The Ravens are a mess. Don't love picking against John Harbaugh, but the personnel just isn't the same and isn't healthy and the Cardinals ought to thrash them in the air as they come home off a very disappointing loss in Pittsburgh.
Indianapolis Colts vs. New Orleans Saints: Expect a nice bounce-back for Indy against a pretty terrible Saints passing defense that struggles to get after the quarterback.
St. Louis Rams vs. Cleveland Browns: APP loves Todd Gurley as much as the daily fantasy experts do, but he can't do it alone, even against a terrible Browns rush defense. Cleveland ought to stack the box and make QB Nick Foles beat them, which won't be a pleasant endeavor for fans. The Rams are still a decent pick but be careful.
ILL-ADVISED TEASER
(Go here if you need an explanation on how teaser bets work.)
We hit again last week thanks to the Browns +11 and Panthers +14. Let's make it happen with the totals this time: (1) tease down the Saints-Colts from o52 to o45 in what has the makings of a shootout and tease up the Eagles-Panthers from u46 to u53 in what should be a defensive slugfest.
Ludicrous mode whiffed last week and will enjoy is currently on bye.
Happy Week 7, everybody!
Follow me @brettsmiley , send e-mail to basmiley at gmail.com and follow The Buzzer on Facebook