All-Purpose Playbook: NFL Week 10 picks, survivor pool analysis and more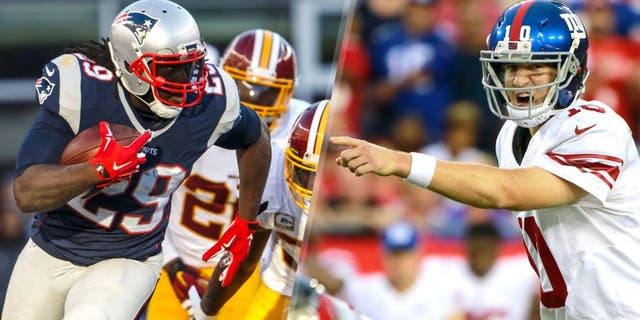 NEWYou can now listen to Fox News articles!
Welcome to the All-Purpose Playbook, a Buzzer column that is either (a) a guide to many things NFL related, or (b) a road map to hell. Check back here on Friday afternoons for survivor pool analysis, football picks, a smattering of GIFs and some nonsense. Follow me @brettsmiley and email me with any questions or comments at basmiley [at] gmail [dot] com.
This week's Thursday Night Football matchup triggered discussion about unexpected topics such as colorblindness, Christmas and a younger Rex Ryan's love life.
In case you missed Rex's postgame press conference after the Bills held on for a 22-17 victory over the Jets, it was basically a Q&A version of The Heavy's "How You Like Me Now?"
Feeling jovial after big win, the old Jets head coach/new Bills head coach jokingly called out reporters from both cities for criticizing certain decisions he's made over the last couple years. Ryan admitted that it wasn't just any other game coming back to New York and offered this analogy: "Every now and then the hot girl that dumped you calls you back . . . and she can't get you back!"
This made APP wonder what a young Rex Ryan looked like, which brings us here:
It's hard to tell for sure, but it looks like he's sporting a wispy mustache there. How could any hot girl resist?
Tell you what: APP did not like Rex Ryan's Bills last week after backing the Miami Dolphins +3 up in Buffalo, figuring the Dolphins would bounce back after getting spanked by the Patriots. Not exactly. LeSean McCoy proved as shifty as ever, and Karlos Williams a nice battering-ram change of pace as both racked up over 110 yards rushing in the blowout win.
Elsewhere in APP's Week 9 picks, the Rams (+2) took the Vikings to overtime, which is not a favorable place to be when you're getting just the two points. But we caught a break in Pittsburgh where the Raiders (+4.5), tied 35-35 in the waning seconds, nearly allowed a touchdown with 0:04 on the clock when Steelers RB DeAngelo Williams got forced out of bounds on the 1-yard line. The ensuing field goal and cover was a gift. Finally, on Monday night, the poor Chargers added even more players to their injury list scroll. Basically, this is the 2015 Chargers:
Once cornerback Jason Verrett was forced to leave the game with a groin injury one play after scoring a pick-six, Bears wideout Alshon Jeffery took over, reeling in 10 of 15 targets for 151 yards as the Bears (+3.5) covered and won outright. That brought APP to 2-2 on the week and 16-10-2 on the season.
THE WEEK 10 PICKS
Let's start right here:
Just like the previously undefeated Denver Broncos laying 3.5 at the Colts last week, though they weren't factored into that timeframe. The point spreads start getting fatter on the undefeateds, with momentum harder to sustain, providing some value to their underdog opponents.
NEW YORK GIANTS +7.5 vs. New England Patriots
Throw away the "Giants own the Patriots" narrative.
As a Giants fan who spent part of this past week watching former Giants offensive coordinator Kevin Gilbride and center Shaun O'Hara break down video of the final drive of Super Bowl XLII, I LOVE that narrative. And while Adam Schefter's note is indeed fact, it doesn't mean the Giants are going to win on Sunday. No rational Giants fan expects that.

For the second Giants Super Bowl win over the Pats (2012), they had a NASCAR-style speed package designed to bring heat on Brady. That four-man line consisted of Jason Pierre-Paul, Osi Umenyiora, Justin Tuck and Mathias Kiwanuka. These days, the Giants are operating more of a VOLKSWAGEN package.
Finally back from that fireworks/hand injury, JPP made an impact (even with limited usage) in Week 9 against the Buccaneers for a non-existent pass rush that's managed a league-worst nine sacks through as many games this season. The rest of JPP's NASCAR compadres, who helped propel the Giants past the Patriots three times in the past few years are gone.
That said, we return to the 14-22 ATS figure mentioned above and the fact that 76 percent of bettors are laying a touchdown plus the hook on the Patriots who visit MetLife Stadium on Sunday after three consecutive home games. In this never-ending war of attrition, both teams have sustained a lot of losses.
The Giants gained back JPP but lost their best interior defensive lineman Johnathan Hankins. Big Blue will also not have solid cover cornerback Prince Amukamara, and linebacker Jon Beason is done for the year.
It's not pretty on the offensive line for the Patriots, either, as they will start their sixth different offensive line combination on Sunday while Sebastian Volmer attempts to come back from a concussion.
Even their backups (left tackle Marcus Cannon) are banged up, coming within an injury from putting a tight end at offensive tackle last week.

It may not be long before Bill Belichick is forced to turn to this infamous Chuck Pagano formation:
Offensive line play is often overlooked by the casual fan but it's crucial. To have so many moving (and inexperienced) parts up front is troublesome, even for a team with superb coaching like the Patriots. Of course, the Giants still don't have the best personnel to exploit the weakness, but they will try, and they have excelled at ballhawking this season with a league-leading 20 takeaways. Perhaps they can force a couple Patriots errors.
Oh, and by the way, New England also lost their dynamic running back pass/rush threat Dion Lewis to a season-ending ACL tear last week. He'll be tough to replace even for New England, so this game may see a heavy dose of LaGarrette Blount Force Trauma against a soft Giants rush defense, and perhaps a tighter, lower scoring affair.
As for the Giants on offense? They're capable of scoring a lot of points. Oh yeah, one more: The Patriots also may not have the services of top defender Jamie Collins, who's battling a virus and unable to eat as of Thursday.
APP thinks that come closer to kickoff, the line will fall to just +7, so if you're feeling this too, grab that half point while you can.
By the way, my father and his buddy Tom will be driving to this game from upstate New York, so if you see a 60-something man in a Wes Welker jersey standing about 5-foot-6, who wears a winter hat like Papa Smurf, give him a high five.
TENNESSEE TITANS +5.5 vs. Carolina Panthers
Know which team has played three consecutive home games and one overtime session? And played at Seattle the week before that? Yes, the undefeated Carolina Panthers.
This is prime letdown spot for the Panthers (or any team in its position). Make it a McDonald's Super-Sized letdown spot. After putting back-to-back-to-back-to-back doubter-silencing wins in the bag (Seahawks, Eagles, Colts, Packers), they've just got to be gassed. There's only so many weeks in a row a team can sustain a high level of emotion in a very emotional game.
Not to say they're not focused and won't win the game, but the Panthers'll be met by a team on the upswing with promising rookie quarterback, a new (interim) head coach Mike Mularkey still relishing the post-firing bounce, playing at home in their own mini Super Bowl.
The spread probably would have been a full touchdown if not for the Titans upsetting New Orleans in their dome last week.
Meanwhile the Titans have a quietly respectable defense. The unit is ranked No. 9 in DVOA per Football Outsiders and No. 6 in terms of yardage, allowing just 329 yards per game to opposing offenses (putting them in between the Rams and Vikings for reference).
Mularkey did some shuffling on the offensive line that appears to have helped as they allowed pressure on just 28.2 percent of QB Marcus Mariota's dropbacks.
"I think the more they're together, the better it will be," Mularkey said. "But for being together three days and then playing in a game with a pretty tough environment with noise . . . for the most part, I thought they handled it very well."

The Panthers defense will present a much greater challenge than the Saints' wet paper bag D, but at least the Titans rejiggered line will have taken off the training wheels. APP is McLovin' the Titans this week.
Oh no, we got overconfident.
WASHINGTON FLYIN' SNYDERS PK vs. New Orleans Saints
Speaking of that terrible, horrible, very bad Saints defense (No. 32 of 32 per Football Outsiders) . . .
Washington is finally getting healthy. Healthy and happy. Know how APP knows that? Because playmaking WR DeSean Jackson is practicing in full again and he gave head coach Jay Gruden a purple nurple at practice the other day.
That's the sign of a team in a good mood. The Patriots held D-Jax in check in his first game back from a hamstring injury last Sunday, but he could go off in this one.
Washington also plays much better at home, where they're 3-0 this year (2-1 ATS). Purple nurples aside, for the first time this season, every player on the roster took part in practice one fashion or another this week. That includes cornerbacks DeAngelo Hall and Bashaud Breeland, who's getting healthier after a hamstring, as well as nose tackle Terrance Knighton, who missed the Patriots games due to cluster headaches.
"I had to re-read [the injury report] a couple of times," Gruden joked. "It's good to get everybody at practice and have a full group. You can practice a little longer, which is good. You're not stressing out the guys who are healthy where they take a lot of reps."
Kirk! We've talked about this, please just let us finish this section.
Defensive linemate Jason Hatcher is feeling good too, thanks to hot yoga.
"I do the hot yoga after the game to get all the toxins out of my body that I put in to be able to play the game all day -- energy drinks and stuff like that to get energy. The yoga speeds things up," Hatcher said. "The yoga, it tones you. It elongates you. As we get older and you get tight, throughout the week, you feel heavy and like you're walking through mud, but [with yoga], you just feel light."

New rule: ALWAYS bet on hot yoga.
(Season record: 16-10-2)
WEEK 10 LEAN THAT APP JUST CAN'T POST AS A PICK

Perhaps noticeably absent from the picks section is the Houston Texans (+10.5) at the Cincinnati Bengals on Monday Night. They meet the criteria for a team facing an undefeated team Week 10 or after. But APP takes the published picks very seriously and just doesn't have the stomach to go there, even getting over a 10-spot. The Bengals are also 7-1 ATS this season and covered a 13-point spread at home against the Browns in a 31-10 victory. The Texans are . . . bad this season.
QUOTE OF THE WEEK
"We can't sit and wait on Romo," Cowboys defensive end Jeremy Mincey said, via the Fort Worth Star Telegram. "He's not Jesus. We can't sit and wait on him. There are games we could have easily won without him being there."
Nope, they'll have to count on Matt Cassel for one more week, but you know who is available now after getting released three days ago by the Titans? That's right -- Charlie Whitehurst, a.k.a. Clipboard Jesus.
SURVIVOR AND ADVANCE: LIGHTNING ROUND
This is assuming you've taken the Packers and Bengals by now:
BRONCOS vs. Chiefs: APP will be using Denver in a couple spots, counting on the top-ranked defense. Alex Smith gets sacked a lot; let's hope he coughs up the ball once too.
RAVENS vs. Jaguars: Better hold on tight if you tab the Ravens. They should be primed coming off a bye and these Jaguars seem to always lose close games, but the Jags do have some playmakers on offense.
ILL-ADVISED TEASER
Go here if you need an explanation on how teaser bets work.
Let's make a 7-pointer: Giants +14.5, Redskins +7.
Happy Week 10, everybody!!!!
Follow me @brettsmiley, send e-mail to basmiley at gmail.com and follow The Buzzer on Facebook