Alex Rodriguez Says He'll Perform 'At High Level'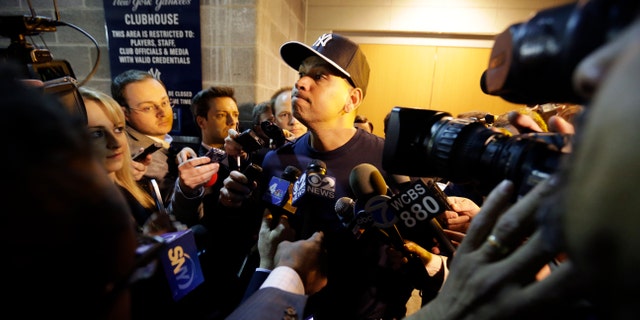 For months, New York Yankees fans have had questions many for the team's highest-paid player.
For first time since his hip surgery in January, Alex Rodriguez was ready to talk but was positioned so he could make a quick getaway, just in case.
"I love when all these people say, 'You can't do this. You can't do that. You're done. You're old,'" the Dominican-American explained before New York lost its opener 8-2 to Boston on Monday. "It's a great challenge to prove all you guys wrong and everyone wrong."
Three months shy of his 38th birthday, Rodriguez has transformed from three-time Most Valuable Player to most touchy subject. He's owed $114 million in the remaining five years of his record $275 million, 10-year contract, and he's viewed by many Yankees fans and even some in the team's management as a drain on the club's payroll.
And that was before a January report in Miami New Times alleging he received performance-enhancing drugs from a Florida anti-aging clinic.
Making his first public comments since the Jan. 16 operation on his left hip and rejoining his teammates for the first time since October's playoff loss to Detroit, Rodriguez said he has heard the same schedule for his return that surgeon Dr. Bryan Kelly made public: sometime around the All-Star break. And Rodriguez says he thinks he can return to perform at the level he once did.
"When I found out after the season was over about the big tear in my left hip, it was a bit of a relief to realize and understand how you ended last year," he said. "Once it's mended and I'm back to being 100 percent, there's no reason why I can't play at a very high level."
Rodriguez hasn't played a full season since 2007, missing time because of a strained quadriceps (2008), right hip surgery (2009), a strained calf (2010), knee surgery (2011) and a broken hand (2012). Before the latest hip injury was discovered, he was benched in three of nine postseason games and pinch hit for in three others. He batted .120 (3 for 25) with no RBIs in the playoffs, including 0 for 18 with 12 strikeouts against right-handers.
He thinks that if the left hip had been tested then and the injury detected, he would not have been judged so harshly in October.
"Hindsight is always 20-20," he said. "Obviously, if I would have, we would have never had that very tough ending, that's for sure. Live and learn."
While injured first baseman Mark Teixeira participated in the pregame introductions, Rodriguez opted against taking part. Fan reaction will have to wait for another day.
"I don't need to be introduced to feel like I'm part of this team," Rodriguez said. "When I get introduced, I want to be on the field and not look back."
Once viewed as having a good chance of breaking Barry Bonds' record of 762 home runs, Rodriguez remains stuck at 647. His image was tarnished when he admitted in 2009 that he used performing-enhancing drugs while with the Texas Rangers from 2001-03. The Miami New Times reported in January it had obtained files showing Rodriguez bought banned substances from Biogenesis of America LLC, a now-closed anti-aging clinic in Coral Gables, Fla., run by Anthony Bosch. Rodriguez issued a statement then denying he had any relationship with Bosch.
Rodriguez said Monday he had met with the Major League Baseball Players Association to discuss Biogenesis. He said he stood by the denial he issued in January through a spokesman and when asked whether he was worried about the possibility of a suspension, said he wasn't concerned about the Major League Baseball probe.
"At some point I feel everything will be good," he said.
In the meantime, he works at his rehab. Rodriguez said he stayed away from spring training because Kelley wanted to see him on a regular basis.
Rodriguez, Derek Jeter, Mark Teixeira, Curtis Granderson and Phil Hughes are all starting the season on the disabled list. Nick Swisher, Raul Ibanez, Russell Martin and Eric Chavez left to sign elsewhere. Many are predicting a down year for the Yankees, who have reached the playoffs in 17 of the last 18 seasons.
Based on reporting by The Associated Press.
Follow us on twitter.com/foxnewslatino
Like us at facebook.com/foxnewslatino