Alex Rodriguez continues to break records, joins Hank Aaron in exclusive 2000-RBI club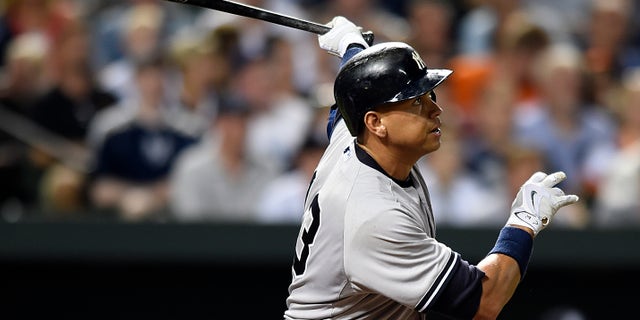 BALTIMORE (AP) – One of these days, Alex Rodriguez will take time to appreciate all the records and milestones he's collected throughout his major league career.
Currently, however, A-Rod is interested in tabulating only one thing: victories for the New York Yankees.
Rodriguez joined Hank Aaron as the only members of the exclusive 2,000-RBI club on Saturday night. Unfortunately, his effort was overshadowed by a barrage of hits by the Baltimore Orioles, who rolled to a 9-4 win.
Rodriguez hit a two-run homer in the sixth inning to tie the game at 4. The drive off Bud Norris lifted A-Rod's career RBI total to 2,001, second in major league history behind Aaron (2,297).
It was the 666th career home run for Rodriguez, fourth on baseball's all-time list behind Babe Ruth, Aaron and Barry Bonds.
"You want to do these things and help the team win. We're in a little bit of a three-game slide here, so that's my main focus," said Rodriguez, who is five hits short of 3,000.
"I won't be able to appreciate these things until years after I'm done playing anyway," he said.
When that happens, Rodriguez will particularly savor all those RBIs.
"The RBI statistic is such an interesting thing, because it's such a collaborative effort from all my teammates that I've played (with) over the last 20 years," he said. "It reminds me of some of the great players and friends I've collected over the years, so it's a little bit of a toast to all of them."
Manny Machado homered and had four RBIs, Nolan Reimold hit a two-run drive and David Lough added a solo shot for the Orioles, who have won six straight.
Baltimore was 23-29 and tied for last place on June 3 before an 8-1 run moved the team within two games of the AL East lead.
Baltimore has 20 runs and 31 hits in the first two games of this series and will vie for a sweep on Sunday.
"Guys are in a little bit of a flow," manager Buck Showalter said. "You've got a lot of different guys contributing."
After Rodriguez tied the game, Baltimore went up 7-4 in the bottom half against Chris Martin (0-2) with an uprising fueled by three wild pitches. J.J. Hardy put the Orioles in front with an RBI single before Machado poked an opposite-field, two-run single to right.
Lough continued the onslaught with a pinch-hit homer in the seventh off Sergio Santos, who was brought up from the minors earlier in the day.
Chaz Roe (2-0) pitched 2 1/3 innings for Baltimore, part of a scoreless effort by the bullpen in relief of Norris.
Yankees starter CC Sabathia allowed four runs and eight hits in five innings.
"My fastball command was not there," the left-hander said.
New York jumped to a 2-0 lead in the first inning when Mark Teixeira hit a two-out RBI single and scored on a double by Brian McCann.
After Machado led off the second with a single, Reimold hit a foul pop near the Baltimore dugout. Teixeira and McCann converged before deferring to each other as the ball dropped between them. Reimold drove the next pitch over the wall in right — his second home run in four games since being recalled from the minors.
"Someone's got to make the catch, bottom line," manager Joe Girardi said.
The defensive gem of the game occurred in the fourth inning, when Yankees rookie center fielder Mason Williams chased down a liner in right-center and caught it before sliding into the wall.
Machado put the Orioles up 4-2 in the fifth with a two-run shot to center on a 3-1 pitch.
Like us on Facebook
Follow us on Twitter & Instagram