Alex Chambers: Paige VanZant UFC 191 fight is going to be exciting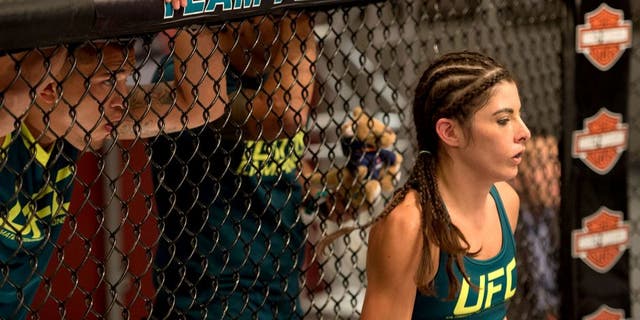 There is a long-held development and promotional practice in the fight world of bringing along popular prospects slowly by protecting them a bit with favorable match ups in order to build their record. With the promotional push and media attention that Paige VanZant has gotten, of late, many fans may expect the same type of matchmaking protection for her by the UFC.
That practice has always been more common in boxing than in MMA, however. And, it would be a bit outlandish to claim that VanZant has been sheltered from hard fights thus far in the UFC, given that she's faced fellow young prospect Kailin Curran and tough veteran Felice Herrig, already.
Up next, VanZant faces Alex "Astro Girl" Chambers. The Australian fighter may be 15 years older than VanZant and less well known at present, but she doesn't think that the UFC is setting her up to lose.
I don't really see myself thrown in there as a sacrificial lamb," she recently told Submission Radio.
"I just think the UFC knows this is going to be an exciting match up and that's why they put it on."
The two 115 pounders are set to fight one another at UFC 191 in Las Vegas, Sep. 5. Chambers is savvy enough to know that focus is key, and observant enough to realize that a single big win can change everything in a career and a division.
"I think the strawweight division is really quite dynamic at the moment," she explained.
"So many changes are happening in the rankings, every fight. We're seeing so many changes that everyone in the division is a very good fighter. So, whether you're ranked or not ranked, you've got to take everyone seriously. Everyone is really skilled in this division and that's what makes it so exciting.
"That's what makes strawweight fights really exciting. So, I guess a win over Paige...I'm not really focused on that and what it will do. I'm just really focused on September 5 and training really hard for it."
That level-headedness of Chambers doesn't preclude some fun fantasies of how she plans to beat VanZant, however. Though she would not reveal her strategy during the interview, Chambers did give a prediction, when pressed.
"Round one, I'll say...I'd say it'd be the karate kid kick or something," she said.
"Yeah, we're talking the crane kick."