After surprising 2015, Astros' goal is to 'win a championship'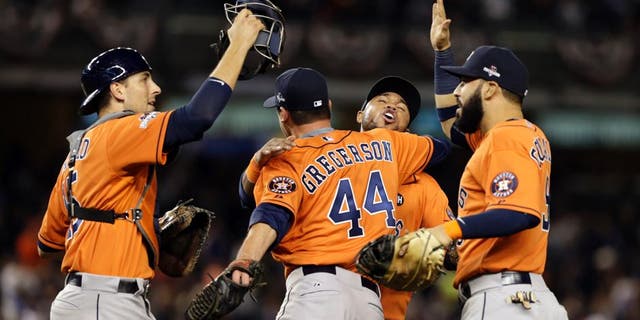 The Houston Astros are coming off a surprisingly successful 2015 campaign which included a trip to the playoffs for the first time in 10 years for the franchise, eventually losing to the World Series champion Kansas City Royals in the ALDS.
While the Astros won't be sneaking up on anyone in the standing in 2016 with expectations running high in Houston, the club's general manager Jeff Luhnow is confident in the roster he has put together.
"I wouldn't trade our situation with anybody else's situation in baseball," Lunhow told MLB.com. "I feel that good about our roster, about our staff and our situation."
The cornerstones of the youthful roster are returning in Jose Altuve, Carlos Correa and Dallas Keuchel, but Lunhow and the Astros made a few key moves by adding closer Ken Giles and starter Doug Fister to the mix. Despite losing in the playoffs, motivation won't be an issue for the club as it tries to make another playoff run.
"It was such an eventful 2015 that it's hard to put into words sometimes," Hinch said. "It's time to turn the page into next season. Our players will remember the celebrations, but also the angst that comes with being eliminated in the playoffs. Motivation won't be an issue. Understanding what it takes to play well deep into the season is well understood."
While having a successful 2015 season was beneficial in seeing the long-time rebuilding process gaining results, the Astros are using the season as a building block and starting fresh to make a return to the postseason.
If anyone asked the Astros' front office prior to the 2015 season goals were for the club, finishing over .500 would have likely been the answer. Heading into the 2016 season, Houston is going for a championship.
"It is rewarding knowing that all the work we did over the past four years since Jim [Crane] bought the team has led to this point," Lunhow said. "It also makes us nervous, that how do we make sure we keep going forward? The closer you get to the top, the harder it is to stay here. Our goal is win a championship. There's a lot of luck involved in that and a lot of planning, but we're going to take it day by day. We're in a good spot."