After Kevin Harvick domination, Joe Gibbs Racing comes out swinging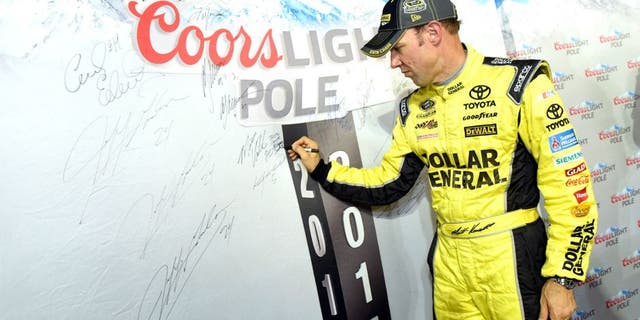 NEWYou can now listen to Fox News articles!
Kevin Harvick and Stewart-Haas Racing may have won last Sunday's battle, but Joe Gibbs Racing is still determined to win NASCAR's version of the war.
Facing potential elimination from the Chase for the NASCAR Sprint Cup, Harvick led 355 of 400 laps Sunday at Dover to move into the second round of NASCAR's playoffs, which begins Saturday night with the Bank of America 500 at Charlotte Motor Speedway.
But if the Gibbs squad was demoralized in any way by Harvick's dominance, it didn't show Thursday at CMS, where Matt Kenseth qualified on the pole, Kyle Busch was second and all four JGR drivers qualified in the top eight. Harvick, meanwhile, was only able to qualify 11th, although he was fastest in Thursday's lone round of practice.
So with Harvick making a strong statement by crushing the field at Dover, did JGR do likewise by virtue of its qualifying effort Thursday night?
Not necessarily, according to the front-row qualifiers.
"Qualifying is not a statement. The race is more of a statement," said Busch. "You have to have a good race, put it all together. You have to have fast race cars, good engines and good guys on pit road that give you fast pit stops. Putting it all together is certainly what the 4 (Harvick) bunch did last week, and they proved that they're obviously a championship contender. We knew that they were, but they certainly put it to everybody."
That said, Busch wouldn't mind making a statement of his own on Saturday night.
"We were a distant second (at Dover), but third was distant on us, and I look forward to this weekend hoping that we can be better than all the rest of the guys and put on a 4 car-type performance with the 18 car this weekend," said Busch.
As for the pole winner, he insisted qualifying was just business as usual.
"It's what we try to do every week, it's what everybody tries to do every week so no, no different," Kenseth said of his team's qualifying effort.
But there's no question the stakes keep going up as the Chase continues.
"We didn't run bad last week. We know we need to be a little bit better," said Kenseth. "Kevin certainly dominated at Dover and definitely dominated New Hampshire, as well. We're still working on our stuff to try to get it faster. We realize our competition is going to keep getting better and we have to be able to do that as well."