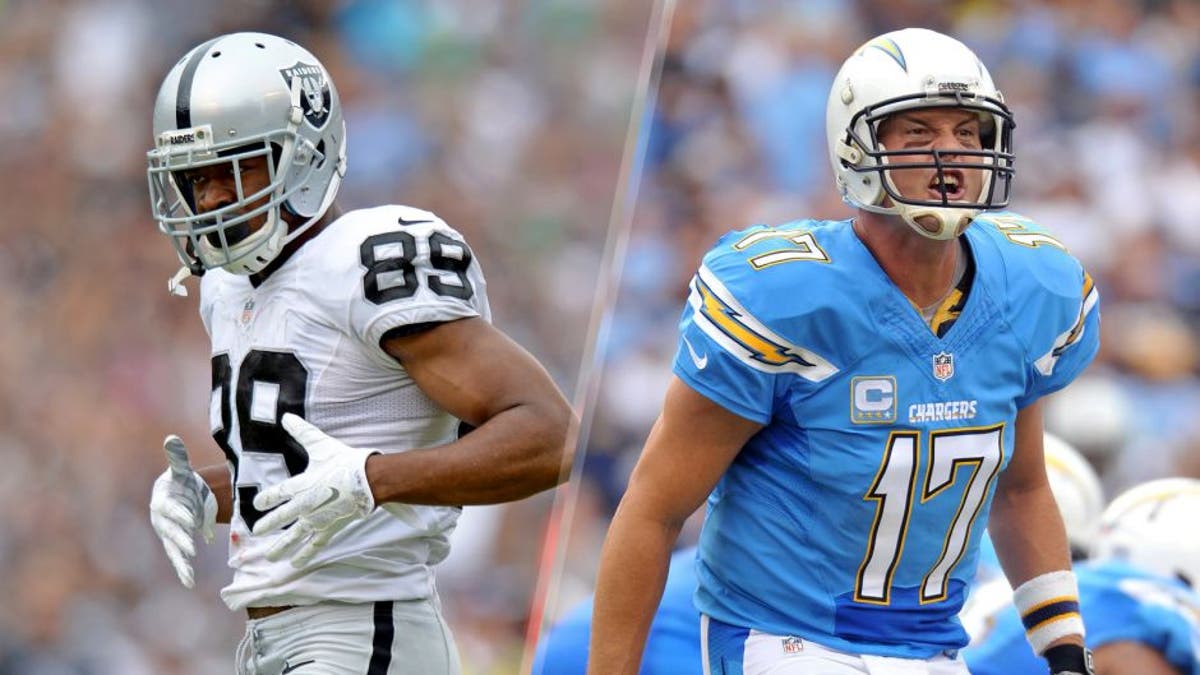 The NFL regular season is more volatile on a week-to-week basis than the Stock Market. A team that lost by several touchdowns one week can follow up with a blowout victory the next. Players who are responsible for the blame one week could be responsible for a game-winning play the next.
With Week 7 in the books, let's take a look at three AFC West players who saw their stock rise, and three AFC West players who saw it fall.
Three Up
Amari Cooper, wide receiver, Raiders
Amari Cooper isn't just great by today's receiving standards. He's one of the best rookie wideouts ever, period. The last two NFL neophytes with 500-plus receiving yards in their first six games? Anquan Boldin (2003) and Randy Moss (1998). The Chargers made it easy for Cooper (5 receptions, 133 yards, TD) to join that elite group last weekend.
Derek Carr, quarterback, Raiders
Carr (24 of 31, 289 yards, 3 TD) went toe-to-toe with Philip Rivers and looked like the better quarterback. It's no fluke; the second-year pro has a 101.0 rating in 2015 with more downfield throws on his stat sheet (7.57 yards per pass attempt). It helps when he has a player like Cooper at his disposal to run circles around a porous defense like San Diego's.
Eric Berry, safety, Chiefs
It's been a long time coming for the Chiefs star safety. Years, in fact, since he hauled in his last interception. But the cancer survivor and inspirational leader snagged a pick on Sunday and willed his team to a Week 7 victory. He added a pass defensed and six total tackles against Pittsburgh.
Three Down
Philip Rivers, quarterback, Chargers
The Chargers can't expect a 500-yard passing performance from Rivers every week. They do expect a better first-half outing than his 105-yard stinker against the Raiders on Sunday. Toss in two costly interceptions in the first 30 minutes and it's clear he was part of the problem, not the solution.
Melvin Gordon, running back, Chargers
The Chargers gave Gordon his first snap... with seven minutes left in the third quarter of a blowout loss. Once again, the Wisconsin product ended his day on the bench with only a handful of carries (7 rushes for 29 yards) to show for it. It's getting tougher and tougher to justify his high selection with so many roster holes to fill in San Diego.
Sean Smith, cornerback, Chiefs
Smith and the secondary played well enough to stop the Chiefs' five-game losing skid. But look at what Antonio Brown did to the team's top cornerback on Sunday. It's clear that defense still has its work cut out for the remainder of 2015.
MORE NEWS: Want stories delivered to you? Sign up for our NFL newsletters.