Adrian Peterson 'definitely happy' to be back with Vikings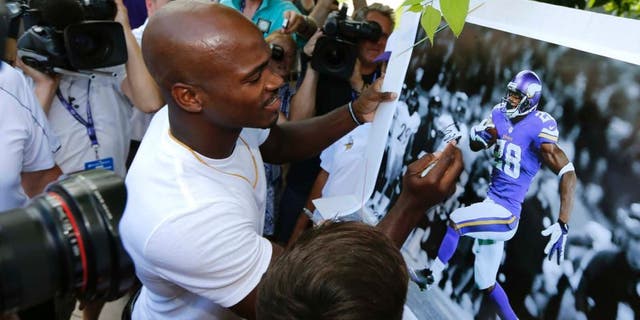 NEWYou can now listen to Fox News articles!
MANKATO, Minn. (AP) -- Adrian Peterson says he's "definitely happy" to be back with the Minnesota Vikings, after a tumultuous past year that put his future with the team in doubt.
Peterson and his teammates reported to training camp on a sunny Saturday at Minnesota State University. The dozens of autograph-seeking fans gathered for the annual dorm-room move-in saved their loudest chants and cheers for the 30-year-old running back who played in only one game last season.
Peterson and the Vikings agreed earlier in the week on a revamped contract, fully guaranteeing him the $13 million he was previously scheduled to make in 2015. Peterson was reinstated by the NFL in April after serving a suspension for the child abuse case he was involved in.