ACC notebook: Tech-nical difficulties for Yellow Jackets, Hokies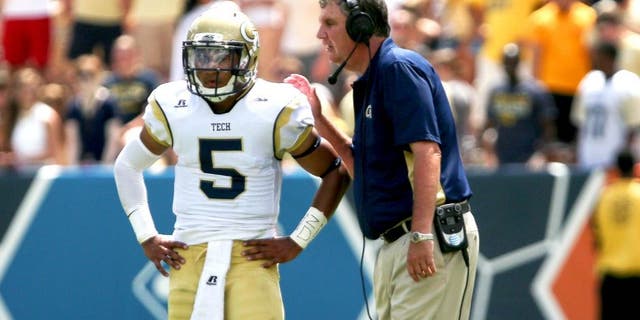 NEWYou can now listen to Fox News articles!
Paul Johnson said he felt like he had been "gut-punched." Knocked out is more like it.
The Georgia Tech coach could do nothing as he watched North Carolina run a trick play that resulted in quarterback Marquise Williams catching a 37-yard touchdown pass to cement a 38-31, come-from-behind victory over the Yellow Jackets on Saturday.
Williams' TD reception capped off an epic collapse by Georgia Tech, which set a school-record for biggest lead lost when it allowed a 21-point, second-quarter advantage to evaporate.
"I'm sure that our players feel like I do. I feel like I've been gut-punched. Really disappointed," Johnson said. "I thought we had plenty of chances. You have to give them credit. They made plays when they had to and came back and won the game. We let it slip away from us."
For Georgia Tech (2-3, 0-2), the loss was its third straight and turned the Ramblin' Wreck into a train wreck, leaving its hopes of repeating as Coastal Division champions all but derailed.
"The first thing is, we have to make an adjustment of goals, and that's always very disappointing, but it's definitely not something that we can let put this team in the ground," Georgia Tech guard Trey Braun said after the game. "There's a lot of season left and I know all my peers on the football team, all my brothers there, I know we don't have any give-up in us."
The Yellow Jackets began the year with College Football Playoff aspirations and were ranked as high as No. 14 in the AP Poll before Notre Dame turned out the lights on their playoff dreams with a 30-22 victory.
The next week it was Duke's turn to take a shot at Tech, and the Devils connected with a 34-20 roundhouse that sent the Yellow Jackets to their corner for a standing eight count.
The loss to UNC knocked them down to the canvas. And with Clemson standing over them, they might be there for a while.
The Yellow Jackets aren't the only ACC team having Tech-nical difficulties. In Blacksburg, the Hokies began the season perched right outside the AP Top 25, but haven't seemed to recover from the Week 1 injury to starting QB Michael Brewer.
Backup QB Brenden Motley has had his moments for the Hokies (2-3, 0-1), but back-to-back losses to East Carolina and Pitt, respectively, has forced head coach Frank Beamer to push the panic button.
"We're not staying where we are right now," Beamer promised after losing 17-13 to Pitt. "Where we are right now - it's not good enough."
Motley completed nine of his 20 pass attempts for 91 yards and one touchdown and was intercepted three times.
As a team, the Hokies were held to a 100 yards of total offense and rushed for negative-18 yards in the fourth quarter.
"Obviously, we failed miserably today," offensive coordinator Scott Loeffler said.
The Hokies won't have long to dwell on the loss as they will look to snap their two-game skid on Friday night at home against N.C. State.
UNC's Williams nets hat trick
If North Carolina head coach Larry Fedora was trying to send a message to Williams by benching him during the Tar Heels 41-14 victory over Delaware on Sept. 26, he can rest assure that it was received.
Williams responded with a historic performance as he led UNC in passing, rushing and receiving during its victory over Georgia Tech.
Williams connected on 13 of his 24 pass attempts for 134 yards, rushed 15 times for 148 yards and two scores, while catching one pass for 37 yards and one important touchdown.
"He was a beast today," Fedora said of Williams. " … You know, he took a lot of criticism last week. Everybody questioned him out there on the outside. And he did what he can do."
The Tar Heels (4-1, 1-0) found themselves trailing Tech 21-0 in the second quarter, but slowly chipped away.
In the fourth quarter, UNC finally completed the comeback when Fedora called for a reverse pass that saw wide receiver Quinshad Davis loft a strike to Williams for the game-clinching touchdown.
Aside from Tennessee's Josh Dobbs, who pulled off the hat trick this year, no quarterback has led his team in all three categories since Tulsa's James Kilian did it in a 44-16 loss to Hawaii in 2003.