ACC hoops sked is here — you ready?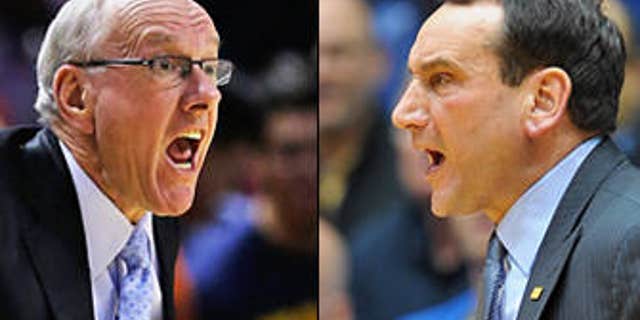 Krzyzewski-Boeheim. Notre Dame at Chapel Hill. Football tradition meets basketball dominance.
The moment die-hard college hoops fans have been waiting for is here. The Atlantic Coast Conference's 2013-14 conference schedule is out.
So why is that a big deal? Because the new-look, 15-team ACC now includes former Big East powers Notre Dame, Pittsburgh and Syracuse. Yeah, we're all still getting used to it.
So weird to hear Cuse advertised as 'watch ACC basketball here!'
-- Alyssa Polosky (@AButter33) August 31, 2013 Seriously, how strong could this conference be? How about this strong?
Im looking into making a ACC fantasy basketball league at http://t.co/tuQJTNC6U3 ! Do I have any followers who would like to join?
-- Blue Devils Digest (@BlueDevilDigest) August 30, 2013 And the big date? Jan. 4, 2014, the first full slate of ACC conference action:
- Pitt at NC State, noon ET
- Miami at Syracuse, 2 p.m. ET
- Duke at Notre Dame, 4 p.m. ET
So the two winningest coaches in men's Division I history tip off their in-conference seasons against new conference rivals both better known for their prowess on the gridiron; Jim Boeheim and his Orange facing the Hurricanes, who shook up the college basketball world last season, reaching No. 2 in the polls and winning the ACC regular-season and conference-tournament championships before losing to Marquette in the Sweet 16. Then the Blue Devils and coach Mike Krzyzewski, the winningest coach in Division I history, travel to Notre Dame to welcome the Irish to the ACC. The Irish lost to Iowa State in the NCAA Tournament's second round last season.
Of course the basketball season won't get here fast enough for Panthers fans if their football team continues to play the way it did Labor Day against Florida State .
Seriously It's time for Pitt fans to just give up on football for now and truly embrace basketball. ACC, great coach, never worse 'meh' team
-- Steve DiMiceli (@SDWearsTheRing) September 3, 2013 Ouchhhh rough start in the ACC for Pitt... And basketball season hasn't even started yet
-- Scott Fox (@FOXadelphia) September 3, 2013 Pitt basketball better get used to these ACC ass whoopins too!
-- Billy (@BSto22) September 3, 2013 As for Boeheim and Krzyzewski, the matchup everyone is counting do comes Feb. 1, when Duke travels to Syracuse for a Saturday night showdown. Exactly three weeks later, the Orange makes its first trip in school history to Cameron Indoor. For those keeping score, Krzyzewski has 957 career wins, Boeheim 920.
This fan's ready.
Next year ACC basketball will be better than SEC football.
-- Taylor Meachum (@tlmeachum) September 1, 2013
Of course, Roy Williams is no slouch himself, and the North Carolina coach gets his first crack at Boeheim as an in-conference foe on Jan. 11 in the Carrier Dome in New York. The annual Duke-UNC matchups come on Feb. 12 at Chapel Hill and March 8 at Durham.
And perhaps more amazing, it gets jucier in the 2014-15 season, when Rick Pitino and the Louisville Cardinals joing the conference.
For the full ACC conference schedule, click here .