Aaron Rodgers, Carson Palmer give Blake Bortles some pretty obvious advice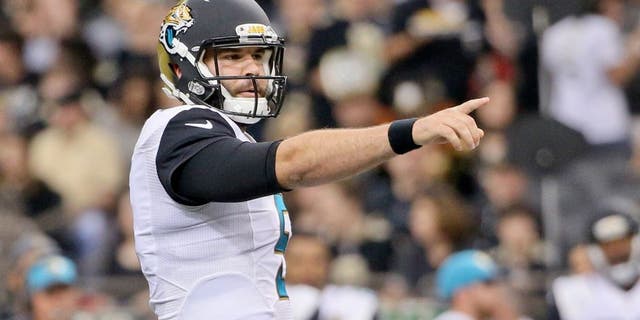 NEWYou can now listen to Fox News articles!
Jacksonville Jaguars quarterback Blake Bortles made some significant strides during his second year in the league.
The 24-year-old signal-caller dramatically increased his touchdown total from his rookie season, jumping from 11 to 35. But Bortles still needs to cut down on his mistakes as he led the league in interceptions with 18 in 2015.
So the Jags asked Bortles to reach out to some veteran quarterbacks who have a similar skill-set to the former No. 5 overall pick. Bortles chose Packers star Aaron Rodgers and Cardinals veteran Carson Palmer as potential mentors this offseason.
"I bounced ideas off of them and asked them, 'What would you do differently?'" Bortles said, via The Florida Times-Union. "Aaron was awesome. One of the things he said was, 'Don't try and score 21 points every time you have the ball.' That's what I've had to learn."
Rogers' advice could pay dividends if Bortles takes it to heart. Some of Bortles' 18 interceptions probably were a result of him forcing the ball into tight coverage instead of throwing it away or possibly checking it down to a receiver in the flat.
Palmer's advice centered on being more of a leader in the locker room.
"Carson was good," Bortles said. "He's laid back, and he's an unbelievable quarterback and leader in the NFL. He said similar things. He said, 'Just continue to build chemistry and rapport with the guys you're with.'"
The Jaguars hope Bortles can apply this advice to the field to help Jacksonville improve its 5-11 record from last season.