A-Rod celebrates 40th birthday with homer against Texans as Yankees win 6-2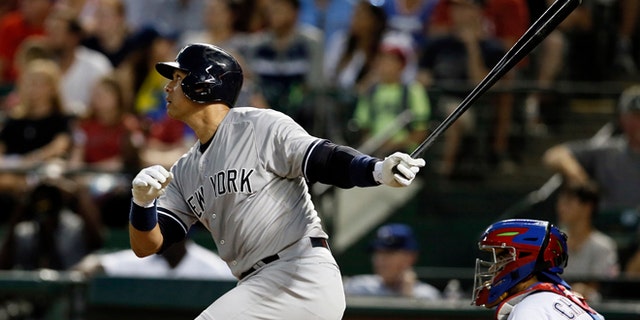 ARLINGTON, Texas (AP) – Alex Rodriguez had quite a 40th birthday bash.
A-Rod became the fourth player in major league history to homer as a teen and in his 40s, marking his birthday by lining an opposite-field shot to right against his former team to help the New York Yankees beat the Texas Rangers 6-2 Monday night.
"It's amazing, hitting one as a teenager and hitting one here today," Rodriguez said. "A lot has happened, and I'm just happy to be here."
Ty Cobb, Rusty Staub and Gary Sheffield are the only other players to homer before turning 20 and then at age 40 or after, according to STATS.
"It's remarkable what he's been able to do, and how good he was at such a young age, and he continues to play well at an older age," Yankees manager Joe Girardi said.
Rodriguez has 24 homers this season and 678 in his career, fourth on the all-time list. The latest came two days after he went deep three times against Minnesota in his previous game.
"Very impressive, but you know we're not surprised by much that he does anymore," said third baseman Chase Headley, now playing the position A-Rod had in New York before his season-long suspension a year ago for violations of baseball's drug agreement and labor contract.
A-Rod's solo drive in the sixth off Matt Harrison (1-2) was the designated hitter's big league-best sixth homer on his birthday, STATS said, breaking a tie with Todd Helton, Chipper Jones, Derrek Lee and Al Simmons.
"Yeah, it's pretty depressing being 40. I've had a lot of texts and emails that I've joined an exclusive club," Rodriguez said. "But I'm definitely grateful and happy."
When he was traded to the Yankees before spring training in 2004, Rodriguez was only three seasons into the $252 million, 10-year contract he signed with Texas after starting his career with Seattle from 1994-2000. He got a $275 million, 10-year deal from New York after the 2007 season.
Didi Gregorius had a career-high four RBIs and matched his best with three hits, including a two-run homer in the third. His two-run single in the seventh made it 6-2.
The AL East-leading Yankees won for the seventh time in eight games, and their seven-game division lead is their largest since leading by 7 1/2 games on July 29, 2012. New York's 15-5 record in July is the best in the majors.
Ivan Nova (3-3) allowed two runs and five hits in five innings. Chasen Shreve, Justin Wilson and Dellin Betances followed with hitless relief.
Harrison gave up six runs and six hits in six innings, his third start since coming back from spinal fusion surgery.
"I feel like I didn't get loose until about the fifth inning," he said. "The third inning I made some bad pitches to start that inning off and got some trouble there. After us scoring the two runs I went and gave it back to them, gave the momentum right back."
Like us on Facebook
Follow us on Twitter & Instagram