A new track record: Fast times at Paperclip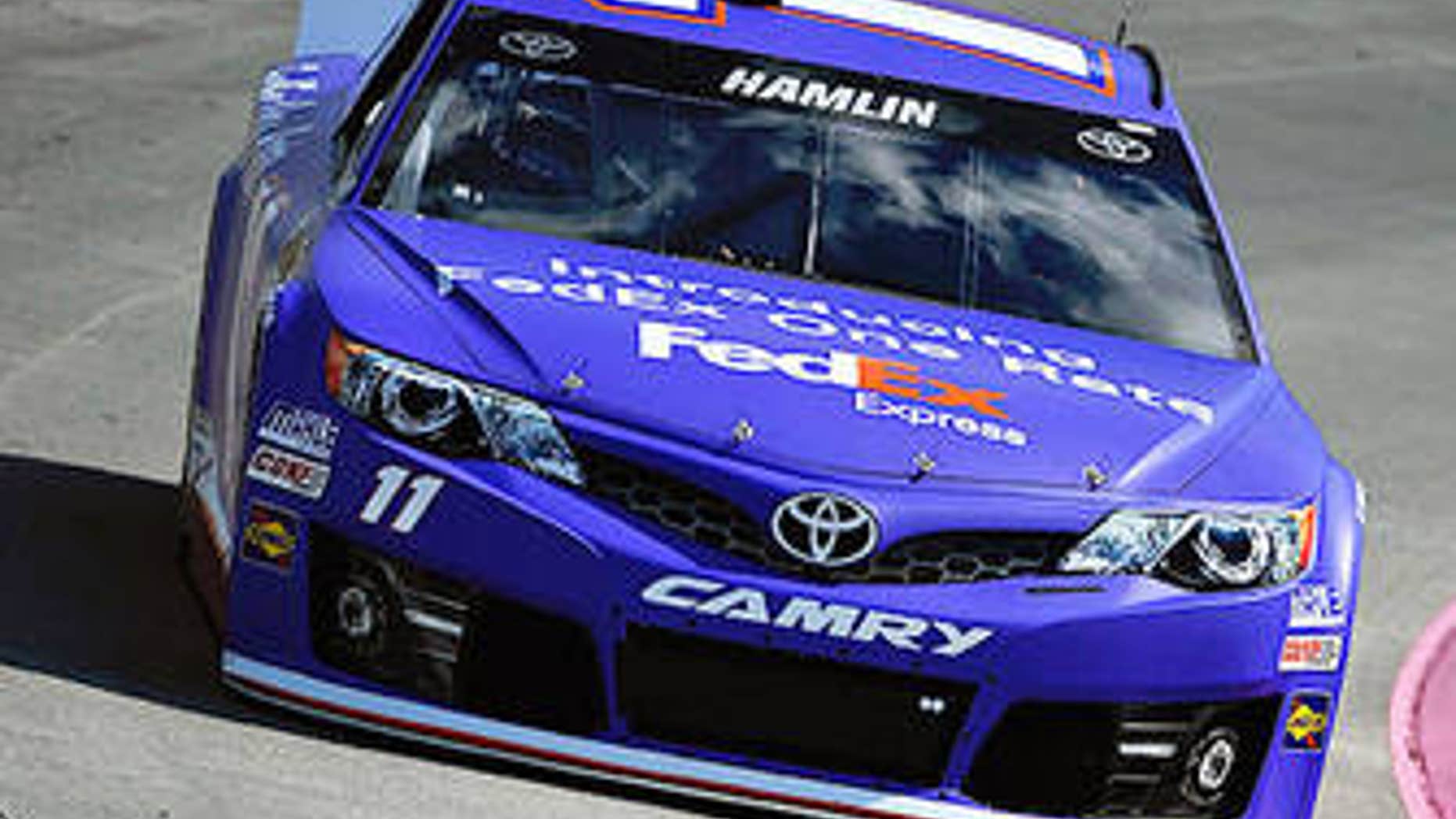 SPEED THRILLS -- It seems like 18 was the magic number in NASCAR Sprint Cup qualifying on Friday at Martinsville Speedway, as 18 drivers broke the old track record during qualifying for the Goody's Headache Relief Shot 500. Leading the way was Denny Hamlin, who put the No. 11 Joe Gibbs Racing Toyota on pole for the series-high fifth time this season. It was the 18th time this year that a track record has been broken in qualifying.
Hamlin's pole lap of 99.595 miles per hour led a parade of three JGR Toyotas in the top four, with teammates Kyle Busch and Matt Kenseth qualifying third and fourth, respectively. Another Toyota driver, Michael Waltrip Racing's Clint Bowyer was fifth.
The only non-Toyota driver to qualify in the top five was Sprint Cup points leader Jimmie Johnson, who captured the outside of Row 1 with a lap of 99.595 mph in his No. 48 Hendrick Motorsports Chevrolet.
Despite suffering through a mostly miserable season, Hamlin's mood was considerably buoyed by his pole run. "See you Sunday night," he told reporters as he left the Martinsville Media Center, a place he obviously hopes to return after a victory on Sunday.
JUNIOR ACHIEVEMENT - Despite Congressional pressure to ban military sports sponsorships, the National Guard has signed on to remain as the primary sponsor of Dale Earnhardt Jr.'s No. 88 Hendrick Motorsports Chevrolet for 20 races next year, including the 2014 Daytona 500.
"NASCAR is a critical marketing platform for the National Guard," said Lt. Col. Michael Wegner, marketing branch chief, Army National Guard in a statement released by the team. "This program touches recruiters, influencers, our own Citizen Soldiers and those interested in the Guard's many career opportunities and benefits. NASCAR fans in our target demographic are twice as likely to consider the military as a career option, and the overall fan base strongly advocates for military service. It's the right place for the Guard and has helped us recruit more than 400,000 Citizen Soldiers since 2007."
"It's an incredible privilege to work with and represent the Guard," Earnhardt said. "We have the opportunity to interact with those who serve our country and many who are considering military careers. I'm personally in awe of their sacrifices and feel a tremendous amount of pride in our relationship with them. The entire No. 88 team is looking forward to another season together."
KESELOWSKI FIRED UP -- NASCAR's new policy requiring mandatory baseline concussion testing next year has been generally well received by drivers and teams. But Brad Keselowski isn't a fan, not by a long shot. After qualifying Keselowski vented about the process, which he clearly is adamantly opposed to.
"Doctors don't understand our sport," said Keselowski, the 2012 NASCAR Sprint Cup champion. "They never have and they never will. Doctors aren't risk takers. We are. That's what makes our sport what it is and when you get doctors involved, you water down our sport. I'm trying to be open-minded to the possibility that they can help us, but past experience says no."
Asked how NASCAR drivers compare to pro football players, Keselowski kept going.
"An NFL player doesn't walk on the field and say, 'Today might be the day where I die.' He doesn't make a decision when he gets out on the field that could affect the health of others," said Keselowski. "That's a pretty distinct difference. He makes a decision whether or not if he takes another hit that he'll be able to enjoy his livelihood with his kids. We're on a whole other level as race car drivers."
TIME MANAGEMENT -- NASCAR's decision to revamp Sprint Cup qualifying next year ostensibly was made to make the show more interesting and engaging for the fans, NASCAR's Kerry Tharp told FOXSports.com Friday morning. But it may have an added benefit in terms of making a more efficient use of the time at the track.
Although nothing has been finalized, NASCAR is looking at doing group qualifying at most tracks, similar to what they do on road courses now, and "open qualifying" at Daytona International Speedway and Talladega Superspeedway with everyone able to be on track at the same time for a single session of 50 minutes or so.
With qualifying shortened from 2 1/2 hours or so at Talladega and Daytona to less than an hour, the track schedules could be tightened next year, said Tharp. And that would be something teams would certainly welcome.
AWARD FOR HENDRICK -- Hendrick Motorsports founder and team owner Rick Hendrick has been selected as the 2014 recipient of the Keith Crain/Automotive News Lifetime Achievement Award, which will be presented at The Washington Auto Show next year.
"Rick has become an auto industry icon through his charity, hard work, grit and determination,"said Keith Crain, Chairman of Crain Communications and Editor-in-Chief of Automotive News." He has achieved unimaginable success as an automotive dealer and NASCAR owner and he has persevered through unspeakable grief and continues to give back and that combination makes him unique and the perfect recipient of the lifetime achievement award."
The original article can be found at FOXSports.com: A new track record: Fast times at Paperclip.